Air Fryer Frozen French Fries – Fast & Easy
Air Fryer Frozen French Fries fry cook in a flash and are always perfectly crispy! On the outside, they're crispy and golden, and on the inside, they're delightfully soft. It's far superior to frying or baking!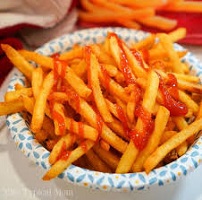 Photo Credit: https://temeculablogs.com/
They have the flavor of being fried in oil, but they aren't! They're considerably better for you, and they taste fantastic.
Fast food, you've had your day! If you have a bag of frozen French fries and an Air Fryer, you won't need to go through the drive-thru! The Air Fryer crisps ready-made French fries like no other, giving them a true deep-fried flavor.
You'll enjoy our crispy fast-food-style recipe if you're looking for homemade frozen French fries in an air fryer!
Air Fryer Frozen French Fries
It's a no-brainer to prepare frozen French fries in an air fryer. When compared to baking them, it takes a fraction of the time, they come out very crispy, and there's no frying involved!
It's quite easy, and once you've tried it, you'll never cook French fries any other way again!
So many things have changed because of air frying. The air fryer makes everything faster, healthier, and better, from steak to chicken to pizza.
This easy Air Fryer Frozen French Fries recipe gives you all the flavor and texture of fried French fries without the oil and fat, plus it cooks them much faster than in the oven. In my opinion, it's a total winner.
Air Fryer Frozen French Fries ~ Why make them in the Air Fryer
Firstly, same crispiness and taste as deep-fried French fries but healthier
Secondly, fries get crispier and cook more evenly than in the oven
Air Fryer Frozen French Fries can be done in less than 15 minutes
Then, no additional oil needed
Lastly, good for freezing foods
Air Fryer Frozen Fries Time and Temperature
The time it takes to transform frozen fries into fast food deep-fried crispy perfection is determined by a number of factors.
If you pre-heat your air fryer
The number of fries and the size of the fries
The level of crispy perfection you are aiming for.
The frozen fries start cooking as soon as they touch the air fryer basket if you preheat your air fryer.
As a result, it would take less time to reach your desired crispiness level. It normally takes 12-15 minutes.
if your air fryer hasn't been warmed, aim for 15-20 minutes. Preheat the oven to 400 degrees Fahrenheit (205 degrees Celsius) and cook my frozen fries.
Air Fryer Frozen French Fries ~ Different types of Fries
There are several types of fries and so they will cook a bit differently. These are good suggestions for Air Fryer Frozen French Fries time
Crinkle-Cut/Waffle Fries: 10-11 minute
Sweet Potato Fries: 16 minutes
Lattice Cut Fries:  10-11 minute
Shoestring Fries: 8-10 minute
How to Serve
This side dish goes well with a variety of sauces or dips, including:
Ketchup
Yum yum sauce
Cheese Sauce
Bang bang sauce
Serve with fish for a fish and chips meal.
Make your Own Sauce: Mix your favorite spices with a bit of mayo and ketchup to create a unique sauce of your own.
Add chipotle chili powder, garlic powder, and onion powder with mayo and ketchup for a spicy western sauce that's awesome. There are lots of possibilities
How To Cook Best French Fries in the Air Fryer ~ Air Fry French Fries Recipe
In the air fryer, try these homemade sweet potatoes and baked fries. They are, without a doubt, the best way to prepare potatoes!
It's a no-brainer to use the Ninja air fryer to produce frozen french fries. When compared to baking them in the oven, it takes a fraction of the time.
It's quite simple to make Air Fry French Fries in an air fryer. Here's how to do it:
Firstly, select the frozen fries you want to use: waffle fries, French fries, steak fries, tater tots, etc. All of these recipes will work in an air fryer.
If using the entire bag, I like to use my oil sprayer to spray some oil in the bag, then season with salt, seasoning salt, or cajun seasoning for a kick! After that, pour into the air fryer basket.
Thirdly, if using a portion of the bag, place it in the air fryer basket, spray it with oil, then sprinkle salt on top of the fries.
After that, place the air fryer basket into the air fryer and set the temperature to 400°F. Cook for 8 minutes. Shake the fries out of the basket. Close the air fryer and cook for another 3 minutes.
At this stage, check for doneness; if extra time is required, add 1-2 minutes (various brands will differ in cooking time).
I do not pre-heat my air fryer, but if you do, you may need to reduce the cooking time by 1-2 minutes. And lastly,
Serve immediately
How to Re-heat already cooked French fries in the air fryer:
Put the French fries back to the air fryer and set it to 400 degrees. Then, cook for 2 minutes, shake, and finally cook for 1 more minute!
Nutrition
Serves: 4
Calories295kcal (15%) Carbohydrates34g (11%) Protein3g (6%) Fat17g (26%) Saturated Fat5g (25%) Sodium556mg (23%) Potassium488mg (14%) Fiber5g (20%) Vitamin C7mg (8%) Calcium10mg (1%) Iron1mg (6%)
Besides, all nutritional information is based on third-party calculations and is only an estimate. Each recipe and nutritional value will vary depending on the brands you use, measuring methods, and portion sizes per household.
Try These Air Fry Frozen Fries Recipes
These days, as much as possible, do it yourself with an air fryer. It's perfect for main courses, side dishes, and even desserts. Lastly, here are some tried and true air fryer recipes to get you started if you're new to the air fryer world. These are sure to be a hit with you: