Air Fryer Pizza Rolls Recipe – Pizza Rolls in the Air Fryer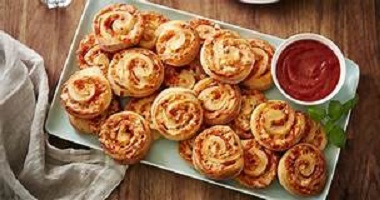 Air Fryer Pizza Rolls also known as Pizza rolls are thinly rolled pizza dough filled with pizza sauce, cheese, and pepperoni meat toppings, then baked in an air fryer.
It's delicious comfort food that's a lot easier to make than you would imagine, and the ingredients can still be tweaked to taste.
Related >>> Air Fryer Chicken Breast Recipe – No Breading!
Air fryer pizza rolls are great for lunchbox snacks, and they can be eaten hot or cold. They're also known as air fryer pizza pockets.
In just 10 minutes, this homemade air fryer pizza roll is ready to eat! Either air-fried or baked in the oven.
What's more, these delectable pizza pockets are simple to make from scratch with homemade dough that is crispy on the outside and fluffy on the inside. With cheese and your choice of toppings.
In this post, we'll learn how to make pizza puffs in the air fryer, and you'll love this air fryer snack that looks like a cinnamon roll but doesn't contain any cinnamon.
Air Fryer Pizza Rolls | Using an Air Fryer to Cook Pizza Rolls
Since an air fryer does not need oil, you can make pizza rolls without adding extra fat or calories; what a bonus. There is no need to preheat the oven while using an air fryer.
Besides, these pizza rolls are ready in just 10 minutes, making the air fryer more appealing than an oven, deep fryer, or microwave.
You can also freeze, microwave, and eat them on the go. These can be kept warm for a fast meal during the week.
Pizza Rolls | Air fryer pizza rolls: Often Asked Questions
Is it possible to freeze pizza rolls?
They do freeze well. You can store them in an airtight jar or ziplock bag once they've been cooked. Keep them for at least a few months.
Is it essential to keep pizza rolls refrigerated?
Yes, indeed. Because of the meat and cheese in the rolls, it's crucial to keep them refrigerated. In the same way, frozen pizza rolls can be reheated.
What is the best way to heat a pizza roll?
You may also use the refrigerator, oven, or air fryer to reheat them. Heat them in the oven on a baking sheet for 10 minutes at 350 degrees. For 5 minutes, preheat the oven to 320 degrees.
How to Cook Air Fryer Pizza Rolls Recipe | How Long to Cook
Ingredients
For The Pizza Dough
2 cups all-purpose flour
¼ cup melted butter
1 tablespoon Instant active dry yeast
½ cup Sugar
Pinch of Salt
½ cup warm milk or water
3 tablespoon vegetable oil
Pizza Rolls Toppings
1 cup Pizza sauce – (tomato ketchup or tomato sauce)
1 cup sliced pepperoni or salami
½ cup shredded cheddar cheese
3 tablespoon vegetable oil
Detailed instructions
To begin, combine all pizza dough ingredients in a large mixing bowl, beginning with all-purpose flour, sugar, melted butter, salt, instant yeast, and warm milk or water.
Secondly, mix thoroughly to form a stretchy soft dough, then rub with vegetable oil and cover tightly with a thick towel; position in a warm area and allow to proof for 45 minutes to an hour.
Thirdly, remove the towel after the dough has completely proofed for 45 minutes; you will find the flour has doubled in size; punch it to knock out the air.
After that, spread flour on a flat work surface, then move the dough to the work surface and knead it. The next step is to flatten the dough with a rolling pin into a rectangular shape.
Next, spread the pizza sauce (tomato sauce or ketchup) over the crust, cover with shredded cheddar cheese, and gently put the pepperoni on top.
Finally, roll the pizza dough all the way to the top, then pinch the dough tips to seal the edge. Then break into approximately 8-piece bits.
Air Fryer Lid Instructions
Firstly, put a piece of parchment paper in the air fryer basket.
Secondly, arrange the pizza rolls in the basket by placing them correctly in the basket.
After that, preheat the air fryer to 320°F and cook for 11 minutes, or until golden brown.
Alternatively, heat for a few minutes longer and then remove from the air fryer.
If required, serve with additional dipping pizza sauce.