Farofa with Dambun Nama: Toasted Garri & More
Farofa with Dambun Nama: Toasted Garri & More
Farofa with Dambun Nama: Toasted Garri & More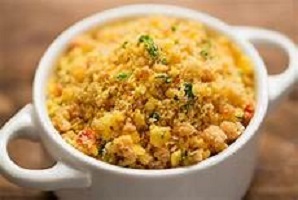 Garri is useful for more than just drinking and making 'Eba.' Both great for crusting and crumbling, as well as toasting.
About Farofa
Expect to be served farofa at any self-respecting churrasco house with the stars and stripes of Brasilia.
Churrasco (Portuguese: [ʃuˈʁasku], Spanish: [tʃuˈrasko]) is a Portuguese and Spanish word for beef or grilled meat in general.
It is common in Uruguay, Brazil, Bolivia, Argentina, Chile, Colombia, Nicaragua, and other Latin American countries; Wikipedia
Please Read >>> Garri Cake: African Desert | How to Make Cake from Gari
This dish, which consists of pan-fried garri, manioc, and cassava, is similar to Moroccan couscous.
After being fried in butter it's all shades of yum, studded with herbs and flavored with spices.
Indeed, garri can be more than eba. I grew up sprinkling dry garri on everything from beans to avocados, so I understand why this isn't only a great complement to meats, but also to Feijoada, Brazil's popular black bean stew.
Farofa is a delicious side dish that can also be used as chicken stuffing. I went with dambun nama, which is shredded beef, and a cousin to dambun kazaa.
Even though I wanted to include vegetables in it, I expected it to be a little dry, so I served it on a bed of sauteed greens.
Farofa is a toasted cassava flour mixture with a variety of flavors, including maize flour (farinha de milho).
It's a South American delicacy. It is available commercially and in packaged form, and it is often prepared at home using family recipes.
Most recipes would also include salt, smoked meat, and spices in different quantities. The mixture's consistency varies from big grains the size of crushed bulgur wheat or couscous to a powder the size of table salt.
The majority of farofa have a smoky, slightly salty flavor that is typically used to enhance the flavor of meat, especially barbecued meat and hearty stews; Wikipedia
It was a true pleasure to experience it in new ways, not to mention a fascinating discovery.
You could easily make this vegan. Avocados, once toasted, will be my choice – I love garri and avocados.
To end, I think ground peanuts would be good – garri and groundnuts are a classic combination when 'soaking' garri in water, sometimes with sugar, to enjoy as cereal/a snack.
Groundnuts that have been peeled and roasted take this to a whole new stage.
There's a lot more you can do about it.
Use palm oil to flavor the dish.
Serve with beans and plantains as a side dish.
Add nuts, beans, and dried fruit to the mix.
Various herbs, such as fragrance leaves and cilantro, may be used to add flavor.
Yes, the possibilities are as limitless as your imagination.
There is only one realization here. It was also pretty darn sweet.
 Farofa with Dambun Nama Recipe
Toasted garri with dambun nama and vegetables is a delicious side dish.
Ingredients
1 cup garri – I used ijebu garri (which is finely milled)
2 tablespoons (unsalted) butter
½ onion, thinly sliced
1 tomato, chopped
1 – 2 green chilies, chopped
3 tablespoons dambun nama
Method
Firstly, melt the butter in a frying pan over medium heat.
Combine the tomatoes, onions, and chili in a mixing bowl. For a minute or two, sauté
Stir in the dambun nama and cook for another minute
Finally, introduce the garri. Stir to coat the grains in the pan juices and toast them for about a minute or two.
Remove from the heat and transfer to a serving bowl.
Lastly, serve with meats, greens, beans, and/or rice at either temperature – hot, cold, or room temperature.
Observations
Toss with sauteed greens before serving.I believe they will fit well in this dish because of how soft and juicy waterleaf or spinach are
Bacon, which is one of the many ingredients used in farofa, is amazing. I understand. Will give it a shot. Soon, I hope.