Boiling Crab Sauce: Boiling Crab Whole Shabang Recipe
Boiling crab sauce – I enjoy copycatting dishes from my favorite restaurants, so I'm always on the lookout for new ideas.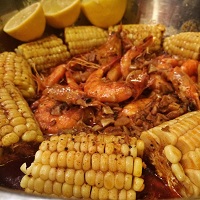 My friend and I first visited Boiling Crab many years ago, and it has since become a tradition for us to dine there on our monthly anniversaries.
About Boiling Crab Sauce
That is before we discovered how to do it ourselves. I found the recipe here, but it didn't turn out the way I expected it to.
Related >>> How to Boil Crab: Whole Shebang Boiling Crab Style Recipe
I tried it a few times and adjusted the ratio a little, but the end result is perfect. It serves two to three people.
Boiling Crab Sauce Ingredients
2-3 lbs. shrimp (head-on) or other shellfish
3 heads of garlic (minced)
6 sticks of unsalted butter
4 tabs Old Bay seasoning
2 tabs Paprika
5 tbsp. Chili Powder
3 tabs Lemon Pepper
1 tab Louisiana hot sauce
2 tabs sugar
Optional sides:  corn, potatoes
Dipping sauce:  lemon/lime, salt & pepper
Boiling Crab Sauce Recipe
Firstly, combine the Old Bay Seasoning, Paprika, Chili Powder, and Lemon Pepper in a small bowl.
In a pan/pot over medium heat, melt all of the butter.
Add the minced garlic and stir until fragrant, then add the spices.
Stir in the Louisiana hot sauce and sugar after the garlic has cooked for a few minutes.
This is where you can change the heat to your liking; 1 tbsp. hot sauce is mild, 2 tbsps. medium, and 3 tbsps. hot.
Maintain a low heat setting for the mixture.
Put the shrimp in a large pot/saucepan and cover with water until fully submerged.
Bring to a boil, then reduce to low heat and cook until they turn orange/pink.
Don't overcook it or it will become rubbery and difficult to remove.
You'll need some of the stock for the sauce, so save some. Since the sauce is so concentrated, I normally dilute it with shrimp stock (about 1-2 cups), but this is entirely up to you.
Drizzle the sauce over the shrimp and toss in the corn; serve with lime/lemon wedges and salt/pepper on the side.
To cook the corn, bring a large pot of water to a boil, add the corn, return to a boil, cover the pot, and return to a boil, then turn off the heat and keep the pot covered. After about 5 minutes, it should be done.
To prepare the potatoes, simply boil them.