Chicken in White Sauce Recipe – Low Carb Keto Paleo
Chicken in White Sauce is rich, creamy, and lip-smacking! Absolute comfort food served over rice or pasta.
If you like white sauce then, you are going to feast on this recipe. Made with milk, butter, cream, and cheese this is absolutely comforting food.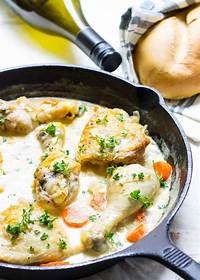 The chicken is coated in flour and parmesan, then, seared before adding to the sauce.
Most of the ingredients are pantry staples and the chicken dinner is ready in 30 minutes! My whole family goes crazy for this Chicken in White Sauce meal!
Please Read >>> Chicken Pasta Recipes – How to Make in Nigeria
A simple chicken in white sauce is such an easy dish to make. Moreover, the creamy sauce is dairy-free, low carb, keto, and gluten-free.
My objective is to make a meal you will expect to get at a 5-star restaurant at home and I achieved that with this Chicken in White Sauce recipe.
Chicken in White Sauce Recipe: How to Make Chicken in White Sauce at Home
There are many sauces that can jazz up and transform traditional dishes.
One of such sauces is called white sauce and is prepared with simple ingredients like butter, milk, flour, and nutmeg, and will serve to supplement any dish of meat, fish, or pasta you make.
Chicken in White Sauce Ingredients
4 chicken breast
2 tablespoons of flour
Olive oil
Parsley
 For the White Sauce:
2 Spoonful Of Butter
3 Spoonful Of Flour
1 Cup of Milk
Nutmeg
Salt And Pepper
Steps to Follow: Method
Firstly, to make chicken in white sauce recipe you have to prepare the chicken pieces to be used.
That is if it came in a whole piece you must cut it into fillets and if you have already purchased it cut you have to check there is no skin or some other residue.
After that, clean up the breast to leave it completely smooth and ready.
Then place a pan on the hob with a squirt of olive oil and, while it is heating up, dust the chicken breasts with a little flour. With this, they will cook better, be juicier, and with a little crunch.
Now, add them to the pan and let it cook until lightly golden on both sides. At this point, you can sprinkle a little parsley over the chicken so that the end result is tastier.
Lastly, when they are ready, place them on a plate and put aside.
For the White Sauce 
Now is the time to prepare the white sauce to accompany the chicken breasts.
To begin, melt the butter in a saucepan on low heat (you can also use the microwave).
Secondly, place another pan on the fire and pour the milk to warm it up but without allowing it to boil.
Thirdly, add the flour to the melted butter, mix both ingredients with a spoon for a few seconds and slowly add the hot milk so as to not create lumps.
After that, continue stirring for about two minutes, add salt and pepper to taste, and add a pinch of nutmeg.
Then, when you see the sauce begins to thicken you only have to add the chicken breasts to coat them well and leave these to simmer for at least 5 or 10 minutes.
Lastly, in case you observe that the sauce is too thin, you can add a pinch of flour and stir well to get the right consistency and texture.
It is that simple!
With these steps, am sure you can make a delicious sauce which you can serve as the main course to go along with salad, or as a second dish to follow a heavier recipe.