Nigerian Chicken Pepper Soup | African Pepper Soup Recipe
Sometimes, a comforting bowl of hot soup is all you need. Nigerian Chicken Pepper Soup is simple and hearty comfort food, common in West Africa.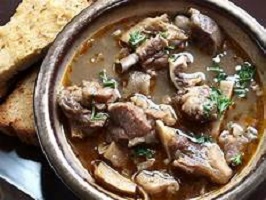 It can also be called African Pepper soup, and as the name implies 'Pepper Soup' is a hot and spicy chicken broth recipe loaded with a blend of aromatic African spices, and hearty flavors.
The Nigerian pepper soup/sauce; be it with chicken,  Nigerian Yam, goat meat, or with assorted meats, is a Nigerian staple.
This Nigerian soup is not only delicious but also adaptable. Hardly, will you walk into any inn house or restaurant in Nigeria or other African restaurants abroad and not find Pepper soup.
It is also a huge appetizer at Nigerian parties. There is no Nigerian party without pepper soup.
When to Serve Nigerian Chicken Pepper Soup
This dish is perfect for all kinds of parties and is best when you want to swap from your usual Sunday Jollof rice.
You can start with it while waiting for the main dish, or serve it with white rice, yam, or plantain as the main dish itself.
This exceptional delicacy is very medicinal, made with aromatic spices, and can be eaten at any time of the day.
Others prefer to eat it when recuperating after childbirth; that is what new moms enjoy during the "omugwo" period in Eastern Nigeria.
(OMUGWO is the period from childbirth or a week or two before to about 3 months post-delivery. During this period, the new mom's mother comes to her daughter's home)
Some like to have it when they want to recover from a cold, or flu while others eat because they like it.
Furthermore, whichever food we consume should have some great health benefits, whether in sickness or in health.
Nigerian Chicken Pepper Soup Recipe
It's so easy to make and you can hardly go wrong putting the pepper soup ingredients together.
Chicken Pepper Soup Ingredients
Chicken Pepper Soup does not need lots of ingredients. The basic ingredients that you need in other to enjoy pepper soup are:
Hot pepper, onions, garlic, ginger, and some other ethnic spices that range from lemongrass, basil, negro pepper, calabash nutmeg, uziza seeds ( can someone help me with the English name)
This spice mix can be bought in African stores. Also scent leaves (substitute with parsley or basil)
Cooking tips
I prefer using fresh hen to cook chicken pepper soup because it yields more flavor
How to Make Nigerian Chicken Pepper soup
Firstly, cut the chicken into desired pieces. Wash and pat dry. Then, blend ginger, garlic, onion, pepper into a smooth paste. After that, season the chicken with salt, seasoning cubes, and toss with the blended paste. Cover and let it sit for 30minutes to 2 hours.
Secondly, after marinating, empty the chicken into a soup pot alongside its marinated juice i.e. the seasoning.
Thirdly, allow steaming for 10minutes, then pour in all your other seasonings with enough water and cook on medium heat until meat is soft. The minute the meat is tender, add the sliced basil or 'efirin/scent leaves.' Then stir to combine.
Lastly, adjust for seasonings and thickness. Sprinkle carrot and green onions decoratively(optional) on it, right before serving
Serve warm/hot.
Bottom Line: Why You Should Give This Nigerian Chicken Pepper Soup a Try
Nigerian chicken pepper soup has many benefits. It's a low carb meal that revives appetite very fast and to think of it – who doesn't like chicken… I know some still don't but …
Calories in Nigerian Chicken Pepper soup and Nutrition Facts
Nutrition Summary:
Calories

308

Fat

22.59g

Carbs

1.13g

Protein

27.86g

There are 308 calories in 1 serving of Nigerian Chicken Pepper Soup.

Calorie breakdown:

64% fat, 1% carbs, 35% protein.