Stick Meat Recipe – How to Make Nigerian Mini Beef Kebab
Some Nigerians call it stick meat while others may call it mini beef kebab. It's often served in Nigerian parties and it's also a street food in some parts of Nigeria-the epitome of West African Street food
What is Stick Meat?
Stick Meat is a very enjoyable and colorful Nigerian Snack. The color and the smell activates the taste buds. Stick meat is also a delicious appetizer made essentially with beef and a few peppery veggies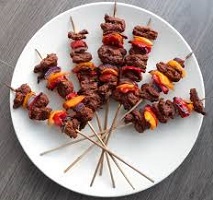 Deliberating what type of finger food to serve at your next get-together? The stick meat recipe is always a winner.
Please Read: Fried Chicken Gizzard and Plantain (Gizdodo)
This chunky Nigerian Beef Kebab at parties consists of beef and vegetables. Above all,  the beauty of this recipe is the colors of the vegetables (pepper). Hence choose contrasting colors of peppers or onions.
Stick Meat Recipe – Here is how it's made.
This is very easy to make and could be used as an appetizer or a snack as beef is very filling.
Ingredients
1Pack of Beef
3 Bell Peppers – Red, Green, Yellow
1 Bulb Onion
2 Cubes of Knorr
2 Teaspoons dry Pepper
One Teaspoon Salt
½ Teaspoon Curry
2 Cups of Water
A pinch of thyme
2 Cooking Spoons of vegetable oil
Pack of Toothpicks
Preparation
Firstly, cut the beef into tiny pieces and place it in a pot. Then, add salt, dry pepper, knorr, curry, thyme, and water, and bring to boil.
Secondly, boil for 15 minutes and allow cooling.
After that, heat the vegetable oil and fry the beef till brown
Then, cut up all the bell peppers and onions into tiny pieces
Lastly, stack the beef, peppers, and onions in your preferred order.
Enjoy!
Cooking Notes
When making the Nigerian stick meat it is very imperative to use the soft part of Meat cut for this
---
,
This is because it comprises frying/oven drying, and you don't want to hurt your jaw in the process of chewing.
Nutrition
Calories: 3069kcal | Carbohydrates: 30g | Protein: 163g | Fat: 253g | Saturated Fat: 127g | Cholesterol: 644mg | Sodium: 2664mg | Potassium: 3394mg | Fiber: 9g | Sugar: 19g | Vitamin A: 11670IU | Vitamin C: 462mg | Calcium: 201mg | Iron: 20mg