Nigerian Peppered Chicken: How to Make
Peppered Chicken is usually grilled or fried chicken fried in very rich tomato sauce. Nigerians love spicy food, and spiced chicken is one of their best picks.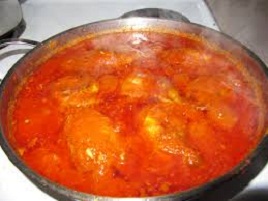 Peppered Chicken is a great plus to your Nigerian party food. It comes handy especially when you have friends visiting.
This finger-licking delicacy is Nigerian parties favorites and undeniably delicious. It also serves as a great snack to catch up on the latest gist or watch a football match over, with some chilled drinks to wash it down.
So, if you have got barbecues or house parties on your mind this period, you might want to add these lip-smacking goodness to the menu, with supreme fulfillment assured!
Serve your multi-purpose Easy Peppered Chicken sauce with Rice dish/yam/plantain/draw soup or even alone and watch your family lighten up over the dinner table.
Peppered Chicken Recipe
This Nigerian favorite party dish works fine with fried or grilled meats, snails, and fish also; just drop in some king prawns to double the yum.
Ingredients
Whole chicken/chicken wings/chicken breasts
10 red bell peppers.
3 atarodo/scotch bonnets.
2 big onions.
2 big green bell peppers.
A tsp. Ginger powder
4 stock cubes.
1 tsp. Garlic powder.
Salt to taste.
1 tsp. Thyme.
1 cup of vegetable oil.
Vegetable oil for deep frying.
Method
Firstly, wash and cut the chicken into desired sizes. Massage the seasoning and spices into the chicken with your hands, cover and put in the fridge to marinate for at least 1 hour.
Then, cook with 1 onion, ginger powder, garlic, thyme, and two stock cubes, when it's boiled and tender, grill or deep-fry the chicken
Thirdly, blend red bell peppers, atarodo and 1 onion. Chop the green peppers.
Then, pour the vegetable oil in a dry pot and heat up.
After that, add the pepper blend and start frying on low to medium heat till all the water dries up.
Then, add the grilled/broiled peppered chicken and stir very well with a spatula till the popping red peppers have coated every inch of the chicken. Adjust for seasoning.
Add the green bell pepper stir and turn off the heat.
Enjoy.