Pineapple Coconut Juice Recipe & Benefits
Pineapple Coconut Juice Recipe
If rehydrating with minute-made pineapple and coconut water is one of your vacation favorites, then this homemade pineapple coconut juice is just up your alley!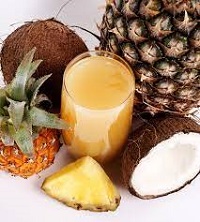 Drink more water and less soda, you hear it all the time. But it's easier said than done if you don't enjoy the taste of plain water.
Related >>> Pineapple Peel Tea – Don't Throw Away the skin Again
Fortunately, we have a wonderful detox water solution for you. Infused water or spa water are other names for detox water. All of those categories are basically fancy words for water with fruit and herbs in it.
Fruit and herbs give flavor as well as added health benefits. This thirst quencher, made with coconut water, lime, and straight ginger juice, is created with freshly juiced pineapple.
The benefits of pineapple juice for the skin and the health facts for the body are innumerable to mention whether in the form of smoothie, cocktail.
It's stimulating, fragrant, hydrating, with a pure, intense shade of yellow that gives us a sense of its strength and life even before we take the glass in our hands.
It's simple to create and has incredible health benefits, and all you need are a few ingredients that can be found in any grocery shop!
Homemade Pineapple Coconut Juice Recipe
Because pineapples and coconuts are both high in vitamins and minerals, it's a no-brainer what combining the two fruits will do for your body. The fact that this is refined sugar-free is an added bonus. The pineapple I used was ripe and sweet, and the coconut water didn't have any added sugar.
My first taste of the tropical combination of pineapple and coconut came from a very popular brand Chivita Nectar 50cl
This recipe does not require the use of a juicer. If you do have a juicer, I'll show you how to make it with one, but if you don't, I'll show you how to make it without one.
How To Make Pineapple Coconut Juice Without a Juicer?
Without a juicer, making any juice is simple. All you need is your trusty blender and a nut bag. To make it, follow the steps below.
Firstly, wash and peel the pineapple. Then, cut into cubes and combine with a little coconut water until smooth.
Secondly, sieve the purée or pour it straight into a pitcher.
After that, pour the remaining coconut water over ice and serve.
Instructions On How to Make Pineapple Coconut Juice with A Juicer
Pass the pineapple through the juicer after peeling it.
Then, combine the coconut water and pineapple juice in a mixing bowl and after that, add the juice from one lime, if using.
Lastly, don't forget to include ice in the serving.
Notes
Because sweetener is optional, the nutritional information does not contain it.
If you like, you can use coconut milk from a carton instead of coconut water.
Nutrition Info on Pineapple Coconut Juice
Serving Size: 1 (522) g
Servings Per Recipe: 1
Amt. Per Serving% Daily Value
Calories: 430.6
Calories from Fat 222 g52 %
Total Fat 24.7 g37 %
Saturated Fat 21.4 g107 %
Cholesterol 0 mg0 %
Sodium 18.8 mg0 %
Total Carbohydrate 58.1 g19 %
Dietary Fiber 7.5 g30 %
Sugars 41.2 g165 %
Protein 4 g7 %