Coleslaw: How to Make Nigerian Coleslaw
Coleslaw: How to Make Nigerian Coleslaw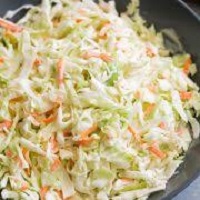 Coleslaw, pronounced kowl-slaw, is a quick and easy method to add veggies to your dinner. This is one veggie side dish that works wonders on a rice plate when serving a large group.
The main elements in cole slaw are cabbage and carrots, which can be altered as much as you wish.
You May Also Like >>>>
What Is Coleslaw? What Is Coleslaw Made Of?
A simple cabbage salad is a coleslaw. It's made composed of finely shredded cabbage, carrots, and a few other crunchy vegetables, Mayonnaise and salad cream are then spread on top of the salad.
Coleslaw is one of the Nigerian salad recipes and an alternative to the wholesome Nigerian vegetable salad. It goes well with a variety of Christmas foods.
Nigerian coleslaw is a popular side dish at gatherings in Nigeria. It goes well with jollof rice, fried rice, and even Chinese rice. It can also be served as a stand-alone dish with a fried chicken chunk on the side.
Origins Of Coleslaw – How Was Coleslaw Invented
Its origins can be traced back to the ancient Romans, who served a dish consisting of cabbage, vinegar, eggs, and spices in a dish.
Around the Hudson River, the Dutch who created New York state farmed cabbage, which they utilized in a shredded cabbage salad known as koosla (kool means cabbage and sla is salad)
Why Is Coleslaw Referred to As Slaw?
The name comes from the Dutch koolsla, which combines the words kool (meaning "cabbage") and sla ("salad") to form "cabbage salad."
Is Coleslaw Healthy?
Yes, coleslaw can be nutritious. Because coleslaw is made up of shredded vegetables (mostly cabbage), it naturally contains vitamin and fiber-rich and is healthy.
The majority of traditional creamy coleslaw dressings contain high-fat ingredients like mayonnaise, as well as sugar.
Recipe For Making Coleslaw? Cole slaw Original Recipe
Permit me to explain how to prepare the simplest homemade coleslaw salad you've ever tasted. It's light, creamy, and crunchy, and it's quite easy to create.
Thanks to my wonderful food processor, this was ready in 5 minutes. If you don't have a food processor, use a box grater or a mandolin slicer to make this coleslaw.
It's ideal for picnics, parties, and get-togethers, and it's a scrumptious side dish that will please everyone.
In a mixing bowl, combine the shredded cabbage, carrot, and spring onion.
Then, in a separate bowl, mix the ingredients for the mayonnaise dressing. Coleslaw can be prepared with mayonnaise or without mayonnaise
Cole-slaw Recipes Variations
Vinegar Slaw
Lexington-Style Red Slaw
Mustard Slaw
Tangy Apple Slaw
Jalapeño Slaw
Get The Recipes:
How To Make Perfect Coleslaw At All Times? coleslaw salad recipe
Ingredients
1 small cabbage
One small green bell pepper
½ tin of green peas
2 medium carrots
1 medium onion
Tablespoons of 5 salad cream (Ideally Heinz Classic Salad Cream)
4 tablespoons of mayonnaise
½ teaspoon sugar
A pinch of salt
Method
This coleslaw recipe is simple to prepare. You can prepare it in less than five minutes.
Furthermore, coleslaw ingredients are not in short supply and do not burn a hole in your wallet.
In fact, most folks have all of the ingredients for coleslaw on hand, so they can make it on the spur of the moment.
Some people prefer it plain, while others want it creamy and topped with coconut shavings.
All of the vegetables must be rinsed prior to cooking.
Firstly, chop the cabbage, green bell pepper, and onions into extremely small pieces.
Then, using a grater, scrape and shred the carrots, then cut across the shreds with a knife to make the pieces further smaller.
Thirdly, in a large mixing basin, combine the cabbage, green pepper, green peas, onions, and carrots and whisk well.
After that, combine the salad cream, mayonnaise, sugar, and salt in a separate, smaller bowl.
Now, pour the cream mixture into the veggie bowl and whisk vigorously.
Lastly, allow cooling before serving.
Coleslaw Alternative: What you can use instead of coleslaw
Green Bean Slaw.
Crunchy Broccoli Slaw.
Lemony Brussels Sprout Slaw.
Celery Slaw with Edamame.
Pickled Pepper Slaw.
Citrus, Scallions, and Arugula with Spicy Raw Beet Slaw
Peach-and-Fennel Slaw.
FAQs
How do you shred carrot for cole slaw?
Carrots can be shredded using a food processor or a hand-held grater.
Peel the outer skin off your carrots using a vegetable peeler.
Use a square or cone stand-up grater instead of a flat grater, which is easier to maneuver and gives you more options for shredding carrots.
What is the best way to shred lettuce for cole-slaw?
Place the half head cut side down on the cutting board. Then start creating a parallel sequence. horizontal slashes How thinly cut your cabbage determines the spacing between the slices.
Is a blender capable of shredding lettuce?
Turn on your food processor with the slicing disc attached. To shred the lettuce, put it through the tube into the food processor.
If you don't have a food processor, a blender will suffice. If you don't have a food processor, you can use a blender instead. Pulse slowly until you get the desired shredded lettuce texture.
Is it possible to freeze homemade cole-slaw?
You may freeze your slaw if it's a vinegar-based cole slaw. Slaw made with mayonnaise can be frozen, however, the dressing tends to break down when thawed.
How can I make my cole-slaw taste better?
You can add any fresh herbs you choose, as well as salt and pepper, and a teaspoon or so of mustard to help emulsify it.
You might wish to add a little honey for sweetness. Serve the coleslaw immediately after dressing it, or chill it for an hour before serving. This will slightly wilt it if you prefer it that way.
Reason people put vinegar in coleslaw – Vinegar is used in cole-slaw for a variety of reasons.
Adding a dab of this vinegar to your slaw, whether it's with or without mayonnaise, simple or laden with ingredients, gives it a fruity and tangy flavor that's more balanced and less sharp than white or red wine vinegar.