It is obvious to tell that I am on a Cabbage kick lately. First, I shared Nigerian Cabbage Stew: Preparation and Health Benefits and now Cabbage Coleslaw. Actually, I have leftover carrots and Cabbage lying untouched in my fridge since last week after preparing cabbage stew and the thought of making Cabbage coleslaw came to my mind. This meal is an easy salad that consists of finely diced cabbage and carrot usually held together with mayonnaise or salad cream.
Cabbage coleslaw also called cabb by some people is a preferred side dish in Nigeria. This cabb meal is very easy to prepare thereby making it a highly versatile everyday side dish. With the quantity of pepper and spice, we use in our Nigerian foods, this meal provides a cooling relief between those sizzling mouthfuls. It is mostly served with jollof rice, fried rice, and other rice dishes as a side dish in many parties or as a dish on its own with a chunk of fried chicken by its side.
I am a huge fan of onions in coleslaw especially spring onions, which helps to make it very tasty and refreshing. Also, a small piece of lemon juice and sugar takes this meal to a whole new level. Try these especially if you are the adventurous type instead of your regular mayonnaise dressing. Here is my version which you can prepare in 5 minutes.
Cabbage Recipe
1 head of green cabbage
2 large carrots
4 heaped tbsp of mayonnaise
2 tbsp of sour cream (salad cream)
Spring onions
1 small lime juiced
Sweet corn
Black pepper to taste (optional)
Step by Step
Scrape off the outer skin of the carrot with a potato peeler or knife, wash and set it aside
Finely shred the cabbage and carrots
Chop the spring onions
Mix together these key ingredients: cabbage, sweet corn, carrot, and spring onions in a bowl
In another bowl, pour in the mayonnaise, cream, and sugar. Beat for a while then pour in the sugar, lime and mix well
Mix step 5 with the key ingredients in step 4
Cover the bowl with foil and chill until ready to serve
That is it, we are done!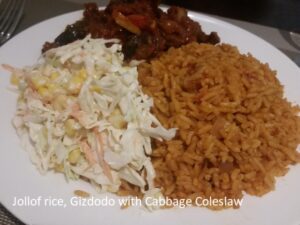 Do not forget to leave a comment if you find this article helpful. Always follow us on all our social media handles. Till I see you again with more exciting recipes, Stay busy, eat healthy to improve wellness and feel great.