Aki na Ukwa; Roasted Breadfruit & Palm Kernel Snacks
Aki na Ukwa; Roasted Breadfruit & Palm Kernel Nut Snacks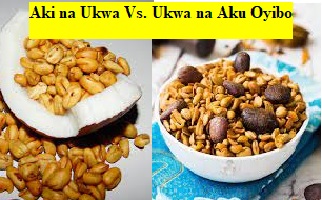 Roasted Ukwa and Coconut Chips Snack aka 'Aki na Ukwa
Aki na Ukwa (fried/roasted Ukwa and Palm kernel) ~ Local snacks since the origin
Trending Topics Related to Aki na Ukwa Right Now >>>>
Ukwa and Aki Season
The rainy season has returned and some of us are already taking advantage of the season's food benefits because of the cool weather.
Breadfruit (English), also known as ukwa (Igbo), is one of the dietary blessings associated with the rainy season.
This African Breadfruit is both a versatile and nutrient-dense food and also one of my favorites. While it is somewhat expensive during peak season, off-peak prices are even higher.
Here are some things you should be aware of regarding this ukwa delicacy especially now it is the season:
An Overview of Aki na Ukwa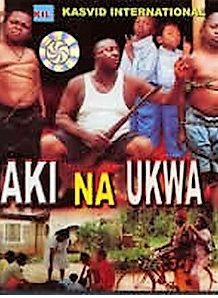 I'm not referring to the well-known comedy movie starring Osita and Chinedu; rather, I'm referring to the dish from which the movie received its name.
Nowadays, when the word "aki na ukwa" is discussed or googled, the movie is the first thing that pops up or springs to mind, although the name has much more meaning.
The famous Nigerian snack known as "aki" (palm kernel nut) na ukwa (roasted breadfruit) is made of mouth-watering palm kernel seeds with roasted breadfruit.
The majority of those who eat it appreciate how good it is.
About Ukwa Food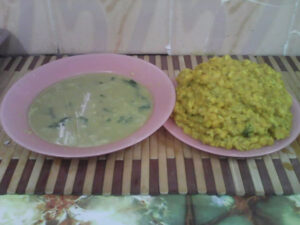 Ukwa is known as breadfruit in Nigeria or seeded breadfruit or breadfruit nut outside of Nigeria. It is located in the country's eastern part and is popular during the rainy season. So it is currently in season.
As a snack, ukwa is available fresh, dry, or roasted; it is always served with aki,
Here are a few reasons why you should gather lots of ukwa if you are in the village this season to return soon.
Benefits of Breadfruit ~ Ukwa Food BenefitsBecauset meals high in fiber aid in bowel movements and maintain a healthy stomach, Ukwa Snack is excellent for colon health.
They contain a lot of carbs but are healthy carbohydrates, thus I assume they have a low glycemic index. They are also a wonderful source of protein and are suggested for diabetics.
Additionally, it contains vitamins and minerals like calcium, zinc, potassium, iron, and B-Vitamins.
It is also low in fat, although oil can be produced from it and can be seen floating on top when it is heated, it is higher in unsaturated fatty acids than the majority of other types of oils, notably animal fat.
Undoubtedly a wholesome snack, pick up a bottle or two when returning from an Ibo Land/village.
5 Things about Ukwa You Should Know
It's a culinary jewel in Anambra State
Ukwa hails from the Eastern state and the people love it to bits
Ukwa can be bought and enjoyed fresh or dried/roasted
You can preserve fresh ukwa by air-drying it
It requires a tenderizer and shrinks in size when cooked
Ukwa is very expensive when compared to other snacks. This might be due to the nutritional value and procession
Natural Traditional Snacks vs. Processed Snacks
Our natural foods are rapidly being replaced by processed snacks.
How many occasionally buy local snacks and delicacies to show our kids?
It is of the utmost importance to teach children about indigenous foods and to respect our traditional cuisine and heritage.
Aki na ukwa snack recipe ~ Best Paired with Aki (Aki and Ukwa Combo)
A cup of raw ukwa is expensive while the roasted ukwa is even more expensive.
To get the aki, simply reserve palm kernel nuts after extracting the oil for Nigerian Soups recipes like ~ Ofe Akwu, Banga Soup, Abak Atama, etc
Aki na ukwa snack ingredients
Ukwa (raw shelled) – as much as you can eat
Palm Kernel Fruit
Directions
Firstly, to extract the oil, boil the palm kernel fruits and press them. What you need is the nut; set the oil aside for use in other recipes. Break the nuts using a hammer to get the kernel seeds out (Aki).
Then, dry roast the uncooked ukwa by stirring-frying it in an empty skillet over medium heat until the interior is golden brown. Peeling one of them will allow you to check.
After that, set aside to cool, and then press the pan-roasted ukwa between your palms while blowing off the chaff to remove the skin.
Lastly, serve the ukwa and aki together as a snack