Nigerian Fish Roll Recipe: Best Deep Fried Fish Snack
Nigerian Fish Roll is one of the popular snacks and a common West African street food, particularly in Cameroon and Ghana.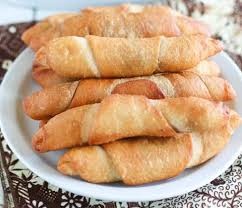 It is the deep-fried version of Nigerian Meat Pie with a fish filling and the taste is oh so good!
However, for a healthier version you can bake them. The baked form tastes slightly different from the deep-fried type.
But, if you want your tasty fish roll flaky and crispy, the frying method is the best. It all depends on your choice.
Nigerian Fish Roll is simply a snack made of a pastry dough which is quite similar to meat/fish pie and the sweet sausage roll all wrapped in a spicy Fish filling.
Nigerian Fish Roll Recipe
African Fish Pastry (Fish Roll) is super easy, crispy, and tasty, am sure you will surely love this fish roll recipe, so will your family, friends, and guests, here we go:
Cooking Tips for Nigerian Fish Rolls
For the filling you can use a different fish, including canned goods.
We used mackerel fish in making our fried fish rolls in Africa but I learnt salmon fish, sardine, or tuna fish will work just as well.
When using yeast (optional), be sure it is still fresh and not old and stale, for optimum rising.
Ingredients
2-2½ Cups Plain Flour
4 Tbsps. Margarine
One Egg
1 Tsp. Baking Powder
¼ Tsp. Salt
14 Ounces Mackerel
6-8 Tbsps. Evaporated Milk/Whole Milk/ Water
2 Green Onions
1 Small Onions Finely Chopped
Cayenne Pepper
Enough Oil for Frying
2 Tbsps. Sugar
Instructions
Firstly, mash the Fish together with the Onion, Green Onion, and cayenne pepper together in a bowl and set aside.
While the filling is cooling, it's now time to prepare the pastry or the dough for the Nigerian fish roll
Secondly, in a large bowl, pour in the flour, baking powder, sugar and salt and mix well.
Then add the margarine and use your finger to incorporate the margarine into the flour until it comes out crumbly
Thirdly, add the egg and mix thoroughly, Begin to add the water/milk a little at a time until the dough comes together or is workable.
Please note that the dough should not be too running and not too hard, it must be soft for a better result. More flour can be incorporated if you feel the dough is too running.
Now, transfer the fish roll dough to a work surface and knead until you get smooth but firm dough for about 3 to 5 minutes, then allow resting for 5 minutes.
Next, place the dough on a table and cut out a bit. Using a rolling pin, roll out the small dough to about 1/8th inch thick, and then cut to form a rectangular shape.
After that, take each of the cut-out rectangles and fill it with 1 to 1½ Tbsp of Fish then tightly roll the dough and secure the tips a little bit to prevent the fish from spilling into the Oil.
Repeat the process for the remaining dough and set aside.
Lastly, heat a pan of oil until hot (not smoking hot) and gently place the fish rolls into the hot oil.
Fry the fish rolls on low heat until its crispy and golden brown.
This African Fish Roll (Fish pie) can be eaten as a snack or served as a starter for your party as well.
Serve hot, warm, or cold with your favorite drink. Enjoy!
Nutrition
Calories: 60 kcal Carbohydrates: 0.3 g Protein: 13 g Fat: 1g
FAQ's
Q – How to know if the oil is ready for frying
A: The easiest and safest method to know if the oil is ready for frying is to simply stick the end of a wooden spoon into the oil.
If you see many bubbles form around the wood and they start to float up, your oil is ready for frying. If it is bubbling hard, the oil is too hot;
Q – Can I bake my Nigerian Fish Roll?
Absolutely! It can be baked just like Nigerian meat pie and it's healthier. But I prefer the frying method because I like my Nigerian Fish Roll flaky and crispy. Like I said earlier on, it's all about choice.
Q – Can I add sugar and pepper?
A: Both are great as far as Nigerian fish roll is concerned. However, moderation is important.
Q – Milk or Water, Which One Is Better
A: You can use both, or only water or even only milk to mix the dough, but I like to use milk because of the outcome.
However, you can use whole milk all through or evaporated milk plus a little bit of water.
If you like our Nigerian fish roll, then, am sure you might also be interested in our other pastry recipes: