Asaro: How to Cook Yoruba Mashed Yam Porridge
Asaro, as it is called in Yoruba, needs no introduction. It is a special type of mashed yam porridge native to the Yoruba's in Nigeria.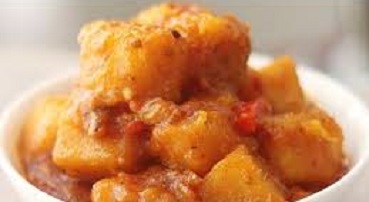 This popular Nigerian mashed Yam and Tomato stew infused dish has a unique color, feel, and taste.
Specially for You >>>> Vegetable Yam Porridge (Ji Akwukwo Nri) with Ugba
Asaro Nigerian food is either prepared very mushy or you can have it part mushy, I prefer part as I'm not a fan of mushy or pureed foods.
Some people also like adding vegetables to it but you can choose to have it without vegetables, this recipe shows you how to prepare both.
Asaro – Yam Pottage without Palm Oil
Although it is referred to as Asaro elepo rederede (meaning yam porridge with a lovely red hue from palm oil)
You can prepare Asaro – Yam pottage without red palm oil but with groundnut oil instead.
Yam porridge with tomatoes is another version of making yam porridge without palm oil, the yam is immersed in tomato sauce hence the reddish color.
Asaro – Yam pottage, 'Yam Poh' or Sese Yams in Cameroon is a one-pot meal that is prepared with either white or yellow yams or any starchy tuber (cocoyam, sweet potatoes, plantains,).
However, when you use a different starch, the yam porridge takes the name of the starchy tuber. Just like plantain porridge, Potato porridge, etc.
This dish can be enjoyed any time of the day but I usually prepare it for lunch or dinner.
Asaro – Yam pottage Recipe
There are so many ways to add to the tastiness of Asaro, you can include dry fish, meat, smoked fish, Pomo, etc.
Asaro is cooked with tomatoes and peppers, and then mashed to a complete puree or with a few lumps of yam left not mashed for texture.
At times little sugar is added to the Asaro especially by the bukas. This happens when the new yams have just come out and is still quite bland because of the high water content.
Ingredients
1 kg yam
Palm oil (to color)
1 smoked/dry fish of your choice
One tablespoon ground crayfish
1 medium onion
 Fresh green vegetable – Pumpkin (ugwu), Green, Scent leaf (efirin or nchonwu)
One red bell pepper Tatashe
1-2 scotch bonnet chillies (Ata Rodo)
Salt (to taste)
 2 big stock cubes
How to Make Asaro
1. Firstly, peel and cut the yam tuber into medium sizes. Wash the yam cubes and place them in a size-able pot.
2. Secondly, coarsely blend red bell pepper, scotch bonnet chill, and onions with water and set aside
3. Thirdly, de-bone fish, flake, and boil for about 5 minutes with seasoning cube, salt. Save the fish broth for the porridge.
4. Then, place a small pan on medium heat, add palm oil and heat for about 2 minutes. Add chopped onions and fry till onions are translucent and set aside.
5. After that, place a size-able pan on medium heat; add yam chunks, blended pepper mixture and enough water to cover it.
6. Also add salt, seasoning cube, and cook till the yam is tender. Then, add the stock and lastly the already heated palm oil to the yam and continue cooking till the yam is tender.
7. Mash the Yams with a Potato masher or a wooden spoon (You can mash everything into a creamy paste, and you can mash most of the Yams and still leave some chunks behind).
8. Stir in the flaked fish gently into the yam to avoid breaking the fish and yam more, cook for another 2-3 minutes.
9. Add the green vegetable, stir and leave to stand for a few minutes then serve!
Enjoy with meat, fried fish, plantain, or straight from the pot.
Calories in Asaro (Yam Pottage)
Nutrition
Calories: 636 kcal | Carbohydrates: 34 g | Protein: 5 g | Fat: 54 g | Saturated Fat: 27 g | Cholesterol: 20 mg | Sodium: 26 mg | Potassium: 972 mg | Fiber: 5 g | Sugar: 3 g | Vitamin A: 145 I U | Vitamin C: 22 mg | Calcium: 38 mg | Iron: 1 mg