Vegetable Yam Porridge (Ji Akwukwo Nri) with Ugba
Vegetable yam (ji akwukwo nri) just as the name states is a dish made with boiled yam, palm oil, shredded oil bean seed, and vegetables.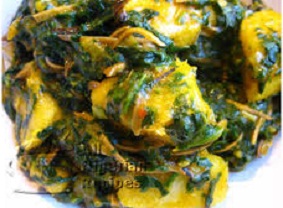 Different types of leafy vegetables can go with the yam staple: fluted pumpkin, green Amaranth, water leaves, spinach, etc.
Specially for You >>> Egg Sauce | Delicious Breakfast Sauce For Boiled Yam
I know you might be wondering what the term "ji akwukwo nri" means.
In a few words, ji akwukwo nri is an Igbo language word for yam and vegetable dishes.
Ji is an Igbo name for yam while akwukwo nri is an Igbo name for edible vegetables.
The dish is full of abundant vitamins and nutrients to its fullest which makes it a wonderfully healthy and nutritious meal.
Whatsoever the case, either yam dish or vegetable dishes are delicious on their own and to think of pairing both is just the icing on the cake.
Vegetable Yam Porridge Recipe
This recipe is a basic yam and vegetable mix. You need good quality yam and good tasting palm oil (learn to taste your palm oil) for this dish to go from great to fantastic.
Ingredients
1 tuber of yam
3 bunches vegetables (spinach or any other substitutes)
Palm oil
Fresh red pepper, onions, crayfish
Oil bean (ugba)
Seasoning cubes and salt to taste
Method
Firstly, peel the yam, cut to sizable size, and then wash.
After that, boil the yam with a little salt covered slightly with water, then cover the pot and allow cooking.
Secondly, pick the vegetables, wash thoroughly, and slice. Then, blend pepper and crayfish and set aside.
Thirdly, while the yam is still boiling, put your already sliced vegetables, blended pepper mix, chopped onion, ugba, and seasoning cubes in a different pot, and allow to steam on low heat without water, stirring continuously.
Fourthly, when the yam is soft and tender, sieve and add a reasonable portion of Palm oil, cover and allow the yam to soak in the oil
Lastly, add the steamed veggies to the yam and mix in well on low heat for 2 minutes, taste for salt, and turn off the heat.
This yam and vegetable dish is just spot on!! Serve warm on its own or with Fried plantain.
If you like my vegetable yam, I am sure you will also like:
Recipe of the Day: Nigerian Beans and Yam Porridge