Cashew Fruit Juice: A Natural Source of Vitamin C
Cashew fruit juice is a game changer especially when squeezed and sweetened and then served on the rocks.
Cashew juice taste is tart, slightly astringent and high in tannins. Excessive consumption of fresh cashew or its juice can in fact blister the tongue.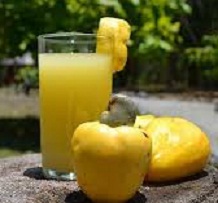 Preview Changes (opens in a new tab)
The fruit can be processed into a nutritious juice which can be taken throughout the year.
Specially for You >>>> Cashew Fruits, Nuts, Health Benefits, Recipes and More
Cashew Fruit Juice: Where Are Cashews Grown In Nigeria?
I know Akama-Oghe is one of the communities in Ezeagu local government area of Enugu State, where an expanse of land was acquired for cashews plantation and harvesting developmental projects.
Now, the cashew industry is a shadow of its self with ruins of what used to be an agricultural/industrial hub of the then fast-moving growing economies of the world
Cashew apples are a vital by-product of the cashew nut industry. Processing cashew apples for their juice is not popular in Nigeria.
Maybe because we don't have good preservation culture, or quite simply, we are not adventurous enough
Again, we don't know what to do with the fruit except to sell, to eat the fibrous apples while fresh, and make nuts from its seeds!
Today, I will show you how cashew juice can be used to create a pretty exciting tropical juice drink. Happy reading!
The cashew fruit is a False fruit in which some of the flesh is not derived from the ovary but some adjacent tissue exterior to the carpel.
False fruit is also called pseudo fruit or pseudocarp.
The cashew nut grows out first on the tree with the fruit which has a thin skin, coming after it. When the fruit has ripened, it falls off the tree and it is highly perishable.
Cashew Fruit Juice/Cashew Apple Uses
The Cashew fruit or cashew apple is used by a lot of people in Jamaica to make a revitalizing drink, which tastes like a cross between an orange and a mango.
Also, in places like India and Brazil, dried cashew apples have been effectively used, in combination with other ingredients, to make wine, juice drinks, jam, and cocktails. The Spanish love this drink a lot.
Health Benefits of Cashew Fruit Juice
Cashew Fruit Juice's benefit in the anticipated cause of the fat burn is vitamin C.
Cashew apples are recognized for being high in vitamin C, to the tune of about five times the quantity found in an orange.
Vitamin C is an essential co-factor in the formation of the amino acid L-carnitine.
This is essential because carnitine is a required part of the fat-burning process.
If you are trying to lose weight or a keen exerciser you may already be past your body's ability to produce carnitine, and so the benefits of Cashew Fruit Juice may become practically essential.
Cashew Fruit Juice Flavor
You can own this juice by using different spices and aromatics of choice for added flavor.
Cashew Fruit Juice Flavorings
Ginger root
Cardamom
Star anise
Lavender seeds
Dates
Citrus rind (Lemon rind, Orange)
Pimento seeds
Mint
Cloves
Zobo syrup
To use, simply grind them with the cashew fruit before extracting the juice
Recipe: How to Make Cashew Fruit Juice
The cashew apple can be eaten fresh, cooked in curries, or fermented into vinegar, as well as a fruit drink.
Cashew Fruit Juice Ingredients
6 cashew apples
1 medium-sized very ripe pineapple (adds sweetness)
3/4 large ripe mangoes ( give body to the juice)
3/4 large carrots (adds the exciting color, very nutritious, and helps to adjust the consistency of the juice)
2 cups of water
Method
Firstly, prep all the fruits. That is, wash them clean and peel them (be careful not to get the cashew fruit on your clothing as it stains)
Secondly, cut into large chunks. The cashew apples do not require any peeling.
Thirdly, put the fruits in a blender with the water, and flavor of choice and blend into a smoothie
Then, pour the juice through a strainer into a container. After that, save the chaff to be added to your boiled rice.
Lastly, pour juice into a jug and refrigerate. Serve chilled.
How to Preserve Cashew Fruit Juice
According to http://pubs.sciepub.com/ and I quote:
Based on the results obtained from the investigations on extraction and preservation's of cashew juice using sorbic and benzoic acid:
It may be concluded the sorbic acid and benzoic acid are good preservatives for cashew fruit juice.
The color, ph, specific gravity, total soluble solids (Brix level) and titratable acidity of the cashew juice was stable during storage when preserved with sorbic acid and benzoic acid
For more information please visit:
http://pubs.sciepub.com/ajfst/3/2/4/index.html
Side Effects  
Cashew is likely safe in normal food amounts,There is no adequate information to know if cashew is safe for use as medicine though unroasted cashew can irritate the skin.
Cashew is safe when eaten as food, but there's not enough information to know if it is safe in the larger amounts, therefore stick with food amounts until more is known.