Agua Fresca – How to Make Aguas Frescas
Agua Fresca – How to Make Aguas Frescas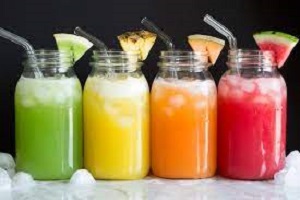 Agua fresca is a simple and delicious fruit beverage. Even though it's created with only fruit, water, lime juice, and a little sweetener, this drink will quench your thirst.
Make a big batch of this for your next outdoor gathering or to enjoy in your backyard on a hot summer day.
What Is Agua Fresca?
Aguas Frescas are non-alcoholic drinks created from fresh fruits, crisp vegetables, or seeds, and they may sound like an exotic Mexican cocktail.
They're widespread among street vendors in Mexico and Central America.
However, they are available in bodegas, restaurants, and juice bars, just like horchata, another Mexican staple.
Fresh fruit, vegetables, cereals, nuts, seeds, flowers (such as Hibiscus), and herbs can all be used to make it.
Fortunately, Aguas Fresca is simple to create at home. Only chopped fruit, water, sugar, and a blender are required.
It's produced with natural ingredients, making it a better option than soda (with artificial flavors, colors, and lots of high fructose corn syrup).
They make use of the freshest fruits in season and are far healthier than most store-bought fruit drinks. So, my friends, let's start blending.
This wonderful drink can be served filtered or with the fruit pulp, but unless you want it to be more like a smoothie, I recommend leaving it out.
What is the Origin of Agua Fresca?
Agua Frescas is a famous drink in Central America that originated in Mexico. It's also popular in California.
Fruits That Should Be Used
Watermelon is one of the most popular types of agua frescas, although there are many others. Stick to fruits that are inherently sweet, like honeydew, or ones that are particularly refreshing, like cucumber. Some of my personal favorites are:
Watermelon
Honeydew
Pineapple
Cantaloupe
Strawberries
Guava
Papaya
Cucumber
Orange
Nectarine
Mango
Mandarin
Jackfruit
Kiwi
Lime
Lemon
Grapefruit
Coconut
Peach
However, if I had to pick just one, it would be pineapple. So delectable! Other berries, such as blackberries or blueberries, aren't good choices because they're seedy or pulpy.
Ingredients and Variations for the Aqua Fresca Recipe
Fresh fruit: Watermelon, cantaloupe, honeydew, or pineapple are all good options. Grapes, mangoes, peaches, strawberries, and cucumber are among other options.
Sugar: Honey or even pure maple syrup are excellent alternatives. Another option is to use stevia, however, just around 1/2 teaspoon is required.
Lime juice: Use only fresh lime juice; it makes a significant difference. If you only have lemon juice, that will be enough.
Ice and cold water
Best Fruit to Water Ratio
The degree of agua Fresca's flavor can vary greatly. It may simply be a matter of personal preference.
Some people prefer it with a stronger fruit flavor, while others prefer it to be more watery.
I prefer a stronger fruit flavor, so I use around 1 ½ glasses of water for every 4 cups of fruit (plus 2 cups of ice which also waters it down a little more so).
You can make any changes you want. If you want to make the recipe last longer, simply add another cup of water.
How to Make Fresh Water
Ingredients
4 cups chopped fruit
3 cups water
1 tablespoon maple syrup (or other sweeteners)
1 lime, juiced
Instructions
In a blender, combine the fruit, water, lime juice, and sweetener. Then purée until everything is smooth.
Strain the mixture into a large pitcher using a fine mesh strainer. Taste to see if any additional sweetness is required.
Watermelon doesn't normally need to be strained, but straining is recommended if you want to remove some of the froth and pulp from other fruits.
Because some fruits are inherently sweeter than others, I always start with less sweetener and gradually increase it.
Do you want to be inventive? Add herbs (fresh mint is delicious) or spices to fruit mixtures (fresh ginger is awesome with pineapple).
I prefer to keep my agua fresca in large juice jars.
Strawberry Water Aguas Fresca
Strawberry Agua Fresca is a refreshing fruit beverage popular in Mexico. In Spanish, agua fresca means "fresh water."
Strawberry Aguas Frescas Recipe
Ice
Water
Granulated Sugar
Strawberries
Fresh Lime Juice
Tips & Tricks for Strawberry Agua Fresca
If you have any concerns regarding how to make this Strawberry Lime Agua Fresca, I can help!
If you're having problems or just want some advice, take a look at this section before making a remark.
Depending on how sweet your berries are, you may need to modify the amount of sugar in the agua fresca to taste. Approximately a third of a cup is about right for us.
Do you want to try something new? To change up the flavor, choose your favorite fruit — or go all out and combine two or three fruits.
The greatest agua fresca is made with juicy fruits like melons and berries. In addition to the strawberries, we've used banana, kiwi, and watermelon in this dish.
We can't choose a favorite because they're all so excellent! You can even add cucumbers and celery, as well as spices like ginger!
Looking for a low-calorie or low-carb beverage? Replace the sugar in the recipe with your preferred alternative sweetener. Make careful you read the sweetener box and follow the measurement instructions.
Agua fresca should be kept refrigerated for up to three days.
This agua fresca drink is caffeine-free and vitamin-rich thanks to the addition of genuine fruit.
It's a fantastic non-alcoholic beverage! Kids and
Strawberry Agua Fresca Recipe
4 cups water
1/3 cup granulated sugar
16 ounces hulled strawberries
¼ cup fresh lime juice (about 2 limes)
ice
Instructions
In a pitcher, add the water and sugar and swirl to dissolve the sugar.
In a blender or food processor, puree the strawberries. Blend until completely smooth. Stir in the strawberries and lime juice into the sugar water.
Pour over ice and serve.
Notes Depending on how sweet your berries are, you may need to modify the amount of sugar in the agua fresca to taste. A third of a cup is about the right amount for us.
Information on nutrition:
4 servings per recipe
Per Serving Amount: 104 calories 0g total fat 0g saturated fat 0g trans-fat 0g of unsaturated fat 0 mg cholesterol 11mg sodium 26g carbohydrates Fiber: 2g Sugar: 22g 1 g protein
How Can It Be Made Healthier?
If you want a healthier version of aqua Fresca, leave out the sugar.
It won't be as sweet, but if you use sweet enough fruit, it'll still be excellent.
Helpful Suggestions
Before cutting, remove any rinds or skin from the fruit.
Use the freshest fruit you can find. It will only taste as nice as the fruit that you use.
You might also combine two fruits.
If feasible, use cold water and cooled fruit. It tastes even better, and the ice doesn't melt as quickly.
Use a high-powered blender, such as a Vitamix.
If you want to strain faster, use a larger sieve and a bowl instead of a small sieve and pour straight into a pitcher. You'll strain it out much faster and won't have to empty the sieve as often.
Before you start, take a bite of the fruit. If it's too sweet, you might want to cut back on the sugar; if it's a touch tart, you might add the sugar somewhat.
Other Fantastic Garnish Concepts
Hibiscus flowers, a lemon wedge, berries (such as blackberries or blueberries), herbs, or cherries are some more fantastic garnish possibilities for this drink.
Storage
In the refrigerator, Agua Fresca should last 2 to 3 days. Unfortunately, fresh juice that has not been pasteurized does not keep for very long.
How long will agua fresca last in the fridge?
Agua frescas can be stored in the fridge for up to 72 hours. It's best served over ice right away, or you can put ice in your pitcher before serving.
If you want to make some ahead of time so it can cool without ice in the refrigerator. Then, 10 minutes before you're ready to serve, add ice to the pitcher. Before serving, give it a good stir because the liquid will separate over time.
What does it Taste Like?
Aqua Fresca has a lighter flavor than fruit juice. It has a pleasant sweetness to it, as well as added vibrancy from the citrus.
It's quick and simple to prepare, and it's something that everyone will love, especially on a hot day!
Kinds of Agua Fresca and How to Make Them ~ agua fresca recipes
Fruit Agua Fresca
Agua fresca may be created with almost any fruit, and you can mix and match different fruits to create your own flavor combination. After removing the skins, seeds, and stems from some fruits, such as melons and apples, you can blend them into the water. Simply chop them up and mix them in with the water.
Berries can be used whole, although larger seeds (like those found in blackberries and raspberries) might be a pain, therefore agua fresca made with berries should be filtered before serving. This also applies to some other fruits with many little seeds that are difficult to remove manually, such as guava and tuna (cactus pear), as well as fibrous fruits like pineapple.
Citrus fruits can be juiced directly into the water, making it simple to make a batch without the use of a blender.
Basic Instructions
2 cups fresh fruit
¼ cup sugar
4 cups of drinking water (or equivalent in another sweetener)
2 tablespoons lime juice, freshly squeezed
lime wedges for garnish (optional)
ice (optional)
Combine the water, sugar, and fruit in a blender. Puree until completely smooth. Pour the mixture into a pitcher or serving container (via a sieve if preferred).
Mix in the lime juice. If necessary, add more sugar after tasting. Serve with a wedge of lemon or lime for garnish.
If you want a truly Mexican agua fresca, ice the drink in the pitcher rather than in the individual glasses, or refrigerate your drink ahead of time and skip the ice.
Agua de Jamaica (Hibiscus Flower Tea)
Because dried hibiscus flowers must be simmered in boiling water to lose their color and flavor, agua fresca made with hibiscus flowers is made slightly differently.
After steeping the flowers, the liquid is chilled and sweetened to create a delightful drink that tastes like cranberry juice.
Agua de Tamarindo (Tamarind Water)
The tamarind pod's brown sticky pulp is sour and earthy, and when sweetened, it yields a refreshing agua fresca. If you don't want to deal with the hassle of separating the pulp from the seeds, use canned tamarind instead. You combine the tamarind with water and sugar once it's ready.
Chia Fresca (Mexican Lemonade With Chia Seeds)
Chia seeds are a nutrient-dense "superfood" that is high in fiber, protein, and omega-3 fats, all of which are beneficial to your health.
The fresh chia seeds turn gelatinous when they soak in the liquid for making chia Fresca. Chia seeds can be added to any agua fresca, such as this delightful Mexican lemonade.
Horchata de Arroz (Rice Drink)
Horchata can be made with powdered seeds or nuts, but rice is the most popular ingredient in Mexico.
White rice is soaked in water or milk, then mixed with cinnamon, sugar, and occasionally other ingredients to make a delicious drink.
Tepache de Piña (Fermented Pineapple Drink)
Tepache, while not technically an agua fresca, is a similar drink made with fruit, water, and sugar.
The key difference between pineapple tepache (and other similar preparations) is that the sweetened liquid is fermented at room temperature for a few days before being served over ice, resulting in a deliciously thirst-quenching beverage with slight alcohol content.
What Foods Do You Serve with Agua Frescas?
This deliciously refreshing summer beverage goes well with a variety of Mexican-inspired foods.
While you dine on the BEST Guacamole or zesty Roasted Poblano Avocado dip, sit back, relax, and drink rich, fruity fresh water.
Include Aguas Frescas in your Cinco de Mayo festivities.
When Should Agua Fresca Be Served?
Here are some occasions to serve agua fresca now that you know how to make it!
Pool Party
Beach Bonfire
Brunch
Carnival Party
Birthday Party
Tropical Party in the Garden
Cinco de Mayo Celebration
Party at the Agua Fresca Bar!
This is a fantastic cocktail to serve during a gathering! Make several large-batch batches and serve them in traditional Aguas Fresca containers.
Fill each container on the bar with cups and ladles. Serve each refreshing cup with a dish of fresh fruit and berries.
Cocktails Made Using Agua Fresca
Watermelon and Lime Agua Fresca
4 cups water
8 cups seedless watermelon chunks, plus 6 to 8 wedges for garnish
1 cup fresh lime juice, plus thin lime slices for garnish
½ cup sugar
2 cups tequila gold
Grand Marnier (1/2 cup)
Ice as needed
Instructions
Combine the water, watermelon chunks, lime juice, and sugar in a blender in stages.
Blend on high until foamy and entirely liquid. Transfer to a pitcher, then stir in the tequila and Grand Marnier.
Over ice, serve in separate glasses. Serve with lime slices and a wedge of watermelon in each glass. 6 to 8 people
Cucumber and Chili Agua Fresca
4½ cups water
10 cucumbers, peeled, seeded, and chopped, plus 6 to 8 wedges for garnish
1 cup fresh lime juice
2 Tbs. agave nectar or honey
½ serrano chili, seeded and minced, plus 6 to 8 whole chilies for garnish (optional)
Sea salt, to taste
2 cups silver tequila
Ice as needed
Instructions
Combine the water, diced cucumbers, lime juice, agave nectar, minced chile, and a large amount of salt in a blender in batches.
Blend on high speed until completely smooth. Into a pitcher, strain through a fine-mesh sieve.
Stir in the tequila and set aside for at least 1 hour before serving. Over ice, serve in separate glasses.
Serve with a cucumber wedge and a chile in each glass.
Serves 6 to 8.
Papaya and Lime Agua Fresca Recipe
Ingredients
8 cups water
5 cups chopped papaya, plus cubes for garnish
1/3 cup fresh lime juice, plus 6 to 8 lime wedges for garnish
1 cup sugar
2 cups gold tequila
1/4 cup Grand Marnier
Ice as needed
Instructions
Combine the water, papaya, lime juice, and sugar in a blender in batches. Blend on high until foamy and entirely liquid.
Transfer to a pitcher, then stir in the tequila and Grand Marnier. Over ice, serve in separate glasses.
Serve with a lime wedge and a cocktail skewer of papaya cubes in each glass. 6 to 8 people
Questions Frequently Asked
How Can I Make Frozen Aguas Fresca?
To make a slushy-style frozen agua fresca, simply replace the water in the recipe with 8 cups of ice cubes.
If needed, add splashes of water while you combine to loosen it up.
Where is Agua Fresca Popular?
It's extremely popular in Mexico and Central America. It's also popular in Los Angeles and other parts of Texas.
Why is it Called Agua Fresca?
Fruit, water, sugar, and ice are the ingredients for making this refreshing drink. The drink's foundation is water or agua in Spanish.
It's a cool, refreshing  drink, and Fresca in Spanish means "cool." The name "agua fresca" comes from this meaning cool water literally.
Is Agua Fresca good for you?
Agua fresca is extremely hydrating, not only because of the water content but also because of the water content contained in many fruits (and even vegetables, such as cucumber).
Is horchata and agua fresca the same thing?
Horchata is a type of "agua fresca" (literally meaning "fresh water" in Spanish), which usually refers to a fruit water drink.
There are several other varieties around the world too
What are the most popular Aguas Frescas? Thirst-Quenching Agua Fresca Recipes
1 – Peach Agua Fresca by Little Spice Jar.
2- Kiwi Agua Fresca by Averie Cooks.
3- Watermelon Agua Fresca by Iowa Girl Eats.
4- Mango Pineapple Agua Fresca by Pineapple and Coconut.
5- Cantaloupe Agua Fresca by the Little Epicurean.
Agua Fresca near Me
Source from big supermarkets like SPAR and Shoprite