Samosa Recipe: How to Make Nigerian Baked & Fried Samosas
Samosa Recipe: How to Make Nigerian Baked & Fried Samosas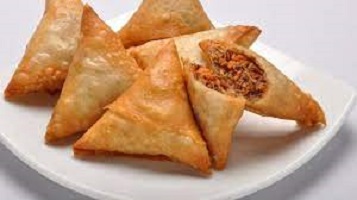 The classic old Asian samosa is what the Nigerian samosa is. It is a "borrowed" recipe that has gained a lot of popularity in Nigeria.
A samosa is a conical-shaped fried or baked dish packed with delicious contents such as potatoes, onions, cabbage, peas, lentils, macaroni, noodles, minced meat, and the list goes on.
Samosas are uniquely Nigerian because of the passion Nigerians have for this wonderful delicacy. Samosa is a popular appetizer at Nigerian celebrations and is also known as "small chops" (also known as "finger foods").
You May Like >>>>
Every Nigerian celebration should have Nigerian samosa and other little chop delicacies such as puff puff, spring rolls, plantain mosa, and fried chicken wings, to name a few.
Samosa Recipe Nigeria
The Nigerian Samosa is derived from the traditional South Asian Samosa. A samosa is a popular snack that originated in India (Punjabi) but has since evolved and been embraced and adapted throughout the world.
We never joke about samosas in Nigeria, especially during parties. This samosa recipe has a Nigerian twist to it, but believe me when I say there is no difference between it and the Indian version.
I barely used a fraction of the spices that some Punjabi samosas call for. If you're one of those people who never get to eat one of these at those events, here's a recipe for the iconic Nigerian Samosa.
Enjoy.
Samosa Recipe: Can it be baked instead of fried?
The Nigerian small chops family includes numerous excellent treats, including samosa.
Traditionally, samosas are deep-fried, but in this day and age of "healthy living," baking samosas is acceptable.
It tastes just as delicious as the fried version, if not better. You don't have to feel guilty about eating a baked samosa since you didn't deep-fry it.
Are you searching for a recipe for Nigerian Samosa? This samosa recipe will show you two simple methods for making Nigerian samosas from scratch.
Samosa Recipes:
Deep-Fried Samosa Recipe
Baked Samosa Recipe
Let's start right away by
Easy Nigerian Samosa Recipe: How to Make Samosa in Nigeria
Ingredients for Nigerian Samosa-This makes 16 samosas:
Nutrition facts: 200 calories 20 grams of fat
For the samosa dough, you'll need to
120 g/all-purpose flour (plain white flour)
3 tablespoonsful of melted margarine or vegetable oil
Half a teaspoon of dried parsley, thyme, or herb of choice (optional)
Half a level teaspoon of salt
Warm water (as needed)
Ingredients for Samosa filling:
200 gr minced beef or chicken
2 medium Irish potatoes.
Two medium carrots (optional)-
2 handfuls of green peas
1 spring onion/minced onion
1 tiny garlic/a pinch of garlic powder
One teaspoon of curry powder.
A pinch of black pepper (optional)
1 stock cube
2 cooking spoonsful of vegetable oil
(Chili pepper) (cayenne) (to taste)
Salt (to taste)
Vegetable oil for deep-frying the Samosas
Note: You can bake Samosas, thus, if you don't want to deep fry them, leave out the vegetable oil.
To create the Nigerian Samosa filling, follow these instructions.
Set aside the spring onions, which have been cut into thin circles.
Then, clean the Irish potatoes and carrots by washing and peeling them. After that, it is cut into extremely small pieces and cooked for 5 minutes in salted water.
Thirdly, if you're using fresh peas, toss them in with the carrots and potatoes and simmer for another 5 minutes, or until all of the vegetables are tender. Set aside after straining.
In a pot, heat the oil, then add the spring onions, garlic, curry, and black pepper (if using) and stir-fry for a few seconds.
Note; When you fry spices, their natural flavors and oils come out.
Toss in the minced meat or chicken. Stir-fry the meat until it turns a pale pink color (unless you're using chicken, in which case the color will be white).
Season with salt and pepper to taste, then add the stock cubes. After that, toss in the cooked vegetables.
Mix thoroughly, then set aside to cool.
To make the Nigerian Samosa dough: Deep-Fried Samosa Recipe
In a mixing bowl, combine the flour, salt, 3 tablespoons of vegetable oil, and lukewarm water. Mix everything until you get a stretchy dough.
After that, cover with an airtight plastic wrap or aluminum foil and set aside for 15 minutes.
Knead the dough after 15 minutes to make it stretchier and more elastic.
How to Make and Fold Samosa Wrappers | Samosa Sheets/Cover-3 Ways
Firstly, cut a piece out and roll it out with a rolling pin. Make sure it's not too thin; it should be 3–4 mm thick.
After that, cut the rolled dough with a circular cutter, removing the excess dough at the corners and then cutting the circular form into two diameters (2 half-circles of equal sizes).
Wet the straight sides of one of the doughs and form them into a cone (in the shape of a party hat). Scoop a dollop of samosa filling into the cone-shaped dough. Make sure it's not too full.
To stick the samosa sheets,
Firstly, wet the edges of the bag and seal it tightly.
Then, repeat the same with the remaining dough.
After that, heat some oil to a medium-high temperature and fry the samosas in it.
Lastly, fry the samosas on both sides until golden brown and crispy, then transfer them to a strainer lined with paper towels and serve.
Baked Samosa Recipe
If you'd rather bake the samosa, brush it with oil or egg wash, then bake it for 15 minutes at 180 °C.
Serve best Nigerian samosa with a cold drink or a traditional Nigerian beverage.