Basic Biscuit Recipe: How to make Nigerian Homemade Biscuits
Basic Biscuit Recipe: How to make Nigerian Homemade Biscuits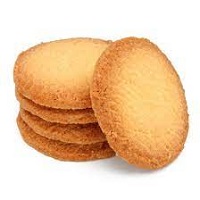 Nothing beats a warm, buttery; flaky biscuit right from the oven, slathered with butter and jelly, turned into a biscuit breakfast sandwich or topped with sausage gravy.
I used to buy the mixes, but with an easy recipe like this, making basic biscuits from home is just as simple.
These simple, homemade basic biscuits are soft and flaky, prepared entirely from scratch, and ready in about 15 minutes! In your house, this should be a weekend staple!
This fanciful best biscuit recipe is buttery, soft, and made entirely from scratch, and it deserves a permanent spot in your recipe collection. This recipe uses only butter and no shortening!
Your homemade basic biscuits will be ready in no time with just a few basic and readily available ingredients!
Notes on Butter in Homemade Basic Biscuits:
The butter is perhaps the most crucial component of this recipe, and how you treat it will determine whether your handmade biscuits succeed or fail.
While you can certainly cut your butter into the dry ingredients with a pastry cutter, I recommend chilling your butter for approximately 30 minutes before starting. Then, grate the butter with a box grater before mixing it in with the dry ingredients.
Using unsalted butter in this dish and then adding salt is highly recommended in this recipe.
Buttermilk or Milk in Biscuits?
These biscuits can be made with milk, buttermilk, or a combination of both. I've tried the recipe in all three variations, and the biscuits are great in all of them.
The savory tang of buttermilk comes through in the buttermilk biscuits when you cook this recipe with it.
The biscuits are exceptionally delicate when made with milk. For the finest flavor and texture balance, I like to use half buttermilk and half milk.
This recipe works best with whole milk, but if you don't have any, low fat will suffice.
You may also make your own buttermilk substitute at home.
Biscuit Recipes: Tips for Making Homemade Basic Biscuits
For fluffy and soft biscuits, the butter and milk for this recipe should be as cold as possible. I keep my butter frozen until I'm ready to use it, and I recommend keeping the milk refrigerated until you're ready to add it to the dry ingredients.
Don't overwork the dough! Keep in mind that you want your butter to stay as cold as possible when making these biscuits, and the more you have your hands on the dough the softer the butter will become.
This recipe does not require the use of an electric mixer.
We're going to do some laminating here. To achieve flaky layers in our biscuits, fold the dough over itself several times (5-6 times in this case).
Instead of using a rolling pin, gently work the dough into a flat rectangle with your hands before cutting out your biscuits.
If the dough becomes too sticky while you work with it, don't be afraid to add flour (and make sure to work on a lightly floured surface).
Easy biscuit recipes with few ingredients
½ teaspoon salt
½ cup unsalted butter
teaspoons granulated sugar
2 ½ cups all-purpose flour
1 tablespoon baking powder
1 cup milk (or buttermilk)
milk, buttermilk, or cream (for brushing on biscuit tops)
How to bake biscuits
Firstly, freeze butter for at least 20 minutes before using it.
Then, preheat the oven to 425°F and place a rack in the upper third. Using parchment paper, line a baking sheet.
Combine the flour, baking powder, sugar, and salt in a large mixing bowl. Whisk everything together until it's completely smooth.
Using a box grater, shred the frozen butter. Add the butter to the bowl and mix it in with your hands or a fork to incorporate it into the dry ingredients.
In a mixing bowl, pour 1 cup milk or buttermilk and whisk with a fork until the dough comes together. It's fine if there are a few particles of flour that haven't been integrated yet, but if the dough appears to be very dry and isn't coming together, add more flour, more milk, or buttermilk
After that, remove the dough from the bowl and place it on a lightly floured work surface.
Make a 12-inch thick rectangle out of the dough. Fold the dough in half over itself and pat it into a new 12-inch thick rectangle.
Fold the paper four to six times more. The dough should then be pressed into a 1-inch thick rectangle.
Cut out the biscuits with a biscuit cutter, pressing straight down into the dough without twisting.
To finish cutting out all of the biscuits, gather the scraps and pat the dough out to 1-inch thickness a second and third time. Place them on the baking sheet that has been prepared.
Using milk, buttermilk, or cream, brush the biscuit tops. Bake for 13 to 16 minutes, or until softly golden brown on top.
If you're going to use milk in this recipe, make sure it's whole milk.
Biscuits can be stored at room temperature for up to 3 days or frozen for up to 3 months.
The greatest time to eat biscuits is just after they've been baked. Reheat leftover biscuits in a 350-degree oven for about 5 minutes.
People also ask on Basic Biscuit:
What are the four different classes of biscuits?
Biscuits Come in a Variety of Shapes and Sizes:
Biscuits that have been rolled. One of the most popular baking-powder leavened fast bread is rolled biscuits.
Drop Biscuits are a type of biscuit that is shaped like a drop
Scones
Shortcakes
Drop biscuits contain more milk or other liquid added to the dough than rolled biscuits.
What are biscuits from the United Kingdom?
A biscuit is what much of the rest of the English-speaking world refers to as a cookie or a cracker in the United States.
An American cookie is a British cookie, and a British cookie is an American cookie. An American biscuit is a British scone, and an American scone is something else again.
In Australia, what does biscuit mean?
However, in the United States, a 'biscuit' is what Australians and the English call a scone. American biscuits are typically served with meat and gravy as part of a savory meal.
Do you use an egg in your biscuits?
Yes you can add an egg to the dough and bakes at a lower temperature (375° F)
What causes homemade basic biscuits to fall apart?
When the fat is chopped too thin, the melting fat creates additional, smaller air pockets after baking.
The end result is a crumbly baked good. When cutting shortening and other solid fats, just cut until the pieces are 1/8- to ¼ – inch in diameter.
What gives a biscuit its fluffiness?
To make your biscuits airy, use cold butter. Warm butter absorbs into the flour, preventing them from becoming fluffy. It's a lot like preparing pie dough.
Cold butter will not be completely absorbed by the flour, resulting in visible pieces in the dough.