Air Fryer Tater Tots – How to Make Tater Tots Air Fryer
Air Fryer Tater Tots – How to Make Tater Tots Air Fryer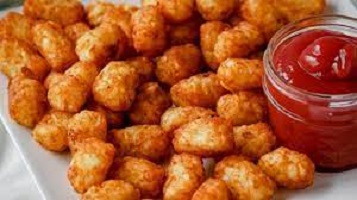 While there are no wrong ways to eat a potato, air fryer tater tots are among the best. I keep packs of these bite-sized potatoes in my freezer at all times since they are so wonderful.
I've known which brand to buy for a long time, and I normally season them with seasoned salt to make them even more appealing.
Air fryer tater tots outperform oven-baked tater tots, which comes as no surprise.
They cook in half the time, are wonderfully crispy and delicious, and are by far the best way to duplicate deep-fried restaurant tots at home.
What are Tater Tots?
Tater Tots are deep-fried potato balls made from shredded potato. They have a crunchy outside and a soft inside. They are naturally vegan and gluten-free and other dietary versions are available.
Why do you need to make Air Fryer Tater Tots?
This is a nutritious way to make a classic game-day snack and side dish.
It takes around 15 minutes to cook the tater tots from frozen.
They are pretty tasty!
They taste like they've been deep-fried, but they're far better for you!
There are only three ingredients required to make very crispy tots!
Air Fryer Tater Tots Recipe: Here's how you do it.
Classic, crispy potato tots come out flawlessly every time in the Air Fryer! With only one simple ingredient, you'll be ready to dip into this nostalgic side dish in 20 minutes.
Air fryer tater tots are the crispiest you've ever had, and they're really simple to make!
This simple how-to dish is excellent for those cooking for a small gathering. You can make crispy tater tots without ever turning on your oven. The temperature and time are the same regardless of serving size.
This dish uses frozen tater tots and contains no oil!
That is, simply throw them in the air fryer, according to the temperature and cooking time recommendations, and they are ready to eat!
What Is the Best Way to Cook Tater Tots?
There's nothing like a crispy potato tot, but you'll need a deep fat fryer to get that restaurant-quality crunch.
But not any longer! You can get the same crunchiness using an air fryer while using substantially less fat.
It's really quick, simple, and straightforward, and the tots may be cooked straight from the freezer.
This is without a doubt a must-have dish for game day Sundays!
What Do You Serve With Tater Tots?
Tater Tots are a popular party food or side dish.
Serve as a potato side dish with a beef main course or as a party appetizer with your favorite sauces.
Toppings such as cheese, sriracha, salsa, and guacamole can also be added to your grilled tots.
How to Make Air Fryer Potato Tots
Firstly, preheat your air fryer for the crispiest tater tots.
Don't forget to add the frying spray and then, salt to help crisp up the potato tots!
To achieve consistent frying, flip the tots in the basket throughout cooking.
Lastly, use organic frozen tater tots for the healthiest option.
Equipment
Ingredients Required:
How to Make Tater Tots in an Air Fryer – Time and Temperature
Preheat the Air Fryer to 400 degrees F. Set up the air fryer basket.
Place the tater tots in the air fryer basket in a single layer if possible. It's fine if they overlap somewhat.
Toss the tater tots every 4 minutes for 12 minutes at 400 degrees Fahrenheit. For super-crispy tots, cook for an additional 1-2 minutes.
Cooking Instructions:
Firstly, heat the oven to 425°F.
After that, arrange frozen Tater Tots in a single layer on a baking sheet that measures 11 × 17 inches.
Then, cook for 20–24 minutes. Cook until the mixture is a light golden color. Lastly, adjust the seasoning to taste.
Serve immediately!
Where leftover Seasoned Tater Tots should be kept?
Cooked tater tots can be frozen or refrigerated in advance. Place leftovers in a zip lock freezer bag and lay the bag flat on your tabletop to freeze.
Gently shake the tots to make a flat, single layer, then press out all the air before sealing.
Place the frozen air fryer tots in the freezer until ready to use.
Are Air Fryer Tater Tots Healthy?
Making tater tots in the air fryer is healthier than deep-frying them because no additional oil or fat is needed to make them crispy.
How come my Tater Tots Are Sticky?
When the tots come into contact with one another, they will sometimes stick together.
To avoid this, leave some space between them To keep them from sticking together, jiggle the air fryer basket a few times throughout cooking.
People also ask
How long does it take to cook frozen tater tots in the air fryer?
Preheat your air fryer to 400 degrees Fahrenheit. Coat the frozen tots with a light coating of cooking spray, such as avocado oil. Stir in the salt and toss to coat.
Cook for 15 minutes at 400oF, flipping them in the basket every 5 minutes or so, until crisp and golden, with a few areas medium brown.
How long do tater tots take to cook in an air fryer?
If you're going to make the complete frozen bag: 15 minutes total. Half a bag takes about 10 minutes.
For the best results, jiggle the air fryer basket every 5 minutes.
Is it necessary to preheat my air fryer before using it to cook?
Yes. In most situations, preheating your recipes helps them achieve that trademark crispiness we all enjoy.
Preheating thick slices of raw and frozen meats, such as frozen bone-in chicken breasts and ribeye steaks, is beneficial.
Can olive oil be used in an air fryer?
Because of its low smoke point, extra virgin olive oil is not suitable for air frying; however, extra light olive oil is a good alternative for air frying due to its high smoke point.
How long should an air fryer be preheated?
If your air fryer does not warm automatically, you can do it manually.
Choose the air fry setting and the temperature specified in your recipe. "For most models, we recommend a three-minute warmup," adds Shah. Preheat the air fryer for five minutes if it is larger or oven-style.