Beignets: Best New Orleans-Style Beignets Recipe
Beignets: Best New Orleans-Style Beignets Recipe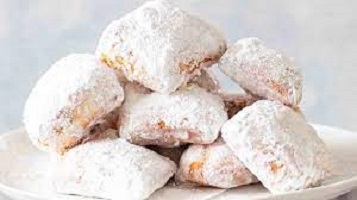 Beignets are light, fluffy French doughnut that is sliced into squares and inflated up in oil before being dusted with powdered sugar or dipped in chocolate syrup. The most delicious pillowy-soft and fluffy breakfast ever!
What is a Beignet? Meaning
Beignets are a type of French pastry that is similar to an English fritter. Since the term is traditionally French, the correct way to pronounce it is simply BEN-yay.
They're a type of pastry created from deep-fried dough that's cut into squares. Then a considerable amount of powdered sugar is sprinkled on top.
They're ideally served hot, with a cup of coffee or café au lait on the side!
These can be served as a breakfast or dessert.
What's the Difference Between a Doughnut and a Beignet?
Beignets and doughnuts have a lot in common, but there are a few differences. Beignets are a type of French doughnut produced using yeast, sweetened dough, and squared cuts before being fried. Then a little dusting of powdered sugar was applied. Light, airy, and pillowy pastries are what they're known best.
Doughnuts, on the other hand, differ in shape and texture. In comparison to beignets, doughnuts contain more eggs, resulting in more air pockets. With their distinctions, both are wonderful and taste amazing.
Beignets Recipe (Easy to Make Best)
Mini beignets are pillowy soft and fluffy gems found in New Orleans, especially around Mardi Gras.
I like how small and lovely they are, and how easy they are to make. Beignets are produced from scratch and are handcrafted. The beignet dough is made first, then fried in oil.
After they've cooled, we like to dust them with powdered sugar and dip them in the chocolate syrup dipping sauce.
Beignet Texture
Beignets are a type of donut that is smaller than a regular donut. The beignets' insides are a little puffier, with a mushy center. These beignets are incredibly tasty, and they won't last long.
Given the opportunity, I'd certainly make them every day. They're light and fluffy, and they practically melt in your mouth. They take a little longer to make since the dough must rise, but the wait is well worth it.
Ingredients for Beignets: 
Beignet Ingredients:  Fresh ingredients, especially active dry yeast, are preferred. This will aid in the appropriate rise of the dough and ensure that the beignet dough remains fluffy when cooked.
These beignets go well with any kind of dipping sauce or syrup.
Water: To assist activate the yeast, use lukewarm water.
Active Dry Yeast: Check to see whether your yeast hasn't expired and is still active.
Sugar: This not only helps your yeast activate, but it also gives the beignets a sweeter flavor.
Egg: Use a large egg that has been beaten. An egg will aid in the dough's adherence.
Evaporated Milk: Use this thick, rich, and creamy milk to make your beignets pillow-soft and doughy on the inside.
Flour: Bread flour worked best for me, but all-purpose flour will work as well.
A pinch of salt
Vegetable Oil – Deep-frying the mini beignets with vegetable oil.
Powdered sugar: After the beignets have been fried, sprinkle them with powdered sugar.
Chocolate Syrup: For dipping over the delectable beignets.
How to Make Beignets
With this recipe, you can't go wrong! It's simple to make, with only a few time-consuming stages. But don't let that keep you back!
They're well worth the time it takes for the dough to rise. It just takes a few minutes to deep fry the beignets in oil once the dough has risen.
They are best served hot, with powdered sugar sprinkled on top to sweeten them.
To activate the yeast, combine the warm water and yeast in a large mixing dish. Allow for a 10-minute rest period till it begins to proof.
Whisk together the sugar, eggs, and evaporated milk in a separate mixing dish. In a separate bowl, whisk together the egg and yeast mixture.
Add the flour and salt to a separate bowl and mix until it forms a dough. One cup at a time, add the flour mixture to the yeast mixture until the dough begins to come together.
Remove the dough from the bowl and lightly dust your work surface to knead the beignets dough. Knead the dough until it is smooth, then roll it into a ball.
Return it to the bowl, cover, and let it rise in a warm place until it has doubled in size, about 1-2 hours.
Fry the beignets as follows:
Firstly, preheat the deep fryer to 350 degrees Fahrenheit. Cut the dough into 2-inch squares after rolling it out into a broad rectangle.
Secondly, carefully place each square into the oil and then, cook for 1-2 minutes on each side until golden brown. Using a metal spider strainer, remove the contents.
After that, allow the beignets to cool before dusting with powdered sugar. If desired, top with chocolate or caramel sauce.
What is the taste of a beignet?
Because beignets are donuts, they have a donut taste. However, the texture is a little more yeast-risen.
The interior flavor is not as sweet as a typical donut, and the holes in the center are larger because they puff up more.
However, the mountain of powdered sugar strewn on top makes them as sweet as they can be!
In New Orleans, why are beignets so popular?
This is because they are considered to have been brought to Canada by French colonists in the 18th century, and when they moved down to New Orleans, they became a part of local culture.
Cafe du Monde is open 24 hours a day, 7 days a week, and always welcomes hungry patrons and they don't always refer to this threat as a beignet, either.
Are beignets a breakfast food?
They are a breakfast pastry in New Orleans, dusted with powdered sugar.
Traditionally made just before consumption so that they can be consumed hot and fresh.
And are a popular part of New Orleans Creole cuisine in the United States, and they can also be served as a dessert.