Breakfast Restaurants in Lagos: Best Stylish & Filling Spots
Breakfast Restaurants in Lagos:, Nigeria – Best Stylish Spots & Filling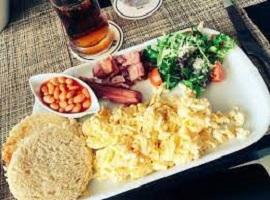 A Breakfast and brunch in Lagos is a stylish event, with fluffy pancakes and over-the-top décor.
With everyone in Lagos on the go, a good number of people would be looking for eateries where they can enjoy a nice or delectable breakfast.
Don't Miss >>>>
Now the issue is, where can you locate these breakfast joints? Not to worry, because I have listed some renowned and delicious breakfast places near me in Lagos, Nigeria: 12 Breakfast ideas
There are very few places in Lagos where you can eat and use free wifi at the same time. At Neo Cafe, you may have your breakfast and browse your phone for free. They have several locations in Lagos, and you don't have to break the budget to eat there.
If you don't mind paying a little extra for a fantastic breakfast, this is the place to go. This is due to the fact that it is quite costly, and they offer a limited menu with just enough variety to please you. It's on Kofo Abayomi Street in Victoria Island, Lagos.
Lumena Cafe ~ Breakfast Restaurants
Lumena Cafe is a little coffee and tea store nestled away on a corner of Victoria Island's Ahmadu Bello Way. In the warm and inviting ambiance, you may enjoy high-quality coffee and pastries at extremely reasonable pricing. Wifi is also available at the shop.
Tea Room Lekki ~ Breakfast Restaurants
The tearoom is Lagos' first teahouse, delivering hot drinks and pastries to eager patrons. The restaurant attracts a large number of visitors who want to sample their bread, pastries, and hot beverages, as well as take photos of their beautiful flower design!
Pancake hub ~ Breakfast Restaurants
Pancake Hub is well-known for its enormous platters, variety, and low prices. Their distinctive fluffy pancakes may be found at their store on Jibowu Street in Lagos, Nigeria.
Cactus Restaurant ~ Breakfast Restaurants
You may satisfy all of your needs at 20/24 Ozumba Mbadiwe Road, Victoria Island, Lagos, from breakfast to lunch to supper to cakes. Enjoy your breakfast in the spacious area with a view of the lagoon.
Craft Gourmet by Lou Baker 
Craft Gourmet is a charming open-kitchen restaurant on Victoria Island's 3rd Floor of Mega Plaza, 14 Idowu Martins Street, off Adeola Odeku. It offers a wide range of pastries, sweets, and hot beverages, and is one of the greatest places to have an English breakfast and spend time with coworkers, friends, and family.
La Brioche is a pastry restaurant and café with a Parisian style that serves freshly made pastries and desserts. It's modest, dainty, and delivers such an eating experience in its small space on Victoria Island's Musa Yar'adua Street that guests keep returning. For breakfast, brunch, or simply a quick bite, there are sweet and savory alternatives.
Small platters of food and pastries, as well as hot beverages, are available at this well-known but secluded gathering area for artists. Breakfast can be consumed while listening to soothing music from the speakers or reading from the huge library.
Cafe d'art
Art Cafe is the place to go if you want to start your morning with sandwiches and Italian coffee. The Art Cafe is located on Akin Olugbade Street in Lagos' Victoria Island.
Terra Kulture 
Terra Kulture is one of Lagos' most well-known arts and culture centers. You can also eat breakfast or lunch at the center at the same time. Their cuisine is a blend of African and American dishes, with coffee and a variety of Nigerian breakfast items to die for. It's in Lagos' Tiamiyu Savage neighborhood.
12. Veggie Victory
Veggie Victory is the greatest spot to obtain a late breakfast or lunch for vegetarians and vegans who live or work on the Island. You will be served wonderful meals at Veggie Victory. located at Freedom Park Lagos
Breakfast Restaurants: Order Breakfast Online on Jumia Food
The most important meal of the day is breakfast. If you're too preoccupied to make something for yourself – Don't be concerned.
Regardless of whether you need something light or want to eat like a King, Jumia Food has places that can meet your breakfast needs.
Breakfast menus at restaurants range from Nigerian to English, American to European, Healthy to Vegetarian, as well as pastries and sandwiches.
Jumia Food will provide you with the best breakfast experience possible.