Pregnancy Meal Plan: Best Food Timetable for A Diet Plan
Pregnancy Meal Plan: Best Food Timetable for A Diet Plan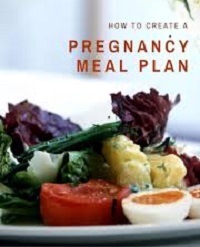 Everyone benefits from a healthy diet, most especially pregnant women, early pregnancy food timetable requires a healthy diet for both the mother and the unborn baby.
Nigerian cuisine is varied and healthful, with something to suit every taste, even during the delicate period of pregnancy.
Related >>>>
Pregnancy Meal Plan
That is why we have created a food timetable during pregnancy for women in Nigeria in order to assist them in maintaining a balanced diet during their pregnancy period.
Also, if you aren't pregnant but know someone who is, please forward this pregnancy diet plan information to them. This Nigerian pregnancy food timetable is for all pregnant Nigerian women.
Here's Our Nigerian Food Time Table for a Pregnant Woman – Pregnancy Meal Plan
7-Day Meal Plan for Pregnant Woman – 3 Course Meal
| | | | | | | | |
| --- | --- | --- | --- | --- | --- | --- | --- |
| Days |  Monday | Tuesday | Wednesday | Thursday | Friday | Saturday | Sunday |
| BREAKFAST |  Akamu and akara with milk | Fried eggs and boiled ripe plantains | Custard with bread and milk | Boiled potatoes and egg sauce (no raw eggs) | Tea and bread with moi moi |  Chicken pepper soup with rice | Akamu and bread |
| LUNCH | Egusi soup with swallow (eba, fufu, semo, or any swallow of your choice) | Vegetable soup with swallow | Oha soup with swallow | Afang soup with a swallow of choice | Efo riro with swallow or rice | White soup and pounded yam | Jollof rice and fried chicken |
| DINNER | Beans pottage | Moi-moi | Boiled yam and stew | Rice and goat meat pepper soup | Beans and dodo | Moi moi and tea | Spaghetti and suya |
Please keep in mind that fruits should be a large part of your diet. Every day, consume one serving of fruits.
Foods To Avoid During Pregnancy 
Pregnancy foods to avoid include – raw eggs, soft or unpasteurized cheese, and raw papaya should all be avoided.
This Nigerian pregnancy meal plan and food timetable can assist you in balancing your pregnancy diet!
This is why you'll need this Nigerian pregnancy food timetable.