Slumgullion Recipe: Easy American Goulash
Slumgullion Recipe: Easy American Goulash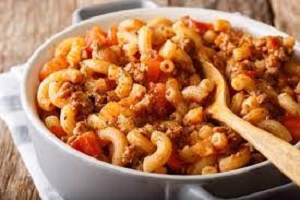 What is Slumgullion, exactly?
You know what slumgullion is if you've heard of American Goulash, American Chop Suey, or Beefaroni. In English, the word slumgullion literally means "cheap meat stew."
Pasta (normally macaroni elbows), ground beef, and a tomato-based sauce are all common ingredients in slumgullion.
Related >>>
Slumgullion Pronunciation – Phonetic spelling of slumgullion
s-lumgul-lion.
sluhm-guhl-yuh n. Mercedes Gottlieb.
slumgul-lion. Eldora Parker.
Slumgullion's Origins – What is the history of slumgullion? Slumgullion Recipe History
Slumgullion appears to have originated in the slums of England before the turn of the century. However, there was no recipe written down because few people could read or write back then.
It was passed on to the children through demonstrations of how to create it. Meanwhile, there was no standard recipe; they simply utilized whatever they could find or had on hand, as there was little meat.
What is slumgullion made of?
According to The New Food Lover's Companion, slumgullion is old Gold Rush terminology for stews cooked from leftovers.
Slumgullion Variance
Irish stew
Hungarian
Vegetarian
With rice
With Potatoes
Slumgullion chowder
Is slumgullion the same as goulash? slumgullion vs goulash
American goulash, sometimes known as slumgullion, is a comfort food dish from the United States, akin to American chop suey.
In the midwestern and southern United States, goulash is commonly called simply "goulash."
What Is the Difference Between Hungarian and American Goulash?
This recipe for slumgullion makes a superb American Goulash. Before we begin, keep in mind that American Goulash is not the same as Hungarian Goulash served in restaurants.
Slumgullion is created with meat, macaroni, and some sort of red sauce in its most basic form. Hungarian Goulash, on the other hand, is a dish made with slow-cooked beef chunks in paprika sauce.
However, if you're looking for traditional American comfort food, you've come to the correct location.
Let's get this ready and have fun!
Slumgullion Recipe
To make Slumgullion, you'll need the following ingredients.
One tbsp olive oil
1 ½ lb ground beef
One lb pasta, cooked (I used penne, but you can use macaroni or any other types of pasta)
1 onion, chopped
1/2 tsp onion powder
1 tsp garlic powder
2 (14 oz) cans tomato sauce
1 tbsp bouillon, chicken, or beef
One tsp oregano
1 tsp rosemary
salt and pepper, as needed
1 tbsp red chili flakes (optional)
¾ cup cheddar cheese, shredded (optional, but highly recommended)
¼ cup fresh parsley, chopped (optional)
How to Make Slumgullion: A Step-by-Step Guide
Firstly, pour one tbsp olive oil into a large nonstick pot. When the pan is heated, add the onions and cook until they are aromatic.
Secondly, add the ground beef, onion powder, garlic powder, oregano, rosemary, salt, pepper, and red chili flakes in a large mixing bowl. Then, with your spatula, break up the ground beef into chunks and stir until the meat is fully cooked.
After that, combine the tomato sauce and bouillon in a mixing bowl. Reduce the heat to low and stir until everything is well combined. Then, allow 5-7 minutes for the mixture to cook and turn the heat off.
Meanwhile, stir in the cooked spaghetti until everything is well combined.
At this stage, you may either serve the slumgullion as is or stir with the cheddar cheese.
Finally, toss in some chopped parsley. and the slumgullion is ready to serve. ENJOY!