Githeri Recipe: Kenyan Boiled Corn and Beans
Githeri is a corn and beans one-pot meal that is stewed with onions, tomatoes, and sometimes potatoes or meat chunks. It originates from the Kikuyu tribe living in Central Kenya.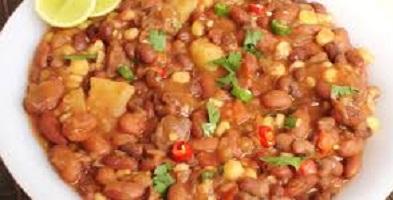 What is Githeri in English?
Githeri is a Kenyan traditional meal of maize and legumes, mostly beans of any type mixed and boiled together.
The maize and beans are mixed in a sufuria or pot, water is then added and the mixture boiled until the food is cooked and ready to eat. Wikipedia
This popular meal also known as muthere or mutheri has a funny story about the "Githeri man" that became an overnight internet sensation and provided some comic relief attached to it.
Pronounced (guh-THEE-ree) is a staple dish in Kenya. It is a simple, nourishing stew of corn and beans, and together the beans and corn provide a vegetarian dinner that is high in protein.
Traditionally it is prepared with dry beans and corn, but, nowadays canned beans and frozen corn can be used for ease and convenience to prepare this amazingly delicious recipe.
Hence, it is perfect for those times when you need to whip up healthy food quickly. Nutrient wise, corn and beans complement each other well.
Githeri is similar to many one-pot Corn and beans combinations, which are a staple dish in other parts of Africa cuisine; you can cook the maize fresh, or dried with slight variations in additional ingredients and spices.
In Nigerian, we call it "adalu", there is "makande" in Tanzania; and "cornchaff" in Cameroon.  It is a staple in Africa, and the flavor is superb without any adornments.
How to Prepare Githeri
Githeri recipe is very adaptable; you can use any type of beans to make this meal. You can also add any type of vegetable or spices of choice to customize or make it yours.
This is a delicious, frugal, allergy-friendly recipe
Ingredients
1 tablespoon oil
2 cloves garlic chopped
1 onion medium chopped
½ teaspoon curry powder
1 teaspoon smoked paprika
¼ teaspoon chilli ground
Canned red kidney beans drained and rinsed
1 cup frozen sweet corn
½ can of chopped tomatoes
Salt to taste
3 stalks spring onions chopped
Coriander a few sprigs chopped
Instructions 
Firstly, heat the oil in a pot under medium heat, fry the onions until translucent, then add the garlic and stir for 30 seconds.
Secondly, pour in the curry powder and paprika, while stirring for another minute to prevent burning.
Then, pour in the beans, corn, and tomatoes into the pot and 1 cup of water.
After that, add salt, cover the pot and allow cooking for about 15 minutes, and then add the spring onions and leave for another minute.
Lastly, remove from heat and mix in the chopped coriander.
It is traditionally served on its own, although it can be served with rice or crusty bread on the side.
Githeri Nutrition
Githeri Variations
Use any kind of beans: kidney beans, pinto beans, cowpeas (black-eyed peas), green peas, groundnuts, pigeon peas.
To add more flavor and texture to the dish, add some chopped greens, cubed potatoes or cassava, sautéed onions, stew meat, or a little curry powder.
Muthokoi is a hominy alternative for the corn.
Mukimo (Irio): prepared by cooking the beans and corn with some chopped potatoes and chopped greens. Mash together and season with salt and pepper.