Vanilla Glazed Baked Donuts – Healthy recipe
Vanilla Glazed Baked Donuts are soft and delicious baked donuts that are dipped in a thick vanilla glaze and topped with sprinkles.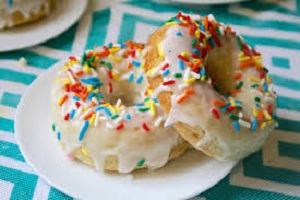 You can omit the glaze if you want to cut down on calories.
These tasty Vanilla Glazed Baked Donuts are super simple to whip up. All you need is a couple of mixing bowls, a whisk, and a donut pan.
Vanilla glazed baked donuts are best for breakfast, tea, or to take along to any event.
It's good to eat them fresh but you can cover and store at room temperature up to 2 days or freeze for up to 2 months.
Vanilla Glazed Baked Donuts Recipe
Baking donuts are simple! There's no special equipment needed! All you need is a wooden spoon, bowl, and with or without a donut pan!
How to Make Baked Vanilla Donuts
This recipe makes a much healthier variety of a common treat.  You can bake instead of frying the donuts, the two taste just as good.
Ingredients
2 cups all-purpose flour
1½ cups sugar
2 teaspoons baking powder
1 teaspoon salt
1¼ cups whole milk
1 large egg lightly beaten
2 tablespoons butter melted
2 teaspoons vanilla bean paste (or good quality vanilla extract)
For The For the Vanilla Glaze/Icing
2 cups powdered sugar
1 teaspoon vanilla
2 tablespoons melted butter
2-4 Tablespoons milk
Sprinkles optional
Method
Firstly sift the flour, sugar, baking powder, and salt into a large mixing bowl.
Secondly, whisk together the wet ingredients in a small bowl and then make a well in the flour mixture
Thirdly, pour the egg mixture into the well and stir until combined.
Then, spoon the batter into the donut cavities or a large zip lock bag.
Cut a corner off the bottom of the bag and pipe the batter into each donut cavity, filling 3/4 of the way full.
After that, place the pan in the oven and bake for 8 to 10 minutes.
Finally, take away from the oven and allocate the donuts onto a wire rack until cool enough to handle but still warm.
Make the Glaze
Firstly, whisk together the powdered sugar, vanilla extract, and salt in a medium bowl.
Then, add 1 tablespoon of milk, and whisk to combine. Add additional milk if the glaze is too thick.
Finally, add food coloring or sprinkles if you desire.
Method
Firstly dip the warm donuts in the vanilla glaze, return to the wire rack, and immediately top with sprinkles.
Secondly, allow the glaze to set at room temperature for about 30 minutes before stacking or serving.
Enjoy these amazing vanilla glazed baked donuts!
Calories
189, Fat: 4 g, Saturated Fat: 3 g, Cholesterol: 24 mg, Sodium: 211 mg, Carbohydrates: 35 g, Fiber: 1g, Sugar: 18 g, Protein: 3 g