Homemade Baileys Irish Cream Liqueur Recipe
Baileys Irish Cream is a cream liqueur, made with an Irish whiskey and Irish-cream based liquor along with a secret blend of flavorings.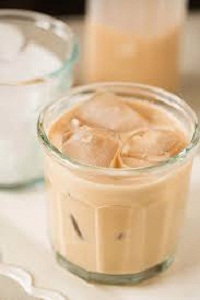 Homemade Bailey's Irish Cream is easy to make, perfect for coffee, cocktails, and desserts.
Baileys Irish Cream is the world's top-selling liqueur, so it's safe to say that people like it. Baileys is milk-based and folks especially women drink a lot of it every day.
Please Read: Morning Drink – 6 Best Juices to Drink in the Morning
My copycat version of the creamy Bailey's Irish Cream drink uses coffee in addition to the cocoa flavoring found in the original.
This sweet, milky, somewhat- chocolate drink is heaven on earth mixed with a splash to your coffee.
You can pour it over ice cream, use it for baked goods (cakes, muffins, donuts, cupcakes, brownies, pies, etc.), or give it as a gift for holidays and special occasions.
Above all, it's divine on its own over ice.
Baileys Irish Cream Recipe
Homemade Baileys Irish Cream recipe is a deliciously creamy alcoholic drink that takes few minutes and 6 ingredients to make!
The price is lower when compared to buying a bottle from the store near me, and it tastes amazing!
All you need is a blender and a few ingredients you likely already have on hand.
Recipe Variations
You can customize the ratios of the ingredients to suit your taste buds with flavors – mint or spices. The ingredients can be adjusted according to your liking. It's entirely up to you
Baileys Irish Cream Ingredients
Irish whiskey – I used Jameson, feel free to use your favorite brand of Irish whiskey.
Heavy cream – or half & half. Don't use regular milk; otherwise, your drink won't be creamy enough.
Sweetened condensed milk
Chocolate syrup – or chocolate topping (I used Hershey's)
Pure vanilla extract
Instant coffee granules – to kick up the coffee flavor, choose an instant espresso.
How to Make Baileys At Home
This homemade Baileys Irish cream recipe comes together in minutes in the blender.
Simply combine all the ingredients except Irish whiskey in a blender and puree on low speed for 30 seconds.
After that, add the Irish whiskey and blend for a few more seconds.
Lastly, transfer the mixture to an airtight container or glass bottle with a tight-fitting lid and store in the refrigerator for up to 2 months.
Shake well before using.
How to Serve Baileys
Firstly, serve chilled straight-up in a glass, with or without ice.
Secondly, you can pour over vanilla ice cream for a generous dessert drink.
Also, you can pour into a fancy glass and top with whipped cream and chocolate shavings for a pleasant dessert drink.
Lastly, when serving at a party, serve with hot chocolate beside it as an alternative for kids.
Nutritional values are based on one ounce
How to Serve Baileys
Calories: 94 kcal
Fat: 3 g
Saturated fat: 2 g
Cholesterol: 13 mg
Sodium: 18 mg
Potassium: 52 mg
Carbohydrates: 7 g
Sugar: 6 g
Protein: 1 g
Vitamin a: 135%
Vitamin c: 0.3%
Calcium: 38%
Iron: 0.
Tips for Making Homemade Baileys Irish Cream
Firstly, mix the coffee granules with 2 tablespoons of boiling water and stir until dissolved.
Please note that some blenders (particularly the powerful ones) can curdle the mixture slightly as they 'whip' the cream. To prevent this, start your blender at a very low speed and increase gradually to medium/low.
Finally, use a cream that does not easily curdle or whip
FAQ
Q: How long will my Homemade Baileys Irish Cream last?
A: It can last up to 2 months unopened in the fridge. As soon as you open it, keep refrigerated and consume within 1 week.
Q: Where can I find small glass bottles or jars?
A: Stores, Markets and supermarkets
Q: Do I need to dissolve the coffee granules first?
A: Yes! You get a better-tasting Baileys if you do dissolve the coffee granules in boiling water and allow cooling before adding to the mixture.
Q: What type of cream should I use?
A: Select from any thin pouring cream like Bulla cooking cream because it's designed to not whip or curdle when mixed..
Q: What type of whiskey should I use?
A: Any brand of Irish whiskey is good to go though I prefer and used Jameson Irish whiskey in this recipe.
Q: How can I stop my mixture from curdling?
A: Slowly increase your blender speed from low to medium (not higher).
Q: I unknowingly mixed the ingredients at high speed and hence, a curdled mixture! Is there any solution?
A: Yes! Just sieve it and collect the non-curdled liquid.
Homemade Bailey's Irish Cream Liquor? – Anyone. I scream, you scream, we all scream for Baileys.
Thanks for visiting 9jafoods.com today. I hope you enjoyed your stay at my blog