How to Make Best Aromatherapy Bath Salts At Home
Bath Salts come into play after a long, busy day. The next thing you want to engage in is some sort of relaxation to clear the negative energy from the day and unwind.
This is a special hot bath enriched with fragrant bath salts. It's surprisingly easy to prepare your blend at home.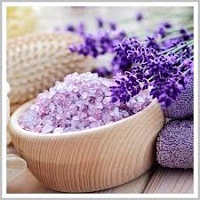 You can enjoy the luxury of a professional spa treatment and take your wellness to another level at home with DIY fancy.
Specially for You >>> Refined Versus Unrefined Salt- Any Difference?
The basic ingredient of the bath salt is salt itself. For this DIY elixir, we are keeping it simple with Epsom salt.
Bath Salts: What is Epsom salts?
Also known as magnesium sulfate, Epsom salts is perhaps the most famous help in relaxing sore muscles.
Epsom salts work by letting loose magnesium and sulfate into the water and helps to get rid of muscle aches and pain.
Essential oils are good, but I would encourage adding herbs (fresh or dried) though optional if you can. The potency is even more effective with dried herbs.
Bath Salts: Essential oils
Rejuvenate your body and mind with revitalizing and restorative aromatherapy custom Bath Salts bathing which is infused with natural essential oils.
Lavender oil is best used before bed to help you relax.
Citrus oils help invigorate and revive your mind and body.
Eucalyptus is great if you are not feeling well or down with a cold, even coconut oil is a good substitute too.
The sky has no limit with the mixtures you can make!
Precaution
Certain essential oils should not be used by pregnant women or children. Make sure to read the labels before using.
Bath Salts: Coloring
Add food coloring as a finishing touch to make your salt blend into a pretty, soothing color.
When choosing colors, you can stick with one color for the whole batch, or you can share the salt in half and create a layered effect with two colors.
Have fun with it, and don't be afraid to try something fresh.
Above all, these herbal bath salts also make the perfect gift for your loved ones!
Fizzy Bath Salt Recipe
Learning how to make bath salts is simple with or without essential oils.
It's now time to make the magic! Let's Get Salty
How to Make Bath Salt
Truly, if you're looking for a super easy and fun DIY project, homemade bath salts are the best way to go.
Ingredients
4 cups Epsom salts
1 cup coarse Dead Sea salt or pink Himalayan salt crystals
40-60 drops essential oil (to preference)
4-6 tbsp. dried herbs (optional) – I used dried rosemary leaves.
Instructions
Firstly, combine all ingredients in a large bowl.
Then, make sure to break up any clumps that develop from essential oils.
Finally, store in an airtight container, and put in a dark, cool place until further notice.
How to Use Bath Salts
All you have to do is pour the mixture into your bath, let it absorb into the water, slide into the tub, and experience the bliss and magic wash over you.
Taking a bath can be as therapeutic as seeing a psychologist but a lot cheaper.
The Benefits of Bath Salts
Firstly, the benefits of soaking in dried flower leaves, Epsom salts, and essential oils are limitless!
In addition to nourishing our body from head to toe, they help to comfort the muscle pain and tension, cleanse our energy and help us to sleep longer.
Bath salts are known to assist in balancing our hormones by replenishing our body's magnesium, pacify cramps, and lower inflammation.
Besides, they are super relaxing! Breathing in the aromatherapy oils helps to cool your whole system. Hence, enjoy the whole experience!