Curry Powder Recipe: Simple Homemade Nigerian-Style Spice
Curry Powder Recipe: Simple Homemade Nigerian-Style Spice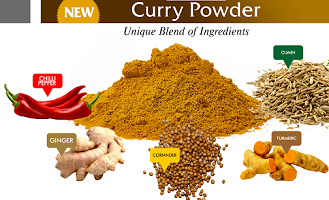 Curry powder is a mixture of spices that work together to offer a warm, strong taste to whatever meal they're incorporated into.
Traditional Indian curries get their flavor from whole spices that are toasted and ground as needed for cooking, which varies depending on the dish.
The term "curry powder" was originally coined by Indian spice merchants in the United Kingdom. It was an attempt to convey the flavor of Indian cuisine that British colonists had grown to love back to their homeland.
This homemade curry powder recipe, which was introduced by the British during colonial times, is a popular variation across West Africa and the Caribbean islands.
This is commonly used in Nigerian rice dishes, stews, sauces, and other meals.
Curry powder is a condiment produced from a variety of spicy spices and other components. However, in this post, I will show you how to produce a Nigerian-style curry powder recipe.
Related >>>>
What's Nigerian Curry Powder Recipe?
I meant the type of curry powder that Nigerians are accustomed to when I say Nigeria curry powder recipes.
Curry powder can be made in a variety of ways all around the world. However, here's a quick and easy technique to manufacture Nigerian curry powder at home.
Nigerian curry powder is, above all, a combination of aromatic spices and herbs. Furthermore, when these materials are combined, they produce a dark brownish-yellow powder with a strong flavor and aroma.
Popular Curry Powder Brands in Nigeria
Gino Curry
Tiger curry powder.
Ducros
Curry masala
Spice Supreme Curry
Vitali curry powder
Moreover, curry powder is a popular condiment in Nigeria that has numerous health benefits.
Eight surprising health benefits of curry powder
Reducing inflammation. Turmeric is the key here…
Fighting cancer…
Combating Alzheimer's disease…
Boosting your bones…
Aiding digestion,
Looking after your heart…
Battling bacteria
Curry powder benefits for skin and skin lightening.
Curcumin, one of the active compounds in turmeric, has anti-inflammatory properties.
To begin with, turmeric powder makes up the majority of Nigerian curry powder, allowing consumers to get the most out of this potent medicinal spice.
Please keep in mind that curry powder is not the same as curry (lemon basil) in every way. Curry leaves, also known as lemon basil, are an herb, whereas curry powder is a mixture of spices and herbs.
What Is Curry Powder Made of?
Because the name "curry" is so broad and undefined, the spice blend that goes into making "normal" curry powder varies widely from jar to jar.
There are a few common ingredients in most curry powder recipes:
Coriander
Turmeric
Cumin
Chili peppers
Other spices that could be added are:
Fenugreek
Ginger
Garlic
Fennel
caraway
Cinnamon
Clove
mustard
Nutmeg
Black pepper
The list goes on and on.
As you can see, once you get the basics down, there are a plethora of ways to personalize your curry powder mix.
How to Make Best Homemade Nigerian Curry Powder from Scratch?
List of Ingredients for Nigerian Curry Powder Recipe
3 tablespoons of turmeric powder
2 tablespoons of fennel powder
½ tablespoon of ground cumin
1 spoon of ground coriander
½ tablespoon of ground dry pepper
¼ tablespoon of ground clove
½ spoon of paprika powder
¼ ground fenugreek
Preparation
Firstly, get a clean, dry zip lock bag. Then, pour all the measured ingredients into the zip-lock bag.
After that, zip up the bag and shake it vigorously for about 1-2 minutes to get the whole mixture mixed up properly together.
Lastly, pour the curry powder into an airtight container and keep for later use
Alternatively,
Pour the measured ingredients (turmeric, fennel, cumin, pepper, fenugreek, etc.) into a medium stainless bowl and stir with a spoon for about 2 to 3 minutes, or until the whole components are well blended and the powder is consistent.
After that, store the curry powder in an airtight jar.
If you have any of these spices in their unground state, though, you can roast them first before grinding them for a unique flavor.
For an example:
Combine a reasonable amount of cumin seeds, cloves, and the other whole ingredients in a bowl.
Preheat a frying pan over medium heat until it is hot enough to toast all of the spices. Pour all of the whole spices into the frying pan and toast for around 20 to 40 seconds.
Allow cooling before blending into a powder.
Note
The purpose of toasting whole spices and herbs is to make them bristle, allowing for easier and more efficient grinding. Furthermore, toasting enhances the flavor of the spices.
Finally, if you want to, you can add a pinch of ginger powder and garlic to this mixture.
What are your thoughts on my Nigerian curry powder recipe?
Let me know in the comment section below. I enjoy hearing from you