How to Make Moimoi with Unpeeled Beans from Scratch
Moimoi with unpeeled beans making is possible, though traditionally, Nigerian Moimoi is made with peeled beans.
This method results in Moimoi, which is rich in protein but lacks vitamin C content in the beans seed coat, which has been removed or peeled.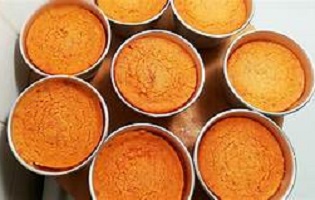 Moimoi with Unpeeled Beans Benefits
But, have you ever wondered why we eat beans without peeling and why not for Moimoi? Peeling beans before making Moimoi is striping off its dietary fiber and other nutrients.
Related >>> How to Peel Beans with Hands
This efficient, convenient, and easy method gives a healthful, moist, and delicious Moimoi that will leave your mouth salivating for more!
Moimoi (Moi-Moi, Moin-moin, Moin moin as otherwise named) is a common, loved, and consumed Nigerian side dish.
MoiMoi with Unpeeled Beans is a foolproof, hassle-free, and smart way of making a perfect and authentic MOIMOI
Nevertheless, the most essential thing when preparing this recipe is to use brown beans or honey beans.
If you use white (black-eyed peas) it will turn black or look a little bit dark
MoiMoi with Unpeeled Beans Recipe
Different from the instant beans powder and peeled beans, this Moi Moi is prepared by soaking the beans in water until soft without peeling the beans seed coat
This recipe will result in an authentic Nigerian Moi Moi using an unconventional method – unpeeled honey (oloyin) beans as an alternative to the traditional peeled beans.
Above all, with this recipe, you can maximize the nutritious benefits of moin-moin without sacrificing taste.
MoiMoi with Unpeeled Beans
Ingredients
1 cup brown beans
2 small onions
1 large red bell pepper
2 tablespoons crayfish
1 habanero/scotch bonnet/atarodo
2 tablespoons oil
Choice of protein – e.g. egg, corned beef, or shrimps
1 cup of water
cooking spray
6 ramekins/traditional leaves/foil paper or sterilized tins
1 large pot
Foil paper
Instructions
Firstly, in a blender or food processor, combine brown beans, onions, bell pepper, habanero, crayfish, oil, and water.
Secondly, blend on high speed for 1-3 minutes, or until the mixture is smooth.
Thirdly, pour back into a bowl and taste for seasoning. Add more salt if needed.
Fourthly, stir with a wooden spoon for 2 – 3 minutes to remove all excess air.
Then, add eggs, shrimps, corned beef, etc., and set aside.
After that, pour about a cup of water into the large pot and line the bottom of the pot with foil paper.
Now, using cooking spray or oil or butter, oil the ramekins and pour ½ cup of batter into each ramekin. Cover with foil paper and place inside the pot.
Lastly, steam for 40-60 minutes adding more water to the pot as needed.