Perfect McDonalds Cheeseburger Copycat Recipe
McDonalds Cheeseburger Copycat Recipe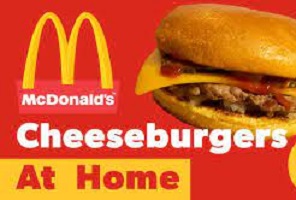 The double cheeseburger is one of McDonald's most popular menu items. Enjoy the double cheeseburger at home using the following recipe, this one is great to cook up a batch for any gatherings!
Best advice: Don't rush the last 15 seconds of microwaving the burger because this is when the magic happens.
Although McDonald's cheeseburgers are well known throughout the world, sometimes standing in line at the drive-through can be a hassle.
This is a better option because you'll know exactly what's in them, making it a little bit healthier. Check out our tips and tricks for the best possible result if you want your burger to taste as real as possible.
How to Make a Cheeseburger like McDonald's
You won't need any expensive equipment for this dish, which is a plus. And if you organize yourself, making them shouldn't take too long either.
McDonald's is, after all, fast food!
For making burgers, you will require a few ingredients you wouldn't normally have on hand. Make sure you have baking paper before anything else.
a baking sheet? Why the cheeseburgers at McDonald's are not baked. No, that's accurate. However, there is one distinctive feature that will significantly increase the authenticity of your recipe.
Ever noticed how thin Mc Donald's burgers are?
To obtain a good result, you'll need baking paper, a rolling pin, and something to cut the burger into a perfect circle. We literally drink from a big cup!
When it comes to the burger itself, the McDonald's cheeseburger recipe isn't particularly complex.
According to the company, the only ingredients are beef and a little seasoning, that's about it.
How to Make Original McDonald's Cheeseburger
Ingredients
1 lb ground beef
¼ cup yellow onion, minced
salt and ground black pepper, to season
4 slices of American cheese
cooking spray
For Burger Assembly:
4 pcs hamburger bun
4 tbsp ketchup
Four tbsp prepared yellow mustard
4 oz dill pickle
For Serving:
¼ cup potato fries, per serving
Instructions
Firstly, in a large mixing bowl, mix your beef and onion. Season with salt and pepper, and then combine until evenly incorporated.
Then, share these into 4 oz patties, using a round mold to shape.
Preheat your griddle set for grilling. Grease with cooking spray. Preheat your oven to 360 degrees F.
Now, grill the patties for about 5 to 8 minutes per side.
After that, place a slice of American cheese on every patty, and then roast to evenly cook the patties and melt the cheese, about 3 – 5 minutes.
Clear your griddle and put the heat up your burger buns on the griddle. When done, you can now bring together your cheeseburger.
After that, put roughly a tablespoon of ketchup on either half of the bun, and roughly a tablespoon of mustard on the other half of the bun.
Then, put the patty on the bottom bun, followed by roughly an-ounce pickle slices.
Lastly, cover with the top bun and serve with potato fries.
Tips and Tricks                             
As we mentioned from the beginning, in order to make your cheeseburger as authentic as possible, you must create the patties as thin as you can. If they are too thin, don't worry. They become tighter and slightly fatter as they cook.
Feel free to leave your burger patties a little thicker if you want to create something from the McDonald's menu that is similar to the quarter pounder.
Before including your sliced onion in your burger, make sure to lightly pickle it. Apparently, this is what the company uses to make its hamburgers, and if they do it, you should too.
Burger buns that have been toasted are the norm today. We prefer to cook ours in the same pan that we just used to cook the burger. They are able to absorb all of the succulent meat juices in this manner.
Pickle it or not. It's your decision. We definitely say with a pickle.
Want a great tip? Have you ever noticed how floppy those cheeseburgers are?
We periodically wrap them in paper and microwave them for 15 seconds as the last step to make them appear and taste extremely authentic.
This recipe is an exact replica of the one used by McDonald's. The cheese is the only distinction. You can omit the cheese if you like a regular hamburger.
You can also prepare their Big Mac recipe as an alternative.
While we like American cheese, you can substitute a thin slice of cheddar or any other available cheese for a somewhat more upscale hamburger
FAQs
What are the ingredients in a McDonald's cheeseburger?
A 100 percent pure beef patty that has been lightly seasoned with salt and pepper is the basis of our straightforward, traditional cheeseburger.
The McDonald's Cheeseburger is topped with a slice of melty American cheese, a zesty pickle, chopped onions, ketchup, and mustard.
How do they make Mcdonalds' cheeseburgers?
How the cheeseburgers at McDonald's are made? In a factory, ground beef is molded into beef patties, which are then quickly frozen and delivered to McDonald's restaurants.
In a video from McDonald's Australia, the patties are grilled for 40 seconds before being served and are then seasoned with salt and pepper.
How does McDonald's make a double cheeseburger?
Two 100% pure beef burger patties are used in the McDonald's Double Cheeseburger, and they are lightly salted and peppered. It has two pieces of melty American cheese, zesty pickles, finely chopped onions, ketchup, and mustard on top.
 What's in McDonald's beef burgers?
100% beef patty in a soft bun with onions, pickles, mustard, and a dab of tomato ketchup.
Always a classic
100% beef patty in a soft bun with onions, pickles, mustard, and a dab of tomato ketchup
What kind of cheese is on a McDonald's cheeseburger?
The processed cheddar cheese used by McDonald's is their own special blend. Cheddar cheese makes up 60% of their mixture, with the remaining 40% consisting of water, salt, whey powder, butter, milk proteins, emulsifying salts, natural cheese flavoring, and food coloring.
Does Mcdonalds put mustard on their burgers?
A 100% beef burger is the base of the original burger, which is then lightly salted and peppered.
The McDonald's burger is then topped with ketchup, mustard, chopped onions, and a tart pickle.
No artificial flavors, preservatives, or additional colors from artificial sources are present in McDonald's hamburgers.
Does McDonald's have fake meat?
Fact check: No, McDonald's doesn't serve 'human meat'
Why is the McDouble so cheap?
For the reason that McDonald's buys so much food, any supplier would want their business.
Hence, these businesses provide the fast-food giant with steep discounts on products.
They are in essence buying the ingredients they need at wholesale prices.
Why are McDonald's double cheeseburgers so good?
McDoubles are a happy medium, for the reason that piece of cheese melts nicely between patties.
Moreover, it doesn't overtake the beefiness or seasonings except there's too much ketchup. Double cheeseburgers depend on cheese enhancing the sandwich
Why is a McDouble cheaper than a double cheeseburger?
Prices for Double Cheeseburger and Mcdouble
In comparison to the McDouble, the double cheeseburger is pricier.
Due to the somewhat higher price of this burger, which is an increase of around 20 cents—due to the amount of cheese in the sandwich, it is not included in the $1 menu.
What is pink slime in meat?
Lean finely textured beef (LFTB).is sometimes referred to as "pink slime"
To create a leaner product using as much of the animal's meat as feasible, LFTB refers to smaller chunks of lean meat that are added to ground beef.
The food industry did not coin the phrase "pink slime."
What grade meat is McDonald's?
McDonald's, the single-biggest purchaser of beef, moved up from a F in last year's beef scorecard to a C, given its December 2018 policy that echoes 2017 WHO guidelines on the usage of antibiotics in livestock
Who supplies mcdonalds meat?
Currently, Keystone's US operations are delighted to produce and deliver top-quality beef, chicken, and fish products to McDonald's, comprising more than 150 million pounds of beef, 300 million pounds of chicken, and 15 million pounds of fish every year.
Can I buy McDonald's cheese?
Where to Buy McDonalds Cheese: McDonald's has their own suppliers that make cheese for them.
And so, you cannot purchase it directly from the supermarket shelves
Which American cheese brand does McDonald's use?
One of three suppliers of processed cheese to the McDonald's company, which operates over 13,700 restaurants in the United States, is the Great Lakes Cheese plant at 2200 Enterprise Avenue.
What is the best cheese to put on a burger?
While smoked gouda is wonderful on burgers with barbecue sauce, American cheese is a melty classic.
Not to be overlooked is cheddar, which pairs well with everything from tarragon Russian dressing to pickled slaw and fried shallots.
What brand of honey mustard does McDonalds use?
McDonald's honey mustard sauce uses Dijon mustard and subtle hints of honey
How many pickles are in a McDonald's cheeseburger?
According to McDonalds.com, "it all depends on what product you buy; there are two pickles in the Big Mac, two in the Quarter Pounder, one in the Hamburger, and two in the Double Cheeseburger."
What ketchup does McDonald's use?
Heinz
Though, McDonald's only uses Heinz products in two main markets — Heinz's hometown, Pittsburgh, and Minneapolis — inside the U.S. The bulk of the U.S. receives the restaurant's house brand of the tomato-based condiment called "fancy ketchup." For McDonald's, the move most probably won't upset its bottom line much
Does McDonald's use real eggs?
Our breakfast menu items are all made with genuine eggs—they're just prepared in a different way for each sandwich.
Does Taco Bell use horse meat?
Taco Bell has formally merged with Club Horse Meat. The fast-food chain and subsidiary of Yum Brands declares it has found horse meat in some of the ground beef it sells in the United Kingdom
Is the chicken at McD's real?
Every single one of our Boneless White Meat Chicken McNuggets, which are prepared from the chicken breast, tenderloin, and rib meat, is USDA-inspected
Is McDonald's cancerous?
You won't increase your chance of developing cancer if you eat McDonald's as part of a healthy diet and exercise routine, especially if you stay away from the fast-food chain's products that contain red and processed meat.
In a nutshell, eating at McDonald's won't cause cancer.
Why does the beef at McDonald's taste different?
The idea that McDonald's hamburgers taste differently around the world is entirely untrue, according to Koekkoek.
Real food connoisseurs will be able to taste the difference because the meat comes from cows that were raised all around the world, according to Koekkoek.
Is the McRib real meat?
The McRib sandwich is made from a boneless pork patty that has been modified to resemble a small rack of ribs, along with barbecue sauce, onions, and pickles.
It is served on a 512-inch (14 cm) bun.
The US Army invented meat restructuring to provide cheap meat to soldiers in the field.
What kinds of onions are used at Mcdonalds'?
The user claims that both dehydrated onions and big onions cut into slices are utilized in the burgers.
We have two varieties of onions at Macca's. In the video, an employee describes large onions that have been chopped up and dried.
Are hamburgers at McDonalds becoming thinner?
"Since 1971, when the first McDonald's restaurant in Australia initially opened its doors, we haven't altered the size of our beef patties.
We continue to employ the well-known 100% Australian beef patties for our customers "d adore."
The idea that Macca's menu items are getting smaller has been brought up by fans before.
About Macdonald's
McDonald's is the world's biggest restaurant chain by revenue, serving about 69 million customers every day in over 100 countries across 37,855 outlets as of 2018.
McDonalds is best known for its cheeseburgers, hamburgers, and French fries, though their menus comprise of other items like fish, chicken, fruit, and salads.
12 Hard-To-Believe Facts about McDonald's According to https://spoonuniversity.com/
A New McDonald's Opens Every 14.5 Hours
The Caesar Salad is More Fattening than their Hamburger
More People Eat at McDonald's Every Day than the Entire Population of the UK
They Are the World's Largest Toy Distributor
The McDonald's Arch is More Recognizable than the Holy Cross
The Queen of England owns a McDonald's
McDonald's Makes over $75,000,000 Per Day
If you're in the US, You're Never More than 115 Miles from a McDonald
Justin Timberlake Sang the McDonald's "I'm Lovin' It" Jingle in one of the First TV Spots
Bill Gates Gets Free Food There
There Are Names for the Different Shapes of the Nuggets
The First Menu Item Ever was a Hot Dog
McDonald's fries' calories
220 Cal.220 Cal. McDonald's World Famous Fries has premium potatoes such as the Russet Burbank and the Shepody as one of its ingredients