Kelewele Recipe (Ghanaian Spicy Fried Plantains Cubes)
Kelewele Recipe (Ghanaian Spicy Fried Plantains Cubes)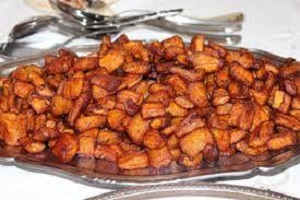 Ghana Kelewele Menu – Easy, quick, and super tasty Spicy Fried Plantain cubes. A spiced plantain snacks
The Kelewele recipe – How to make Kelewele (Spicy fried plantain cubes)
Kelewele pronounced Kele-wele is spicy plantain cubes seasoned with ginger, cayenne pepper, onions, and salt.
Spicy fried plantain cubes are a common and favorite street food in Ghana made from riped plantains, sold by vendors at night times.
This authentic snack is sold at night times because it gets truly hot in the day; the average temperature in Accra is about 87 degrees Fahrenheit or 30 degrees Celsius.
There was a widespread joint in Accra called Labone Junction Kelewele, and being a plantain lover at heart, I have to admit that was the best I've had until I mastered the art.
Related Ghanaian Recipes >>>
Kelewele Spice Mix
Ingredients for kelewele spices used to make these Spicy Fried Plantains are Onions, Ginger, cayenne pepper, and salt.
However, spices like Anise, Cloves, Cinnamon, cardamom pod, and Nutmeg can also be used depending on individual preference.
Easy kelewele is a well-loved and common Ghanaian dish made with ripe plantains flavored with spices.
It is a great recipe because all of the ingredients are kitchen spices. It is commonly referred to as "hot plantain crisps" in English.
West Africa has a broad variety of fried plantain recipes from the regular plantain chips to the delicious Kelewele.
For this meal, most people use overripe plantains. However, I believe it absorbs a lot of oil, therefore I stick to ripe plantain but not the extremely ripe ones.
What is Kelewele? Meaning of Kelewele ~ what is it made of?
Kelewele is made from peeled ripe plantains that should be sliced into small cubes or chunks and seasoned with onion, ginger, cayenne pepper, and salt.
The plantain is then fried until the sugar caramelizes and brown edges appear.
Kelewele is crunchy on the outside and soft on the inside that is frequently eaten with rice and bean stew or as a vegetarian dessert on its own.
Onions, ginger, cayenne pepper, and salt are commonly utilized in the preparation of these spicy fried plantains.
However, depending on personal preference, spices such as anise seed, garlic cloves, cinnamon, cardamom pod, and nutmeg can also be added.
Nutrition Facts
Calories: 149kcal
Protein: 3g
Fiber: 5g
Fat: 1g
Vitamin A: 2965IU
Vitamin C: 45.6mg
Iron: 1.4mg
Potassium: 1218mg
Sugar: 36g
Calcium: 7mg
Sodium: 958mg
Carbohydrates: 77g
Recipe
Kelewele is actually a simple dish to prepare. We're basically cutting, seasoning, and cooking in my procedures below.
Ginger, spicy pepper, and salt are the most essential ingredients. So, if you have these three ingredients, you're good to go.
Ingredients
4-6 ripe plantains
Cayenne pepper
Onions
½ tablespoon peeled grated fresh ginger
1 tablespoon salt
Vegetable oil for frying
Optional:
2 cloves Garlic
1 tsp Nutmeg
Bouillon
Lemon
1 tsp Anise Seed
The optional ingredients are based on your preference.
How to Prepare Kelewele (Spicy Fried Plantain)
1. Firstly, cut a thin line along the length of the plantain with a sharp knife, then peel back the skin of the plantain.
2. Secondly, cut the plantains diagonally into 1-inch cubes that are bite-sized.
3. After that, get a blender or food processor and combine the onions and ginger, then add enough water to make blending easier. Now the cayenne pepper.
Then, add garlic, nutmeg, lemon, salt, and bouillon (Optional) and set aside.
4. To sum up, get a serving bowl, combine the plantain cubes with the spice mixture and toss to coat.
Combine all of the ingredients and stir until the spices are evenly distributed all through the plantain cubes.
5. Then get a frying pan and pour the vegetable oil into the pan. When the oil is hot, use a slotted spoon to gently lay the plantains into the oil.
Please ensure the oil is hot before frying. If the oil is not heated enough, the plantains will absorb it and become too mushy.
6. Fry the plantains in rounds so that they may cook for about 5 minutes without touching one another. This is necessary for getting the desired texture.
7. Fry for about 5 to 8 minutes, turning the plantain over at intervals, periodically until the plantain is cooked down with visible brown edges.
8. Then, transfer your fried plantains to a serving bowl using a slotted spoon and coat your plantain with paper towels.
9. Lastly, dab the plantains with paper towels lightly to absorb any extra oil.
Serve warm on a plate and sprinkle your groundnut and green beans. It's Ready. It can be eaten with rice or serve with any of your favorite dishes.
Tip: Don't fry them all at once; they shouldn't stick with each other during frying.
Kelewele Near Me