Sweet Melon Soup: Nigerian Ground Egusi Garnish Recipe
Sweet Melon Soup: Nigerian Ground Egusi Garnish Soup Recipe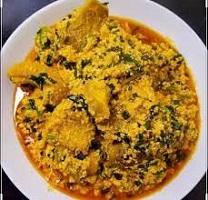 This recipe for Nigerian Egusi Soup with Sweet Melon Seeds will show you how to make this popular West African soup.
Egusi Soup is a Nigerian soup thickened with pulverized melon seeds and packed with lush greens and other vegetables.
It's a mainstay in most West African homes-a simple one-pot dish that's one of the most popular soups in Nigeria, with a wide range of variations.
Eba, Amala, Semovita, pounded yam, fufu, and other items are frequently served with this simple egusi soup. Some hardcore, like myself, will serve it over rice.
Prepare it with goat, beef, fish, or shellfish for the best results!
Related >>>>
Overview of Sweet Melon-Egusi
Egusi is a West African term for the dried and ground seeds of plants such as squash, melons, and gourds, which are a common ingredient in many West African recipes.
Egusi soup with pounded yam is very popular in Nigerian culture.
Nutrient content
These melon seeds are high in fat and protein, and they add these important nutrients into West African cooking.
Nigerian Ground Egusi Garnish Soup Recipe: Sweet Melon Soup
To learn how to prepare egusi soup, simply follow our simple instructions.
This delicious egusi soup recipe will have everyone coming back for more, whether you're cooking it for a special occasion or a weeknight supper for your family.
Sweet Melon Soup Ingredients:
1 cup blended melon
Uziza
1 tbsp. palm oil
Locust beans, 1 tbsp.
1 medium-sized onion
2 cups of water
1 cup stock
2 seasoning cubes.
1 tsp. salt
2 chopped habanero peppers
Ugu vegetable
Crayfish, 1 tbsp.
Chicken
Turkey
1 tsp. yellow pepper
4 medium-sized smoked panla fish
Method
Firstly, combine the melon, onion, water, and fresh pepper in a blender. Then, blend all the ingredients until they form a paste.
Secondly, put water, chicken, turkey, ponmo, yellow pepper, stock, smoked panla fish, crayfish, chopped pepper, and palm oil in a pot. Then, allow all the ingredients to boil for 15 minutes.
After that, scoop a small amount of the egusi paste into the pot. Do not stir in the mixture; simply cover the pot and allow it to cook for 10 minutes on low heat.
Lastly, add the Ugu and Uziza leaves, stir to combine, and simmer for 5 minutes. The oil will begin to rise to the top, which means that your sweet melon soup is ready.
Serve and enjoy with any drink of choice-pounded yam, eba, semo, or even rice.