Egusi Soup Recipe: How to Make Best Nigerian Egusi Soup
Egusi Soup Recipe: How to Make Best Nigerian Egusi Soup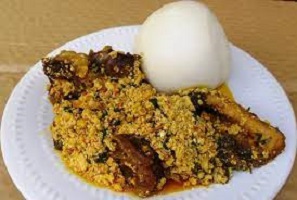 Egusi Soup is a finger-licking tasty Nigerian soup made with a white variety of pumpkin seeds. It is spicy, nutty with exotic African flavors!
This soup is also one of the most popular soups among Nigerians and non-Nigerians who enjoy Nigerian fufu recipes.
Egusi is a West African term for the dried and pulverized seeds of plants such as squash, melons, and gourds, which are a common ingredient in many West African recipes.
Egusi soup is very popular with pounded yams in Nigerian culture. The seeds are high in fat and protein, and they constitute an important part of West African cuisine.
Related Egusi Soup Recipe >>>>
What is the English name for Egusi? Egusi Soup Recipe
Egusi in Yoruba, "Egwusi" in Igbo, and Agushi in Hausa are some of its common names. Mann's cucumeropsis and white-seed melon are two names for it in English.
What is Nigeria Egusi Soup?
Nigerian Egusi Soup is thickened with ground melon seeds and contains leafy and other vegetables.
It is one of Nigeria's most popular soups, if not the most popular soup, cooked in a variety of ways by various tribes.
Is Egusi Soup Healthy? The Health Benefits of Egusi
Egusi is packed full of many essential and beneficial nutrients which are good for the body and these nutrients include:
protein, fats, calcium, magnesium, potassium, vitamin B1, sulfur, carbohydrate, zinc, copper, vitamins A, E, and C, manganese, dietary fiber, and more.
Egusi Soup and Fufu – Eba with Egusi soup
Egusi soup is an exotic hearty food that will satisfy your taste buds.
It is a staple in most West African homes and it is an uncomplicated one-pot meal that is often accompanied by swallows like Eba, Amala, Semovita, Pounded yam, Fufu, and the likes.
However, some, especially the Yorubas will even serve over Rice.
This soup is native to West Africa (Nigeria). It is a great soup for those who like to try something different every once in a while. Ground Egusi seeds give this soup a unique color and flavor.
Egusi Seed Alternative
If you can't find Egusi seeds, you can substitute them with pumpkin seeds.
Any combination of crab, shrimp, and smoked fish can be used in place of the shrimp.
Drained, smoked oysters and chicken can be used in place of the beef.
Egusi Soup Variations – Different types of Egusi soup recipes
This popular Nigerian soup is known as Miyan Gushi in the Hausa language, Ofe Egusi is the Igbo name, and Efo Elegusi is the Yoruba name.
The Nigerian Egusi soup, made with melon seeds, is prepared in a variety of ways by most tribes in Nigeria which include:
How to cook egusi soup boiling/caking method
How to make egusi soup with bitter leaf
Egusi and Ogbono soup combo
How to cook egusi soup with vegetable
Egusi soup with tomato stew
How to prepare egusi soup frying method
Ofe Achara with Akpuruakpu Egusi
How to make egusi soup with/without palm oil
Egusi soup with vegetable oil
What Is Egusi Soup Made Of?
Egusi Soup is a soup made with a white kind of pumpkin seeds (obtainable from African stores.
Ground egusi (or pumpkin seeds) is the main ingredient. Other ingredients include red palm oil, African crayfish, meats and fish, seasoning, hot pepper, and some form of leafy greens.
Egusi is basically white pumpkin seeds though some people prefer to call it melon seeds.
What Does Egusi Soup Taste Like?
Egusi soup is nutty, spicy and so rich thanks to the variety of meats and fish often used.
It is enjoyed in various ways in West Africa.
Egusi Soup Recipe – How to Make Egusi Soup – Cook Egusi Soup for Party
This Nigerian Egusi Soup recipe will show you how to cook this popular West African soup with melon seeds for parties.
Whether you're making it for a big occasion/party or a weeknight supper for your family, this delicious egusi soup recipe will have everyone going back for more,
Ingredients for Egusi Soup
2 Cups Melon
4 Tbsp Crayfish
24 oz chopped spinach
1 Cup Palm Oil or any preferred quantity
3 Tbsp locust beans
1 Red Bell Pepper
One Habanero Pepper
1 lb Beef Tripe, Dry Fish, Cow Leg
1 Fresno Pepper
3 cups Beef stock Chicken
2 Onions
Stock Cube (Optional)
Salt to Taste
Instructions for Best Egusi Soup
Firstly, blend the peppers and Onions together until smooth and set aside.
Similarly, blend the Egusi melon, half of the second Onion, and Crayfish together. Set aside as well.
Then, heat the Palm Oil in a pan and allow it to melt over medium heat but don't overheat the Oil.
Meanwhile, add the remaining half onion (diced) and half of the Locust bean. Allow cooking for about 3 minutes on medium heat.
Plus, the pepper blend and cook till the water is small, this should take about 15 minutes on medium heat. Stirring about every 5 minutes to prevent burning.
Then, add the remaining locust bean, Beef stock, and salt to taste. Cover and leave to cook for another 5 minutes
Gently introduce the blended Egusi inside the sauce but don't stir it at this point. Then,  cover and leave it to cook for about 20 to 30 minutes
After that, keep an eye on it so it doesn't burn but try not to stir it until the Egusi turns into a soft compact mass. Then, gently stir together and add more stock or water if necessary.
Then, add the fish and meat and leave to cook again for another 5 minutes.
Lastly, stir in the Spinach and leave to simmer for about 5 minutes (stir constantly).  Adjust the seasoning if necessary.
Serve while still hot.
How to Serve Egusi Soup
One famous way of eating egusi soup is with pounded yam (Egusi soup and pounded yam) – a dough-like side dish from African white yam.
You could also serve Egusi Soup with garri/Eba, fufu, semo, or amala depending on your preference.
Notes:
The typical ingredients used for Egusi soup are peppers, Onions, Locust bean and crayfish, and also beef, Goat meat, or dry fish. Occasionally Chicken and Turkey are good alternatives
Once, the Egusi is ready, stir in the vegetables – spinach, ugu, bitter leaf.   Then, adjust the seasoning if necessary and waawu! Your Egusi soup is ready!
You can also use tomatoes for making Egusi soup if you choose to.
I know Egusi have different names such as Agusi or Agushi depending on where you come from. Let me know what you call Egusi in your tribe/dialect?