Fruit Cake Recipe – Quick, Easy, Moist Nigerian Fruitcake
Nigerian Fruit Cake Recipe – Quick, Easy, Moist Nigerian Fruitcake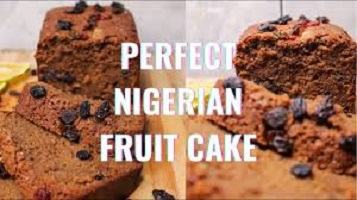 A fruit cake is a type of cake that is created using dried fruits, nuts, flour, sugar, brandy, and other ingredients.
This delicious fruit cake is rich, dark, deep, spicy, fruity, and decadent. The recipe is a very simple and simple modern spin on the traditional fruit cake.
What type of cake is fruit cake?
Fruitcake is essentially the same as any other fast bread or loaf cake, with the addition of a lot more fruit and nuts. You start with a basic cake batter, then add the fruits and nuts and bake until a tester inserted in the center comes out clean.
It is lighter and easier on the tongue, but it still hits all of the usual fruit cake aromas. In Nigeria, it is commonly used for weddings and as Christmas cake.
It has a distinct flavor, similar to wine. Ripening refers to the process of making something taste great as it ages. A high-quality fruit cake should keep for at least a year.
Typically, if a fruit cake is to be used for a special occasion, it should be made many weeks before the event.
Fruitcakes can keep their quality even after being frozen for a long time, but it is advisable to let them mature before putting them in the freezer because they will not mellow when frozen.
In this essay, I will explain how to make a good Nigerian fruitcake and will also educate you on the prospects of generating big money from the cake business in Nigeria.
What are some different kinds of fruit cakes?
There are several. Fresh fruit cakes, which are cakes with candied fruits and peels, come in a broad range.
cherry cake
orange cake
Strawberry cake
Raspberry cake
Apple cake
Pineapple cake
Plum cake
Banana cake
The list could go on and on since almost any fruit may be used to make a cake.
FruitCake Health Benefits.
A fruit cake can help you get enough fiber, vitamins, and minerals.
It is high in antioxidants.
Aids in the prevention of heart disease.
It provides energy to the body; e. It may be used as an appetizer.
Materials
Mixing bowl
Baking pan
Electric or manual mixer
Foil paper
Oven
Ingredients for making a Nigerian Fruit Cake
3 cups of flour
1 cup of Butter
baking powder (1 teaspoon)
1 cup of Sugar
mixed spice
vanilla essence
A pinch of salt
3 eggs
browning
ground mixed fruits or raisins
4 tablespoons of liquor
I teaspoon of ground cinnamon,
Method of making the FruitCake
Firstly, preheat your oven to 350 degrees Fahrenheit. Then, put aside the baking pan after rubbing it with butter.
Secondly, in a separate dish, combine the butter (slightly melt the butter to soften it and make the mixing process faster), sugar, cinnamon, a sprinkle of salt, vanilla, and baking powder. Combine all of the ingredients in a mixing bowl and whisk until light and fluffy.
Thirdly, in another bowl, properly beat the eggs before adding them to the ingredients in the bowl, then continue beating until the mixture has a uniform consistency.
After that, stir in the brandy, until fully combined. Stir in the dried fruits, being careful not to overwork the batter at this point to keep the volume formed by the butter.
Then, in a separate dish, whisk together the dry ingredients (flour, salt, baking powder) before combining the two mixes.
Add the dried fruits to the mixture and whisk for a few minutes.
Grease a clean skillet with butter. Then, pour the batter into the pan and attempt to hit it against a flat surface to help flatten the top, or even better, divide the excess batter evenly over the pan with a knife. (Remember not to overfill the pan with batter beyond the 70% mark; the remaining 30% is the space made available for the cake to rise and occupy while it bakes in the oven.)
Bake the fruit cake for 1 hour at 350°F. To prevent the cake from burning, cover it with foil paper.
Lastly, the fruit cake is done when the long hand of a spoon or fork inserted into the middle comes out clean, but if it comes out oily, it needs a little more time to finish.
As soon as the fruit cake is done, remove it from the oven and allow it to cool before slicing off a piece to eat
You may even go over and above to ice and decorate the cake following the event. (Don't forget to rub brandy or any other of your choice on the cake after baking; this adds flavor and serves as a preservative).
Tips:
A fine fruit cake, like a good vintage wine, improves with age.
To keep a fruit cake fresh for years, soak it in brandy and bury it in powdered sugar before storing it in a firmly enclosed container. This will ensure that it lasts for many years.
If you want to keep the fruit cake for a long time, place it in a deep freezer.
Further Tips:
Related >>>
If you decide to start a business making fruit cakes, you can be certain of the following:
People would surely patronize you because you use cakes for practically every function.
Because fruitcakes keep for a long time, consumers may buy them and freeze them to enjoy regularly or to gift to visitors on special events.
Because you can make your cake from the comfort of your own home, you may not need to go on a huge scale.
Fruit cake has a long shelf life.
FAQ
Is a fruitcake nutritious? Is a fruit cake healthy?
We'd like to believe that, despite its name, fruitcake is a rather healthy sweet alternative, but this is not the case.
Fruitcake typically has a lot of butter, sugar, and syrup, therefore it's high in fat and calories
What's the best way to keep fruit cake moist?
To guarantee a deliciously moist fruitcake
Firstly, soak a muslin/cheesecloth in rum, brandy, or fruit juice for 30 minutes. Then, wrap the cake in the cheesecloth and soak with brandy or fruit.
After that, wrap aluminum foil around the wrapped cake.
Then, avoid allowing the aluminum to come into direct contact with the cake.
Lastly, place the cake in an airtight plastic box.