How to Start Cake Baking Business in Nigeria (2022)
How to Start Cake Baking Business in Nigeria (2022)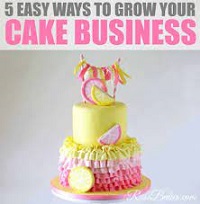 Cake baking, also known as cake making, is a lucrative enterprise that may be done at any time of year. It's also incredibly profitable, especially if you consistently provide high-quality service to your consumers.
Why Should You Start a Cake Baking Business in Nigeria? How to Start Cake Baking Business
The following are some of the reasons why you should start your cake baking company as soon as feasible if you have a passion for cake baking/making in the country:
Cakes Are in High Demand in The Country
Cakes Are Used to Celebrate Different Occasions
Sell in All Seasons
Affordable
Cost Of Starting Cake Business in Nigeria Currently – How to Start Cake Baking Business
If you want to start making cakes from home, the cost of starting your business will depend on the equipment you use, which might cost anywhere from N50,000 to N300,000. If you want to take it to the next level and start big, 150,000 – 300,000 Naira or more should suffice.
Please keep in mind that the values provided are estimates and should only be used as a reference for how you should budget money for your business. As you visit the market to learn more about the cake manufacturing industry, these figures may change.
Here are some tips on how to start a cake-making business in Nigeria in 2022:
Firstly, Get the Necessary Cake Baking/Making Skills Via Training
Secondly, Draw Up an Action Plan for Your Cake Baking/Making Business
After that, Make Available the Capital for Your Cake Baking Business
Get A Good Business Name and Register It
Get a unique name for your company that has the potential to grow into a huge brand in the future, and register it with the Corporate Affairs Commission.
Then, obtain the Appropriate Equipment and Materials for Your Cake Baking Company
Lastly, promote Your Cake Baking Company on social media
Whether you're establishing a cake baking business from home or renting a commercial space, you'll need to market it.
The majority of cake makers rely on social media to get out to their clients promptly.
Instagram is the most effective social media strategy for attracting clients, especially if you are creative and have a high-quality product. Twitter can also help your company expand.
While Facebook and WhatsApp can help, make sure your Instagram presence is completely functional in this type of business.
Pay for sponsored posts on occasion to reach a larger audience and encourage people to like, follow, and share your content, and be sure to respond to your customers and potential customers who contact you via the comments section or inbox.
Nigeria's Most Reliable Cake Makers – Trusted Cake Makers in Nigeria
There are numerous cake bakers in Nigeria today, however here is my number one recommended cake baker:
TomTom Cakes
Tomtom Cakes is an Abuja-based cake brand with a registered product and service. They started operations in 2016 and haven't looked back since, increasing by leaps and bounds since then.
She creates delectable cakes for all occasions, with a focus on quality and client satisfaction.
They also provide training to anyone who wants to learn how to make cakes and decorate them, and they have so far instructed over 100 people who have found success.
0803 724 9800 is their WhatsApp/business number. They deliver throughout the country. The good news is that she is, in fact, my sister! My immediate elder blood Sis and I know what she's capable of
Are you in the cake-making industry and need exposure, or, do you know someone in the business who needs public awareness?
Please let me know by leaving a comment below. I will help you to boost your business for free on my blog.
A Heart of Thankfulness