Best Hot Fudge Brownie Sundae Recipe
Brownie sundae is so quick and easy to make, yet so remarkable and mouthwatering! I love making ice cream (especially for others to enjoy) and ice cream related desserts.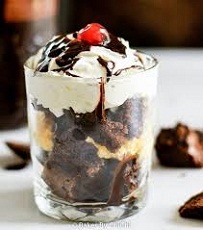 Brownie sundae is one of the classic desserts I lovemaking.
Rain is gradually picking up; by next week we will enter June which is one of the rainiest months in Nigeria.
It's good to know that one of the classic desserts needed during rainy cold days ahead is hot fudgy brownie sundae!
Although, I would eat this any other day…it's that good and easy!
Come to think of it, what could be more delicious than this home-style dessert that is warm, soothing, with creamy combination of vanilla ice cream drenched with chocolate syrup?
Homemade Hot Fudge Brownie Sundae
It's thick, rich, creamy, and perfect for drizzling over the brownies. Made with chocolate, cocoa, and chocolate liquor, this homemade fudge is chocolaty.
The good news is that it is fast and stress-free in making.
When it comes to easy fast classic dessert, common with everyone and always in request, homemade ice-cream sundaes made with baked fudge brownies take the prize.
Hot Fudge Brownie Sundae Recipe
As soon as you make this hot fudge sauce, there will be no buying of the shop made stuff again. This chocolate lover's favorite is as tasty as it looks, and it looks fabulous.
Ingredients
Hot Fudge Sauce
1/3 cup brown sugar
¼ cup of cocoa powder
1/3 cup whipping or heavy cream
168 g semi-sweet chocolate, divided use
1/3 cup chocolate liqueur
½ cup golden syrup, or Light corn syrup
2 tablespoons unsalted butter
1 teaspoon vanilla extract
Instructions
Firstly, in a pan add brown sugar, cocoa powder, whipping cream, chocolate liqueur, and half of the chocolate, syrup, and salt. Stir together
Then, cook over medium heat, stirring, until chocolate is melted. Bring mixture to a boil, then reduce heat to low and allow to simmer for 5 minutes, stirring frequently.
After that, remove the pan from heat and then add remaining chocolate, butter, and vanilla. Stir until smooth.
Finally, leave to cool for 30 minutes before using it. Store the leftover sauce in an airtight container in the fridge for up to 2 weeks.
Above all, to use refrigerated sauce, reheat in the microwave for 30 seconds to 1 minute
Brownie sundae – Ingredients
¼ cup butter
2 – 1 oz. Semi-sweet baking chocolate, chopped
1 egg
½ cup brown sugar, packed
1 teaspoon vanilla extract
¼ teaspoon salt
¼ cup all-purpose flour
4 scoops vanilla ice cream, softened
Garnish: chocolate sauce, warmed
How to Make It
Firstly, combine butter and chocolate in a microwave stirring every minute. Then, stir; and allow cooling for 10 minutes.
Secondly, mix egg, brown sugar, vanilla, and salt in a small bowl. Stir into chocolate mixture. Add flour; then, mix well.
Thirdly, spread batter in an 8″x 8″ baking pan lined with aluminum foil and sprayed with nonstick vegetable spray.
Then, bake at 350 degrees for 15 minutes or until a toothpick inserted near the center comes out clean.
Lastly, allow cooling completely on a wire rack. Cover; chill until firm. Cut brownies into 8 squares.
Assemble
Firstly, place chunks of the brownies in serving glasses or bowls.
Then, sprinkle brownies with hot fudge sauce. Scoop ice cream among the glasses/bowls.
Similarly, sprinkle with more hot fudge sauce. Top each glass off with whipped cream and then drizzle again with hot fudge sauce.
Lastly, finish with a cherry on top and ENJOY!
Tips
Put any leftover brownies in a single layer in a freezer bag and freeze for up to a month.
Then, microwave for about 20 seconds before enjoying.
 Nutrition Facts

For a Serving Size of 1 serving (229.64 g)
Q: How many calories are in Hot Fudge Brownie Sundae?

A: The number of calories in Hot Fudge Brownie Sundae: Calories 749

Calories from Fat 342 (45.7%)
% Daily Value *