Crawfish Etouffee Recipe for a Crowd
Crawfish Etouffee Recipe for a Crowd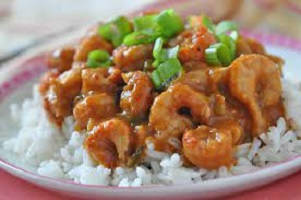 Are you craving something new? Are you eager to learn a new recipe? Do you want to try something new and challenging? If yes, then today is your lucky day.
Crawfish etuoffee is a simple dish of sweet and meaty crawfish served in rich and flavorful gravy that is produced from a quick roux.
The food consists of Cajun's holy trinity of onions, freshly chopped herbs, bell peppers, celery, garlic, and some spicy Cajun seasonings.
But what can you eat the creamy crawfish etouffee with? You can eat the crawfish etouffee with crusty homemade bread or Italian bread.
Either of the two goes well with the crawfish etouffee and you can also eat it with penne pasta instead of the usual white rice.
The crawfish etouffee has a deep nutty flavor due to the roux being used and all other ingredients add more taste and aroma to the crawfish etouffee.
You can also choose to store your crawfish etuoffee inside your refrigerator and when it cools down you can enjoy it later.
Crawfish Etouffee Recipe
However, there are lots of different recipes for the making of crawfish etouffee. You can also serve the crawfish etouffee with a lot of things, in all, adding more flavor and more aroma to your crawfish etouffee.
But if you don't know how to prepare the cheesy etouffee stew, then below are some tips that could help you.
There are few differences between gumbo and etouffee, although most people think that there are the same, in actuality, it is just a little different that is there.
The craw etuoffee is a thicker stew while the gumbo is just the thinner version of the etouffee stew. If you want to know more about the crawfish etuoffee, you can read along with this article.
What is the difference between gumbo and etouffee?
Gumbo and etouffee are quite similar as they both use the broth base which is shrimp, chicken broth, crawfish tailstock, or even stock while etouffee has a thicker gravy-like appearance due to the fact that the chef prepared it with a roux which is a mixture of all-purpose flour and butter.
On the other hand, gumbo is a thinner version of etouffee as it comes with a soupy stew broth.
How Do You Thicken A Crawfish Creamy Sauce? Crawfish Etouffee Recipe
If your creamy crawfish sauce is not thick, then you can thicken it by mixing together a little corn starch in a bowl and adding some water until the mixture is smooth to form a slurry.
Then slowly whisk the slurry into the simmering sauce in a pan over medium-high heat. Pour the slurry into the hot sauce until you get your desired thickness of the creamy crawfish sauce.
How does the crawfish etouffee taste? Crawfish etouffee recipe
The crawfish etouffee has a very deep nutty flavor from the roux. The peanut butter gives the umami flavor that deepens based on the color of your roux and the onion, celery, garlic, bell pepper, and Cajun seasoning ad more aroma to it from your traditional gravy.
Louisiana crawfish etouffee recipe
If you want to prepare the Louisiana crawfish etuoffee and you don't know to, you don't have to worry as what you to know will be listed for you below
3 cups long-grain white rice
¾ cup butter
6 cups of water
1 clove of garlic, chopped
1 pound crawfish tails
A large onion
2 tablespoon canned tomato sauce
¼ cup all-purpose flour
Salt and pepper to taste
1 cup of water
1 ½ tablespoon Cajun seasoning
A process on how to prepare the Louisiana crawfish etouffee Recipe
Firstly, combine your rice and the six cups of water in the saucepan, cover it to boil, reduce to heat and allow it to seethe for 15-20 minutes till the rice is tender and water has been taken in
Secondly, while the rice is on fire, melt the butter in a vast skillet over medium heat. Add the onion and blend until it is transparent
Then, turn in the garlic and cook for a little while
After that, pour and turn the flour until it is well blended
Slowly turn in the tomato sauce and add the crawfish tails and leave it to seethe.
Add the green onions and season with salt, Cajun seasoning. Pepper and leave it to heat for 5-10 minutes
Check the heat and don't allow the crawfish to be too tough but at least, it should be cooked
Lastly, serve with your hot cooked rice.
How would you describe the crawfish etouffee recipe?
If you have eaten the crawfish etouffee, then you would know that the food is worth the time and energy input to make it.
The crawfish etouffee is pronounced eh-too-fey is from a French word that means to smother.
What is the etouffee sauce made of?
The crawfish etouffee is a very delicious meal that is meant for all.
The etouffee is a type of stew if you want a technical stew, then the etouffee is for you as it is made with bell pepper, tomato, chicken, hot sauce, roux, garlic, shrimp, onion, crawfish, and celery.
What do I serve with crawfish etouffee
Jambalaya
Potato salad
Cajun dirty rice
Creamy coleslaw
Italian bread
Crispy roasted brussels sprouts
Cajun corn maque choux
Cracker-barrel fried okra
Why do they call it crawfish etouffee? Crawfish Etouffee Recipe
The word etouffee is gotten from a French word and the meaning of etouffee is stilled or stuffed. Etouffee generally means smothered and it is a common cooking skill in the south.
What you do is make a flavorful sauce and prepare meat or fish in it, not so long as a stew or braise and not as short as a saute.