Ehuru, Uda & Uziza Seed for Fertility, Weight Loss
Ehuru, uda, and uziza seed for fertility, weight loss, and flat tummy – The seeds are commonly used as the major element in spices for new moms, and they perform wonders. Please Watch >>>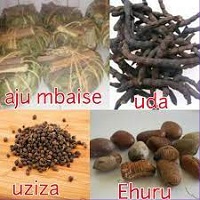 Do you want to lose weight, lower your blood sugar, get rid of your belly fat, and all the unwanted fat in your body in just a few weeks?
Using Ehuru, uda, and uziza seed for fertility, weight loss, and flat belly, you can get your desired weight and tummy size with complete satisfaction.
When cooked with mmiri uda, uziza, and ehuru for weight loss, it is a traditional Mbaise method of reducing post-pregnancy fat by the Mbaise women
For the optimum results for new mothers, the soup should be made with aju mbaise and a mixture of these spices: Uda, Ehuru, and Uziza seeds (Igbo names).
The seeds are abundant in antioxidants, which can assist the body resist free radical damage.
The spices are always used to make ready-made Pepersoup spice mix, which can be found in most grocery stores.
Other weight-loss alternative plants include utazi, Ukpaka, Ugba, Ukpa, bitter leaf, scent leaf, lemongrass, lime, and others.
Ehuru, Uda and Uziza Seed for Fertility, Weight Loss and Flat Tummy
Among the many known spices around the world, one vibrant spice that is frequently used in our daily meals is Piper Guineese, popularly known as Uziza or the Guinean pepper in Nigeria, ewé àti ata iyere in Yoruba, and across West Africa, where it grows abundantly.
It is also called Benin pepper, kukauabe, false cubeb, Ashanti pepper, and Guinea cubeb in different parts of West Africa.
Uziza is a plant whose fruits (called uziza seeds by most people) and leaves can be used to season food.
The leaves of the Uziza plant have a peppery flavor and are green when fresh and dark green when dried.
When the leaves are fresh, they can be used to cook any meal by washing and shredding them first, then adding them to the food around 15 minutes before removing them from the fire, or they can be dried, powdered, and then added to the dish.
The fruit can also be utilized in the same way that any other spice is when preparing a meal. Uziza seed looks and tastes a lot like black pepper.
Whether it's the uziza leaves or the uziza seed, using Uziza in your meals has a lot of health benefits.
We've listed some of the reasons why you should include Uziza in your meals as often as possible.
Nutritional Content of Uziza leaves
Protein
Dietary fiber
Alkaloids
Steroids
Glycosides
Flavonoids
Essential oils
Tannins
Saponins
Peptide
The chemical piperine, which gives the fruit its flavorful taste, is found in 5–8% of the fruit. They also contain a lot of beta-caryophyllene, an anti-inflammatory compound.
Uziza Seeds Health Benefits
The health advantages of the uziza leaves and fruits will be discussed. Most Nigerians refer to the Piper guineense fruit as Uziza seeds for some reason. The plant is called uziza, and it has leaves (uziza leaves) and fruits (uziza fruits) (which some call uziza seed and which is the spice).
So, let's go into the health benefits of uziza:
Relieves Cough
Prevents Constipation
Prevents Cancer
Treats Diarrhoea
Improves Fertility
Remedy For Stomach Ache
Uziza And Pregnancy
More information on Uziza Seed
The leaves and seeds of the Uziza plant can be used as a spice in a variety of dishes. They have a wide range of medical and physiological benefits.
You can eat the leaves of this plant by making uziza soup or uziza and utazi soup. You can also use the seeds as a seasoning when creating nutritious Nigerian cuisine.
The leaves and seeds of the Uziza plant offer medicinal and nutritional properties and several health benefits. The leaves are widely taken as a tea for medical purposes.
The health benefits of uziza leaves can also be obtained by boiling the fresh leaves and consuming the water as a herbal tea. Similarly, the leaves are frequently crushed and capsuled for use as a daily health supplement.
Because uziza is quite safe during pregnancy, pregnant women can eat it, as previously stated.
If at all feasible, I suggest UZIZA leaf and seed to all tribes for all types of soups. Use this to get the most delicious soup experience you've ever had… You'll thank me later.
Uziza leaf in Ogbono soup is Bae
Uda Seed
Uda seed, also known as Negro pepper, is a fragrant spice that is extensively used to flavor recipes in Nigeria, Senegal, Ghana, and Brazil, among other places. The botanical name of uda seed (negro pepper) is Xylopia aethiopica from the Annonaceae family.
In Igbo, it's known as uda, while in Yoruba, it's known as eeru alamo. Negro Pepper is also known as the grain of Selim in some regions of the world. The nutritional content of uda seed is discussed in this article and its health benefits.
One of the best things about Negro pepper is how adaptable it is in nature; its bark, seeds, stem, fruit, and leaves may all be used for a variety of purposes, including culinary, medicinal, and intimate.
Nutritional Value of Uda Seed
Flavonoids, alkaloids, cineol, phytosterols, tannins, saponins, polysaccharides, trans-pinocarveol, limonene, linalool, and -caryophyllene are some of the powerful properties found in uda.
Side Effects of Negro Pepper (Uda Seed)
Uda seed has been linked to the induction of abortions. There is no medical evidence, however, that links uda seed and miscarriage.
Before eating uda seeds, talk to your doctor if you're on any drugs.
If you get nausea or dizziness after eating uda seed, it's better to avoid it to avoid consequences.
Ehuru Seeds
Ehuru seeds are obtained from Ehuru, also known as Calabash nutmeg, which is native to Africa and is known by a variety of names, including ehiri, ariwo, Jamaican nutmeg, African nutmeg, and airama, to name a few.
Its seed is extensively used in cooking (as a substitute for nutmeg), but its plant is only occasionally utilized as an aesthetic plant in Indonesia.
Monodora myristica, often known as ehuru, is a very helpful plant in general. Its seeds are useful as spices in West African recipes because they have a similar flavor and aroma to nutmeg.
They're utilized in a variety of soups, stews, pastries, and desserts. After being dried, the seeds are also used as necklaces.
The timber and bark are used to treat a variety of ailments, including eye problems, hemorrhoids, and stomach problems. Chemical substances such as alpha-pinene, pinene, myrcene, alpha-phellandrene, and limonene can also be found in its leaves.
Despite Ehuru's many uses, we'll concentrate on the health advantages of its seeds in this article. We'll look at the seeds' nutritional worth as well as how their contents benefit the human body.
Researchers discovered that Ehuru provides a slew of health benefits, including:
weight loss
blood pressure control
Kidney infections treatment
relief from headaches
helps with insomnia (insomnia – the inability to sleep).
Ehuru is high in calcium, iron, potassium, vitamin c, folic acid, and anti-oxidants.
Summary on Ehuru, Uda & Uziza Seed for Fertility, Weight Loss & Flat Tummy
Each of these spices is advantageous to one's health. Adding ehuru, uda, or Uziza seeds for fertility and weight loss to your meals regularly not only adds flavor to your meals but also delivers modest levels of antioxidants and elements that can protect your body, especially for nursing moms.
DISCLAIM!
There's also no medical evidence that says that ehuru, uziza, and uda spice is a contraceptive or can cause miscarriage.