Ginger and Uda Seed for Flat Tummy: Uda Seed & Weight Loss
Ginger and Uda Seed for Flat Tummy: Uda Seed for Weight Loss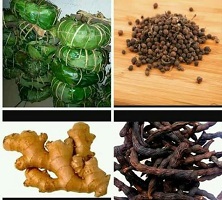 Many people have a tummy problem, and while exercise and a good diet are the best ways to lose belly fat, there are also some natural solutions that can assist.
Have you ever considered what the best course of action is for correcting physical flaws with natural remedies rather than relying on surgeries or chemical drugs?
How to Use Ginger and Uda Seed fo& ginger with Uda Seed to help the body cleanse itself of harmful toxins.
As a result, ginger uda tea, also known as Flat stomach water, helps with weight loss and infection resistance.
Do you have painful menstrual periods?
Meanwhile, if you're having trouble with your period, boil some uda water with garlic and consume it three days before your period.
Take fresh honey with garlic after your monthly flow to protect your private areas from bacteria and ease menstruation pain.
Related >>>
Ginger and Uda Seed for Flat Tummy for Men
Use Lemon Grass with Ginger for weight loss and men's Flat Tummy.
Because Uda water is bad for men's health (it can cause watery fluid), if your partner has a huge stomach and you want it to get better, he should boil lemongrass and ginger and drink it every day until he notices changes.
Do you have any signs or symptoms of fibroid? If yes, then boil the Uda seed with a pinch of alligator pepper and drink it three times a day.
Even when advanced medical treatments were not available in Africa, our great-grandmothers used this treatment to heal fibroid.
Bottom Line 
While a flat stomach may be a goal for some, remember that overall health and happiness are the most important things to strive for. Finally, moderation is key in every home cure
If you have any questions, please post them in the comment section below. Thank you for taking the time to read this.
Remember to like, share, and subscribe for more.