Bunny Chow: South African Curry in a Bread Bowl Recipe
Bunny Chow: South African Curry in a Bread Bowl Recipe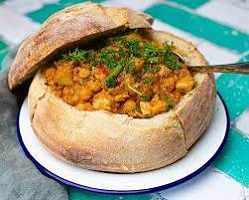 This African Bunny Chow, sometimes known as a bunny, is a South African fast-food cuisine consisting of a hollowed-out loaf of white bread filled with curry.
What is a Bunny Chow and the Fillings?
It is a bread bowl with a twist. You hollow out the middle of a loaf of white bread and fill it with curry, either vegetarian beans or meat. However, rabbit is not one of them.
This South African street cuisine is prepared with exotic spices, pork, chickpeas, and potatoes and served in a hollowed loaf of white bread.
South African Bunny Chow has grown in popularity as a Durban export.
It brings back childhood memories for many Durban residents who used to stop for Bunny on their way home from late-night clubbing.
Why Do They Call It Bunny Chow? History
Bunny chow originated in Durban, a major Indian community on South Africa's eastern coast.
According to legend, the dish was first served in restaurants by members of an Indian caste known as Banias, thus the name bunny chow was originated.
What is Bunny Chow served with?
This African food is frequently served with a side salad of grated carrots, chilies, and onions.
This South Africa Street food can also be served with chopped tomatoes, onions, and green chilies
Dish your Durban delicacy with white vinegar or lime juice.
Best Chicken Bunny Chow Recipe
Let's not be put off by the long list of ingredients. This chicken recipe is a straightforward dish that's no more difficult to prepare than that of any stew.
If the only difficult decision is deciding which meat to use, you make it completely vegetarian or vegan to your preference.
Ensure to pick up some bread from your local bakery before you leave.
Serve Bunny chow Cape town with rice and vegetables in a non-traditional style.
Bunny Chow South Africa Ingredients
1 Pound chicken thighs
2 cups vegetable oil
1 Tablespoon curry powder
One Cinnamon stick
3 green cardamom pods
Chickpeas
Potatoes
Cayenne pepper
2 Curry leaves
Diced tomato
1 Medium onion
Grated ginger
Minced garlic
8 to 10 loaves firm white sandwich bread
Salt and pepper to taste
How to make Bunny Chow Recipe South Africa
Firstly, in a large saucepan, heat the oil, then add the chopped onion and cook for 5–7 minutes, until translucent.
Second, add the curry powder and cook for 1 minute before adding the diced tomatoes, stir to combine.
Then, cook, meanwhile turn it frequently over medium heat until you achieve a sauce-like mixture.
Afterward add the meat, ginger, garlic, and curry leaves, as well as 300ml of water.
Bring to a boil, then reduce to low heat and continue to cook.
In the meantime, cook for 20-30 minutes, or until the meat is tender, and continue the stirring occasionally.
Then toss in the garlic, ginger, cinnamon stick, curry leaves, and cardamom pods.
After that, add your chicken, stir, and continue to cook for another 2-3 minutes.
Bring the chickpeas, potatoes, and chicken stock to a boil, then reduce to low heat and continue to cook until the sauce thickens, for approximately 25 minutes or more.
Then, add potatoes to the mixture, cover the saucepan, and cook on moderate heat.
When potatoes are completely soft, lift the lid and season with salt and pepper to taste.
Finally, keeping the dish aside, divide each bread loaf in half and dig out the center.
How to Eat Bunny Chow Durban
Firstly, break off a piece of bread with your hands and use it to scoop up some curry and carrot salad.
Then, place the dish on top of the curry and spoon it into the hollow of each loaf half.
Please Note
The Chicken Bunny chow is generally eaten as a sandwich.
Some believe you can only eat with your hands, thereby imitating the rabbit.
Some eat it as a vegetarian, taking the inside of the bread out and removing the chickens and the meat.
Carrot salad is a good accompaniment to lamb bunny chow.
You can eat it in whatever way you prefer to eat it.
Nutritional Value
How many calories are in the recipe?
Calories: 428kcal
Carbohydrates: 30g
Protein: 30g
Calcium: 111mg
Fiber: 9g
Iron: 5.1mg
Potassium: 901mg
Sugar: 2g
Sodium: 445mg
Fat: 21g
Saturated Fat: 2g
Vitamin A: 1065IU
Vitamin C: 27.4mg
Cholesterol: 107mg