Rice Flour Bread Recipe | Gluten Free Vegan White Bread
Rice Flour Bread Recipe | Gluten Free Vegan White Sandwich Bread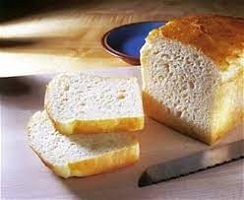 Homemade bread can still be a part of your gluten-free lifestyle. While rice flour cannot be used in place of wheat flour, it can be combined with other ingredients to create bread that is incredibly tasty, moist, and tender.
Related >>>>
Rice flour is used to make rice flour bread.
What is rice flour? Rice flour bread
Rice flour is a finely ground rice that is mainly used in gluten-free baking and as a dusting powder for commercial baking operations.
The most important component of this flour is starch, which harms its functionality in culinary systems like baking, noodles, gravies, crackers, and many others.
In gluten-free baking, rice flour is either brown or refined and is utilized as a vital ingredient for polymeric network creation and as a dusting powder for high-hydration doughs to reduce dough stickup.
Features
It has a neutral flavor and ranges in color from white to brown (depending on bran content).
It's simple to digest.
It's hypoallergenic, which means it's safe for anyone with allergies.
Origin
Rice flour is made from the Oryza sativa plant, a major cereal that is a staple diet for many Korean and Asian communities in China, India, Indonesia, and, more recently, North America, Africa, and portions of South America.
Nutritional and Health Benefits of Rice Flour
Rice flour is high in calcium, making it an ideal food option for bone and skeletal health. White rice flour (100g) includes 9.2mg of choline, which helps to keep fat and cholesterol from accumulating in the liver.
As a result, it aids in the maintenance of your liver's health.
Health Advantages
Because it is gluten-free, it is a great option for people with gluten sensitivity and autoimmune diseases like Celiac.
It has a good amount of insoluble fibers, which help to keep the digestive tract in good shape. A high-fiber diet can also help with cardiovascular health, blood sugar control, and intestinal regularity.
Rice flour is high in calcium, making it an excellent food option for bone and skeletal health.
Due to its high mineral density, rice flour helps improve the body's natural immunological response due to its zinc content.
Rice flour includes a good quantity of protein, so it's a good choice if you're looking to bulk up and grow muscles.
Because of its abrasive texture, rice flour is a natural exfoliant. It is quite good at removing dead skin and debris from the surface of your skin.
How to Make Bread using Rice Flour
The recipe is straightforward:
This gluten-free rice flour bread recipe will quickly become your go-to, whether you have gluten sensitivity or simply wish to avoid wheat in your diet.
This recipe is devoid of wheat, xanthan gum, and other allergens that are common in gluten-free bread.
It's created with basic ingredients like white rice flour and apple cider vinegar, and you might be surprised to learn that it gives you the same warm feeling like any other bread.
Continue reading for the recipe and other important information.
Can rice flour be used for making bread?
You've come across various rice flour recipes while looking for gluten-free dishes. Homemade bread may still be a part of your gluten-free lifestyle.
It's fantastic for baking and adds a nice crunch to a variety of crackers and dumplings.
Rice flour does not absorb liquids as well as wheat flour, so allow plenty of time for the dough to rest and hydrate before baking.
To make rice flour bread, you'll need the following ingredients:
The major component is rice flour. Glutenous rice flour adds additional chewiness, and salt inhibits yeast development and promotes browning.
The leavening agents in this recipe are yeast and baking soda. For the greatest results, please use both.
Coconut oil or melted butter gives the bread a deep taste and makes it soft.
Apple cider vinegar will aid in the activation of the leavening, so don't leave it out.
Honey for added moisture and sweetness
The egg white strengthens the bread.
Water
How to make rice flour bread using a machine or by hand
Rice flour bread machine recipe.
Taking the hard work out of baking bread has to be one of the all-time greats among the numerous ways machines make our lives simpler.
You can argue with us on this, claiming that manually activating the yeast, combining the ingredients exactly so, rising, kneading, and making loaves has a lot of advantages.
To which we respond emphatically, but not everyone has the leisure to do so these days. As a result, we continue to value the labor-saving bread machine.
How to Make Rice Flour Bread in a Machine
The procedure is identical to that of preparing bread by hand, with the exception that the machine handles all of the mixings, rising, and baking (if you want it to).
How to Make Handmade Rice Flour Bread
The recipe is simple and clear:
To prepare the rice flour bread, whisk together the yeast, sugar, and 2 tablespoons of warm water in a mixing dish. Cover and allow sitting for 10 minutes.
In a large mixing bowl, whisk together the rice flour, cornflour, yeast-sugar mixture, oil, and salt with enough warm water to make a smooth batter.
Fill a greased rectangular aluminum tin measuring 175 mm x 25 mm (7″ x 3″) with the batter.
Cover it with a moist muslin towel and set it aside for 45 minutes in a warm room.
Bake for 40 minutes at 200°C (400°F) in a preheated oven.
Serve the rice flour bread right away or save it for later.
Bread made with rice flour has a few tricks up its sleeve.
To produce the lightest, airiest bread, make sure the yeast is from an unopened or recently opened container.
Use the specified amounts of salt in this recipe, since keeping the correct ratio of salt, sugar, and yeast is critical to a beautiful, soft bread.
Allow the bread to cool completely before slicing to avoid cracking.
How to Use Apple Cider Vinegar
Baking powder and apple cider vinegar combine to help fluff up the bread.
How Do I Make My Own Rice Flour from Scratch?
If you don't have rice flour, use your coffee grinder to finely grind rice grains. Grind no more than 2 or 3 teaspoons at a time.
If the flour doesn't come out as fine as you'd want, run it through the grinder again.
How much time does it take?
Allow 2 hours to complete this masterpiece. Take your time since you can't rush excellence.
Variations on Rice Flour Bread
Rice bread flour without yeast.
Rice bread and flour rolls
What am I going to serve it with?
Bread, whether gluten-free or not, may be used in a variety of creative ways.