Glutinous Rice Cake Recipe – Sweet Steamed Dessert
Glutinous Rice Cake is a popular Asian dessert that goes by two other names: Sticky Rice Cake, and Nian Gao.
Normally, when you hear the two words 'rice and cake,' what comes to mind? The answer most of the time is white, sticky food.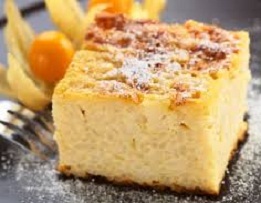 The cake is steamed in the oven for a silky, chewy texture and a mildly sweet milky flavor by Chinese tradition.
Although this rice cake recipe calls for baking the cake in the over, it is first tightly covered with foil. So in a way, this recipe steams the cake as well.
Sweet rice cake is a popular dessert to bring for potlucks and events, this recipe is so easy to make especially whenever you have a craving for a delicious and chewy dessert.
Glutinous Rice Cake makes an eccentric lunch/dinner/snack and is laden with refreshing flavors
Glutinous Rice Cake Recipe
In the making process, this cake uses superior glutinous rice. The glutinous rice fragrance is tempting also,
The recipe calls for a few ingredients:
1 pound glutinous rice flour
¼ cup rice of flour
5 cups whole milk or coconut milk (Coconut milk gives the rice cake a delicious and rich flavor! You can even mix the two, it all depends on choice),
1 cup water
1 ¾ cup sugar
3 whole eggs
1 tsp. baking soda
1/2 cup vegetable oil
1 tsp. vanilla extract
¾ cup red beans, raisins, or chocolate chips (optional)
Directions
Firstly, combine thoroughly all the ingredients and put in a greased/floured baking pan.
After that, bake at 350 degrees for 50 minutes, covered with aluminum foil.
Thirdly, after 50 minutes, take off the foil and allow baking for another 5 minutes.
Finally, allow cooling at room temperature.
Kitchen Tips
Firstly, you can substitute water with coconut water to make cake more nutritious.
Secondly, since it is naturally sticky; therefore after cutting with knife, soak it in warm water to avoid cake sticking on it.