Peanut Butter Rice: How to Make Zimbabwean Rice Dish
Peanut butter rice is an old-style Zimbabwean rice dish commonly paired with beef or chicken stew and fried greens.
I love eating rice; and I don't mind eating it plain or with yogurt or milk.
For many, Smokey party jollof rice will always come first, but at times, it's nice to take the pressure off jollof rice and try something new.
It may surprise you to discover that you prefer the new savory dish to your beloved Jollof.
I Know You Must Be Thinking… Peanut Butter Rice?
Yes! If you are searching for an easy side dish, a sweet treat, or ways to use leftover rice, this African rice with peanut butter might do the trick.
This dish reminds me of rice pudding – thick, sweet, and comforting. Peanut is same as Groundnut.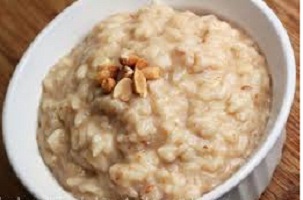 Rice with Groundnut Butter comes with a lot of benefits, and is tastier when cooked on an open fire (with firewood) – this makes it a smoky Groundnut Butter Rice which we all know elevates this dish to another level.
Nutritionally, it's calories are comparable to eating wheat bread with peanut butter and honey on it, though brown rice does not have the sodium and fat like wheat bread.
Peanut Butter Rice Recipe
This sweet-smelling rice dish is carefully flavored with groundnut butter.
Shock your guests this season with brand new flavor mixtures that have never been tried before.
Ingredients
2 Cups basmati/jasmine (long-grain) rice
6 Cups water
4-6 Tablespoons Smooth Peanut Butter
Salt to taste
Method
Firstly, in a medium-sized pot, add rice, salt, and water. Bring to the boil and then lower the heat and leave to cook for about 20 minutes.
Secondly, whilst still cooking, add peanut butter and stir it in combining using a wooden spoon.
After that, add a little water if dry and continue to stir until well combined in the pot.
Lastly, leave rice on the lowest heat for 10-15 minutes before serving
Cooking Tip
Add any meat or seafood into this rice for extra flavor.
Serving Ideas 
I think this type of rice is best with any stew of your choice with some fried greens, grilled or baked chicken.
Besides, you can also add the peanut sauce to roasted pork, fried rice, spring rolls, as a dipping sauce for garden-fresh vegetables, and with shrimp.