Yam Burger: How to Make Nigerian Yam Burger
Yam burger is a super healthy Meal and a delight for vegetarians. It is an excellent source of energy with several nutrients, a very good choice to serve to your little one too.
It's a power-packed meal with mouthwatering flavors.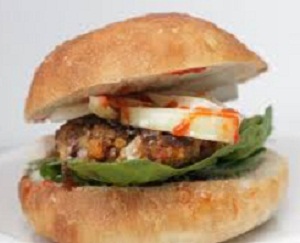 Yam burger is a good alternative to brown beans burger (Akara) and even potato burger, just tweak the recipe a little bit.
Hope you give this recipe a try and that you enjoy it as much as I did.
Yam Burger Recipe
This recipe is so stress-free and straightforward that it just might become a basic food.
I like to serve this in a burger bun, with a slice of fresh tomatoes, lettuce, fried onion, and ketchup.
Above all, it's also great with BBQ sauce!
Ingredients
2-3 medium-sized sweet potatoes or yams, peeled and shredded (use a cheese grater)
1 medium-sized yellow onion, chopped
1 can white beans, drained
¼ cup margarine or butter
3 cloves garlic, minced
2 bouillon cubes
½-1 cup whole wheat flour
Preparation
Firstly, Sauté shredded yams, onion, and garlic in butter or margarine. Stir in 1 bouillon cube.
Secondly, cook, stirring occasionally, until bouillon is dissolved and yams are tender (about 5-10 minutes).
After that, remove from heat and set aside. Then, in a food processor, purée white beans with the remaining bouillon cube. Stir bean puree into the yam mixture.
Lastly, stir in flour until mixture cakes together. Form mixture into patties and grill or fry until golden brown on each side
That's it! Your Yam burger is ready. Enjoy