Healthy Nigerian Breakfast Ideas: Breakfast Timetable in Nigeria
Healthy Nigerian Breakfast Ideas – Breakfast Timetable in Nigeria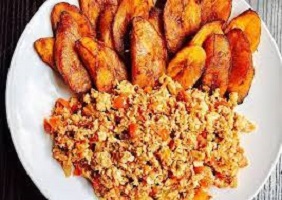 Breakfast is frequently referred to as the most vital meal of the day. It's the first meal of the day, eaten after waking up from a night's sleep and breaking the overnight fast.
Breakfast is a morning meal that is often served between 7:00 or 7:30 a.m. and 10:00 or 10:30 a.m.
Related >>>
Why is it Called Breakfast? Breakfast Ideas
The word "breakfast" is a compound word made up of the words "break" and "fast."
Breakfast was called morgenmete in Old English. It was a compound word made up of morgen, which meant "morning," and mete, which indicated "food" or "meal."
As a result, morgenmete is literally translated to "morning meal."
Simply healthy breakfast ideas can come with eggs or without eggs, likewise easy sweet breakfast recipes.
Types of Tasty Breakfast ~ Easy Breakfast Options
Continental Breakfast
English Breakfast
American Breakfast
Middle East Breakfast
Italian Breakfast
Indonesian Breakfast
Japanese Breakfast
Chinese Breakfast
Quick Nigerian Food Breakfast Menu List ~ Common Breakfast Ideas
Here are 10 common Easy Nigerian breakfast dishes.
Bread Sandwich with a hot beverage, a breakfast in bed in Nigeria
Moi-Moi with custard or pap
Instant noodles and egg
Ewa Agoyin with bread
Yam with egg stew
Bread and Egg sauce served with Tea
Boiled plantain with fish stew
Fried plantain and egg
Okpa
Spicy millet porridge and akara (Hausa Koko and Koose)
Worst Breakfast Food Ideas ~ Breakfast Ideas
Here are the worst foods you can consume as a breakfast in the morning.
1. Cookies and Cake
2. bowls of cereal
3. Fruit Juice
4. Sweetened Yogurt
5. Toast with Margarine
6. Toaster Pastries
7. Pizza
8. Pancakes and Waffles
9. Muffins
Simple Nigerian Breakfast Idea for Weight Loss ~ Breakfast Ideas
Here is the list of breakfast foods in Nigeria for weight loss:
Eggs
Coffee
Yogurt
Apple cider vinegar
Lemon water with chia seeds
Grapefruits
Green tea
Yogurt
Berries
Nigerian Breakfast Timetable for Lunch and Dinner Ideas ~ Breakfast Ideas
| | | | | |
| --- | --- | --- | --- | --- |
| Days | Breakfast | Lunch | Dinner | Snacks/ Fruit |
| Monday | Bread &fried egg or Tea | Semo & Efo with beef | Boiled Plantain & Fish sauce | Pineapple |
| Tuesday | Noodles and Egg | Beans & plantain Porridge | Crispy Fried Chicken with Chips | Orange |
| Wednesday | Akara & Pap | Amala & Ewedu with beef | Ofada rice and Tomato stew | Watermelon |
| Thursday | Spaghetti and Stew | Jollof rice & fried plantain with chicken | Eko & efo riro with beef | Any available fruit |
| Friday | Boiled yam & fried egg | Wheat & egusi with Beef | Rice & Beans with fish sauce | Fruit Salad |
| Saturday | Ogi & Akara | Potato & plantain porridge with beef sauce | Amala & ewedu with fish | Any available fruit |
| Sunday | Ewa Goyin and Bread | Semovita & Egusi | Boiled plantain & beef stew | Fruit salad |
Nigerian Healthy Breakfast Good Idea for Toddlers/Kids ~ African Breakfast Ideas
Low sugar cereal
Whole grain waffles
Baked oatmeal
Low-fat milk.
Half cups of fruit juice like banana or strawberries
½ slice whole-wheat toast.
Snack plate
Smoothies
Overnight oats
Whole-grain pancakes.
Eggs, fruit, and whole grain.
What can I eat for breakfast as a vegan? Breakfast Ideas
Oat and Porridge Vegan Breakfast Recipes
Whole Oat Porridge. …
Whole Wheat Vegan Waffles. …
Vegan Carrot Waffles. …
Homemade Bagels. …
Vegan Carrot Lox. …
Overnight Oats. Pack them in a Mason jar for an easy, on-the-go breakfast, or load them up with toppings at home! …
Oatmeal Breakfast Cookies. …
Carrot Quinoa Breakfast Cookies.
Bread
Delicious Low Carb Breakfast Recipes
Eggs and Vegetables Fried in Coconut Oil. …
Skillet-Baked Eggs with Spinach, Yogurt, and Chili Oil. …
Cowboy Breakfast Skillet. …
Bacon and Eggs in a Different Way. …
Savory, Flourless Egg-and-Cottage-Cheese Breakfast Muffins. …
Cream Cheese Pancakes. …
Spinach, Mushroom, and Feta Crustless Quiche.
Breakfast in Bed Ideas [Amazing Life Together]
Heart-shaped pancakes or waffles
Bread, Eggs, and fresh juice
French toast
Fruit platter
Anything with strawberries
Benefits of Eating Healthy Breakfast
Breakfast may aid in meeting nutritional standards for your heart, digestion, and bones.
Breakfast skippers, both adults, and children had higher blood cholesterol levels, which is a risk factor for heart disease.
Why Is Breakfast the Most Important Meal of the Day?
1. Breakfast promotes healthier eating habits
2. It restores your glucose supply
3. It balances the levels of your blood sugar
4. Breakfast livens up your metabolism
5. Breakfast increases energy and alertness
6. It helps to keep the heart healthy and stimulates the brain
Disadvantages of Not Having Breakfast
What happens if we skip breakfast?
The metabolism slows down when you skip a meal.
Furthermore, fasting for an extended period of time in the morning after not eating for the entire night limits the body's ability to burn calories, resulting in fat storage.