Pan Fried Carrot Chips: Nigerian Fried Carrot Sticks/Fries
Pan Fried Carrot Chips: Nigerian Fried Carrot Sticks/Fries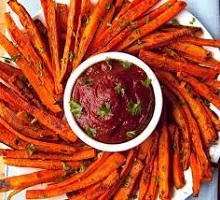 Carrot chips, Carrot fries, carrot sticks
I awoke craving carrot juice, but due to the blackout, I was forced to settle with these carrot chips, which I can't complain about… You may deep fry them or season them and bake them in the oven for a crunchy snack.
Carrot fries are sweet, delicious, and simple to make, with a sweet potato flavor. They are so delicious that you can make a batch and have them gone in minutes.
They're similar to potato chips (fries), which are the ultimate quick snack, especially when combined with a hefty hamburger.
When I was looking through my freezer for frozen potato chips, I got the idea for this recipe.
When I saw that these potatoes could be fried, I thought to myself, "Why not cut up some carrots into little batons and deep fry them?" I have to admit that I am glad I trusted my instincts since the result was great.
Related >>>
Nigerian Pan Fried Carrot Chips
Carrots can be eaten fresh or cooked, and they can be boiled, fried, steamed, or roasted. It can also be paired with rice, couscous, dal, stir-fries, and wraps, as well as sweet and savory foods, soups and sauces, salads, chutney, beverages.
Carrots are used in sweets and vegetable sides, as well as in baking cakes, muffins, jams, and puddings. When pureed, carrots make an excellent infant meal.
It can be dehydrated into chips, flakes, or powder, or deep-fried or baked as carrot fries. Carrot fries are a healthy alternative to french fries, and baking them in the oven makes them even healthier and Paleo.
Gluten-free, vegan, vegetarian, keto, and paleo are all options. Carrot fries with a dash of my Homemade Shawarma spice is also a good combination
Surprisingly, these carrot chips are simple to make, delicious, and, most importantly, healthful.
Once the carrots have been peeled and sliced up, place them in a clean bowl, season with salt and pepper, and fry in heated oil.
After that, drain the excess oil by scooping your fried carrot chips onto a paper-lined sieve.
You may now consume your carrot chips as you choose, whether they're decorated with other vegetables, dipped in sauce/dips/ketchup, or eaten plain.
However, I do not advocate eating these fried carrot chips cold; they are best eaten fresh from the oil or while still warm.
I don't consume fries as much as I'd like because I'm trying to cut down on my oil consumption.
Nevertheless, it is entirely up to you how frequently you want to prepare and consume your chips; after all, it is a free world! Everyone has the right to their own tastes!
Pan fried Carrot Chips Recipe
This recipe for pan-fried carrot chips is a no-brainer, so keep it in mind the next time you come across some carrots. I assure you won't regret it at all
Ingredients:
¼ tsp. salt
700ml olive oil
3 fresh chives (diced)
½ red sweet pepper (grated)
3 carrots (Peeled & cut into batons)
Instructions:
Firstly, add the carrots to a bowl and then, add salt and the sweet pepper before tossing properly.
Secondly, slightly heat up the oil then add the carrots into the hot oil. Allow frying until crispy.
Thirdly, scoop out the chips from the oil onto a paper-lined sieve to drain excess oil.
After that, scatter some fresh chives atop the fries and serve warm with ketchup or any dip of choice.