Beef Shawarma Recipe: How to make Nigerian Beef Shawarma
Beef Shawarma Recipe: How to make Nigerian Beef Shawarma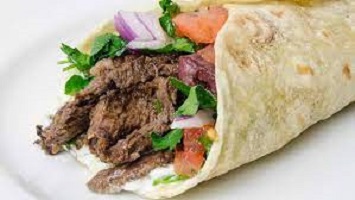 This Beef shawarma, like falafel and suya, is the quintessential street dish that is popular even outside the shores of Nigeria. But you might be surprised to learn that beef shawarma is extremely simple to cook at home with very few ingredients and effort.
Beef Shawarma (Nigeria)
This simple Beef Shawarma dish will take your breath away! With just a few common spices, you can produce a fantastic Beef Shawarma marinade that infuses the beef with exotic Nigerian flavors. When this is cooking, the smell is out of this world!
What is shawarma?
It's a grilled beef or chicken marinated in olive oil, vinegar, lemon juice, and warm spices that are served as a street food staple.
On a revolving pit, the meat is cooked and then shaved for sandwiches.
Shawarma is a popular street cuisine all around the world, but especially in the Middle East. It can be served on a plate with side dishes or, more commonly, as a sandwich or wrap.
You can buy pre-mixed Shawarma spices at any grocery shop near you, and the spices I use for my Chicken Shawarma can also be used for Beef Shawarma.
All spice, black pepper, coriander, cinnamon, nutmeg, and sumac were among the spices used in the beef shawarma.
Recipe for Beef Shawarma – Shawarma Recipe Beef
You can use the following to replace the 2 tablespoons of shawarma seasoning I used in this recipe.
1 teaspoon salt
½ teaspoon cardamom
1 teaspoon All Spice
½ teaspoon cinnamon
1 teaspoon ground cloves
½ teaspoon oregano
1 teaspoon cumin
½ teaspoon paprika
Beef Shawarma Marinade
The purpose of this recipe is to tenderize the beef by marinating it for 1-2 hours in olive oil, vinegar, lemon juice, fresh garlic, and the spice mixture.
Because the acidity may toughen the meat, don't marinate for more than two hours. On top, you can toss some sliced onions and lemon zest, but it's not required.
How to Make Beef Shawarma Wrap
All you have to do is purchase sirloin beef, cut it into strips across the grain, marinade the beef, and then, cook it.
Cook the beef shawarma
When you're ready to cook the beef shawarma, cook on medium heat for 8-10 minutes, or until the beef is cooked through, in a saucepan or pot large enough.
The meat will appear soft and virtually cooked, indicating that it does not require a long cooking time.
Suggestions for Serving
Then you may decide how you want to serve it: roll it, wrap it, or top it. We like to serve it with colorful veggies like tomatoes, onions, pickles, turnips, and parsley on a large plate.
Many people will agree that the tahini sauce that comes with a beef shawarma wrap or sandwich is the most significant aspect of it. I keep it simple by combining freshly minced garlic, lemon juice, and tahini paste in a bowl.
After it's all mashed together, I add the water to achieve the desired consistency. This recipe contains Everything!!
If you're serving this over rice or as a salad, use any toppings and/or accompaniments you want! Tomatoes, pickles, and red onions are traditionally included, as well as parsley and pickled turnips.
However, you may customize it by adding shredded lettuce, banana peppers, roasted red peppers, olives, and lemon zest.
Instructions for preparing this dish – Cooking Tips
Firstly, choose beef that has some fat on it. When cooked, the fat in the beef will improve the flavor of the shawarma. You can use flank steak, strip steak, ribeye, or any other steak cut you prefer.
Secondly, don't slice the steak too thin. If you keep the strips approximately 3-4 inches long and at least 12 inches thick, the beef will stay juicy while cooking. Otherwise, it may get too dry.
Thirdly, marinate the beef for at least an hour, but no longer than two. Marinating the meat allows the fat to properly break up and tenderize it, resulting in luscious and moist results. However, if you cook it for too long, the acidity will toughen the meat too much.
After that, avoid using beef that is either too tender or too rough. Don't go for tough cuts like chuck or tender cuts like tenderloin. You want something that will hold up to marinating without becoming overly soft. Steaks such as flank or sirloin come highly recommended.
Nutritional Data Facts: Carbs in Beef Shawarma
The information below is an automated estimate and could vary based on cooking methods and ingredients used.
Serving: 1g, Calories: 427kcal, Carbohydrates: 28g, Protein: 31g, Fat: 20g, Saturated Fat: 4g, Cholesterol: 69mg, Sodium: 369mg, Potassium: 533mg, Fiber: 1g, Vitamin A: 10IU, Vitamin C: 2.3mg, Calcium: 96mg, Iron: 3.2mg
Frequently asked questions
Q: What kind of meat is shawarma?
A: Shawarma can be made with any type of meat; the most common is chicken or beef, but goat, lamb, and turkey are also used. They're all cooked and presented in the same way as this beef dish.
Q: Is gyro and shawarma the same thing?
A: Shawarma and gyro are alike in many ways. The key difference between shawarma and gyros is that shawarma is marinated in herbs and spices for more delicious meat. Gyros is a Greek dish, whereas shawarma is a Middle Eastern dish.
Q: Is this beef shawarma recipe healthy?
A: Because it is not cooked in a lot of fat, homemade shawarma is far healthier than takeout. You may also stuff it with a ton of vegetables!
Best Shawarma Restaurants near me in Lagos
Formerly an Arabian snack, Nigerians have fully incorporated shawarma and taken it to the next level.
Here are the best shawarma joints near me in Lagos, Nigeria
Bottom Line
With this simple DIY recipe, you can now make your favorite marinated beef shawarma wrap at home. All you need is the correct cut of beef, a few spices, and some time to marinate the meat.
Its makes for soft, juicy meat that pairs well with tahini sauce and veggies when wrapped in a warm pita.