White Bread ~ Easy Homemade Bread Recipe for Beginners
White Bread ~ Easy Homemade Bread Recipe for Beginners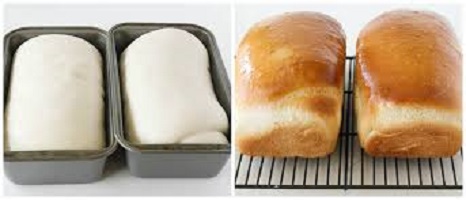 Homemade White Bread Made from Scratch – a basic bread recipe that is light and fluffy, chewy and tender, and simply tasty. Warm with butter, used in a homestyle sandwich, or served as morning toast, this is a comforting classic.
A slice of white bread provides a strong sense of satisfaction. And when it's homemade white bread, it's even better. The result is truly awe-inspiring! Nothing compares to the taste of fresh, handmade bread.
In addition, I adore the aroma of freshly baked homemade bread. It's created with simple ingredients and is free of all the sodium and preservatives found in store-bought bread. What's not to like about Homemade White Bread?
White Bread ~ Easy Homemade Bread Recipe for Beginners
This is a simple recipe for making your first loaf of yeast bread at home.
It produces a lovely white bread with a delicate top and juicy inside using simple ingredients obtainable in most kitchens.
With no preservatives and a terrific flavor, you'll immediately discover why making your bread is so much better than purchasing it at the supermarket,
This recipe is ideal for beginners who want to learn how to bake delicious bread from scratch.
You may use it to learn about the key ingredients in bread, practice kneading, and other techniques, and figure out how long your oven should bake for.
There are numerous hints and suggestions to assist you along the road. To begin, make one loaf and observe how it turns out. You can make minor tweaks the next time if necessary.
White Bread for an Easy Sandwich
Making bread is a huge stress reliever for me. Simply putting everything aside and spending a few minutes preparing bread dough, watching it rise without fail, and then inhaling the fresh flavor of hot bread steaming from the oven vents.
Bread has been on the table for as long as we can remember, and homemade bread has a way of transporting us back to our childhood.
Isn't it amazing how much better fresh bread tastes than store-bought bread (which is full of unneeded ingredients)?
As a side note, if you can't find yeast right now and are craving bread, you may try this recipe without yeast or baking powder!
The Different Types of Baking Yeast and When to Use Them
There are eight different forms of yeast. The four most prevalent ingredients in baking are:
Instant yeast (aka bread machine yeast)
Active dry yeast
Rapid rise yeast
Fresh yeast
You can use any of them in this recipe. However, the procedures differ slightly:
No pre-dissolving and resting are necessary for instant and rapid yeast (also known as "proofing" to ensure it is still alive and active).
Active dry and fresh yeast should be dissolved and proofed before using.
You should also use twice the amount stated in the recipe when using fresh yeast (which is more difficult to come by and has a two-week shelf life).
Ingredients and Substitutions for White Bread
What ingredients are used to make traditional white bread? White bread is usually baked with only a few ingredients.
Unbleached all-purpose flour offers a superior flavor to bleached all-purpose flour. Bread flour also works well in this situation.
Active dry yeast: Because active dry yeast has always been the most readily available to me, I use it here; however, it must be proofed first. As previously stated, instant, rapid rise, or even fresh yeast can be used.
Table salt: Kosher salt or fine sea salt will do (just add a touch more because the crystals are bigger).
Butter: I like unsalted butter since it allows me to manage the quantity of salt in the recipe; salted butter will work great if you lower the salt by 1/8 teaspoon. You may also use vegetable or olive oil in a pinch (just don't brush it over the final bread).
Milk: Any fat content will be fine, although, for a little deeper flavor, I prefer whole milk. If you don't have any milk, the loaf can be baked entirely with water and no milk. It simply enhances the flavor.
Granulated sugar: This isn't sugary bread, so don't worry. It only lends a mild taste to the background. 2 tbsp honey may also suffice.
Warm water: Make sure the water isn't too hot (no more than 120 degrees for active dry or instant yeast, and no more than 130 degrees for immediate or quick rise), or the yeast will die and your bread won't rise.
Variations on the Recipe – Recipe Variations
Before baking, brush the loaves with milk to get a black, lustrous crust.
To get a beautiful crust, brush the loaves with egg white before baking.
A crispy crust can be achieved by spraying loaves with water while baking.
For a soft crust, brush the loaves with butter right after they come out of the oven.
Add flavor with herbs and spices, such as caraway, garlic, rosemary, and sesame seeds. Use about 3 tablespoons total and mix thoroughly
How to Make Freshly Baked Bread at Home
Here's a rundown of the steps involved in creating bread:
Firstly, in a mixer dish, proof yeast with water and sugar.
Then, using the paddle attachment, combine the remaining sugar, salt, milk, and about 2/3 of the flour.
Thirdly, switch to the hook attachment and stir in the rest of the flour.
Meanwhile, knead until the dough is soft, elastic, and smooth.
After that, place dough in an oiled bowl, cover, and allow to rise until doubled in size.
On a floured surface, press down the dough, then pat and stretch it into a rectangle.
Form a log out of the dough.
Place in a loaf pan, cover, and let rise until it's about 2 inches higher than the bread pan's height.
Bake until golden brown on top and hollow when tapped.
Lastly, allow cooling before slicing.
Troubleshooting and answers to frequently asked problems
Q – What is the best temperature for baking bread?
A – You can test the center of the bread for doneness if you have an instant-read thermometer (which is recommended for testing liquid temps used in the recipe). The core of this type of bread should be 195 degrees Fahrenheit.
Q – Is it possible to make the dough by hand?
A – Yes. If you don't have an electric stand mixer, simply use a mixing bowl and a wooden spoon to make this white bread. Blend in as much flour as possible with the spoon, then knead in the remaining flour by hand when the dough becomes heavy.
Q – Is it possible to make it in a bread machine?
A – Yes, this should work in a bread machine if you have one that can make a 1 ½ to 2-pound loaves machine
Q – Is it possible to double the recipe?
A – Yes. If you have a larger mixer with enough capacity, you can double the recipe to make two loaves of bread.
Q – My bread looks fantastic on the outside, but it's still raw on the inside.
A – This is due to the oven being overly hot, which caused the outside to bake faster than the inside.
Q – My bread has a beer odor to it.
A – This is due to the presence of yeast. This can happen if you proof overnight.
Q –Is it possible to freeze bread dough or baked bread?
A -Yes, you can freeze the dough or baked bread. To freeze bread dough, complete the first rise, roll into a log as suggested, and freeze.
Thaw overnight in the freezer before continuing with the second rise (it will take longer because it is cold).
To freeze baked bread, bake it and set it aside to cool. Wrap in foil and store for up to a month in an airtight container. After thawing, slice.
Q – Can I Substitute Buttermilk for Milk?
A – Buttermilk can be used in place of milk if you want a tangier result. Heat in the microwave on 20% power until mildly warm, not 110 degrees, to bring to room temperature. If you overcook it, it will curdle.
Q – What if you use dry milk instead?
A – Dry milk can be substituted for the 3/4 cup milk by mixing 1/4 cup with 3/4 cup water. Alternatively, 3 tbsp buttermilk powder can be used.
Tips for Making the Best White Bread at Home
If you use liquids that are too hot, the yeast will die. To test temperatures, use a digital food thermometer.
Check the expiration dates on yeast; expired yeast won't function as well or at all.
Adjust the flour amount as needed. Because I live in a dry climate, I don't require as much flour as someone who lives in a humid climate would. The dough should be soft and workable, not sticky.
Allow enough time for the dough to rise for maximum fluffiness, but not too much time, or the loaf will become too airy and delicate.
To avoid sticking, oil the bread pan and cover it with plastic wrap while it rises.
If the top of the bread is browning too quickly while baking, tent it with foil.
Overbaking will result in dry bread.
If you enjoyed this step-by-step recipe for homemade bread, you might like to try these other bread recipes: