How to Make Best Beef Shish Kebab Marinade
What is Shish Kebab?
Shish Kebab or kebob, also known as skewers of beef and vegetables, is a keto-friendly, delicious, nutrient-packed meal of grilled meat and vegetables on skewers.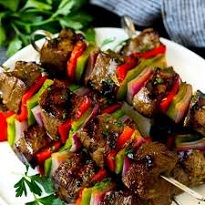 Shish is of Turkish origin which means "sword" or "skewer", kebap comes from Arabic and it means "roasted meat".
Especially for You >>> Fruit Skewers or Fruit Kebabs – Rainbow Color Fruit Sticks
You just can't go wrong with shish kabob because it features tender pieces of steak marinated in an aromatic spice blend, skewered with onions, peppers, and then grilled to perfection.
It has advanced greatly with different varieties and is prized by people globally.
Shish Kebab Variations
Preparing shish kebob is so much fun because you can practically put anything on the skewers.
Here are some fun variations you can try.
Meat: Try bite-able sized pieces of chicken, lamb, or medium-sized shrimp instead of the beef.
Vegetarian: For a vegetarian choice, you can use cubes of extra firm tofu.
Veggies: add other vegetables to your skewers for example mushrooms, zucchini, or cherry tomatoes.
Spicy: For your spicy kebab, enhance with crushed red pepper flakes or hot sauce to the marinade.
How to Prepare Shish Kebab
You can use metal skewers or wooden stick skewers to prepare this. If you prepare shish kebab regularly, it might be best to buy metal skewers as this can be reused.
Wooden bamboo skewers are prone to burning. To prevent this, you have to soak for 30 minutes beforehand or even better, overnight.
The strategy to any shish kebab recipe is to marinate the meat long enough to get the flavor into the beef.
It's best to start the meat marinating the night before, or in the morning.
Beef Kebabs Marinade
There are various ways to season beef kebabs but for best flavor, firstly, I rub the meat in a mixture of spices:
Nutmeg
Paprika
Green Cardamom
Allspice
These spices, together with garlic and onions provide a bold flavor.
Shish Kebab Recipe
Shish Kebab is also a great way to sneak in a bunch of vegetables for your family particularly if you have kids around.
Ingredients
For Marinade
1/3 cup soy sauce
¼ cup lemon juice
½ cup olive oil
¼ cup Worcestershire sauce
2 teaspoons minced garlic
1 tablespoon Italian seasoning
½ teaspoon salt
1 teaspoon black pepper
½ teaspoon onion powder
For Kabobs
2 pounds lean steaks such as sirloin or New York strip, cut into 1-inch pieces
1 large red onion cut into 1-inch pieces
One red bell pepper cut into 1-inch pieces
1 green bell pepper cut into 1-inch pieces
One tablespoon chopped parsley
Method
Firstly, put all the marinade ingredients in a bowl or in a Ziploc sized freezer bag. Mix to combine.
Then, add steak pieces to the marinade. Marinate for at least 1 hour or up to 24 hours.
After that, season the onions and peppers with salt and pepper to taste.
Lastly, thread the beef, peppers, and onions onto skewers.
To Grill
Firstly, preheat the grill to 375.
Then, grill for 10 minutes, rotating every 3 minutes, depending on how rare or done you like it.
After that, during the last two minutes, lightly brush some oil on the shish kebabs and generously sprinkle some crushed pepper on both sides.
To Bake in the Oven
Firstly, preheat the oven to 375.
Secondly, place the skewers on a lined baking sheet and bake for 30 minutes, flipping every 10 minutes and lightly brushing with olive oil each time.
Finally, during the last 5 minutes, sprinkle crushed pepper on both sides.
Serve over a bed of rice, roasted veggies, and a low carb salad or with pita bread, for a nutritious, low carb, family meal!
Shish Kebab Nutrition
Calories: 282 kcal | Carbohydrates: 9 g | Protein: 37 g | Fat: 14 g | Saturated Fat: 5 g | Cholesterol: 92 mg | Sodium: 715 mg | Potassium: 789 mg | Fiber: 2 g | Sugar: 4g | Vitamin A: 718 IU | Vitamin C: 48 mg | Calcium: 71 mg | Iron: 4 mg
FAQ – Frequently Asked Questions On Shish Kebab
What Cut Of Beef Is Best For Kabobs?
For a naturally tender cut of meat with some marbling in it use sirloin, but other great varieties include beef tenderloin, New York strip, or ribeye.
Can I Use Another Kind of Meat?
Of course! Besides beef and lamb meat, shish kabobs can be made from chicken, swordfish, and pork.
What Are The Best Vegetables For Shish Kebabs?
Vegetables that pair well with shish kebabs include onions, bell peppers, tomatoes, baby eggplants, zucchinis, and yellow squash.